Welcome to the Friends of Reddish South Station .
This site will keep you updated about the progress of the recently formed "Friends Of Reddish South Station" group that aims to tidy and maintain the little used station. Its long term aim is to fight for the introduction of a regular service to Stockport and the south and Manchester Victoria to the northwest.
Our main point of contact for news or official items is the Secretary FORSS, e-mail forss1@ntlworld.com and we also have a secondary e-mail address for photos davdot@sky.com. If you have any photos of our recent events or special trains, please forward them to this address and we will try to include them on our pictures page.
Sat Aug 15th Crewe to Carlisle steam excursion.
This steam hauled special came through Reddish South this morning on its way to Carlisle. It will be returning this evening and will be taking on water at Denton Station, as the steam locomotives usually do when using our line. The loco is a Princess Coronation 8P Class 46233 "Duchess of Sutherland" which has been through Reddish South many times in the past. Thanks to Keith Chapman for photos .
Double clicking any image will bring it up full page. Use your back button to return to the web page.
Aug 16th Stockport Station Railshow.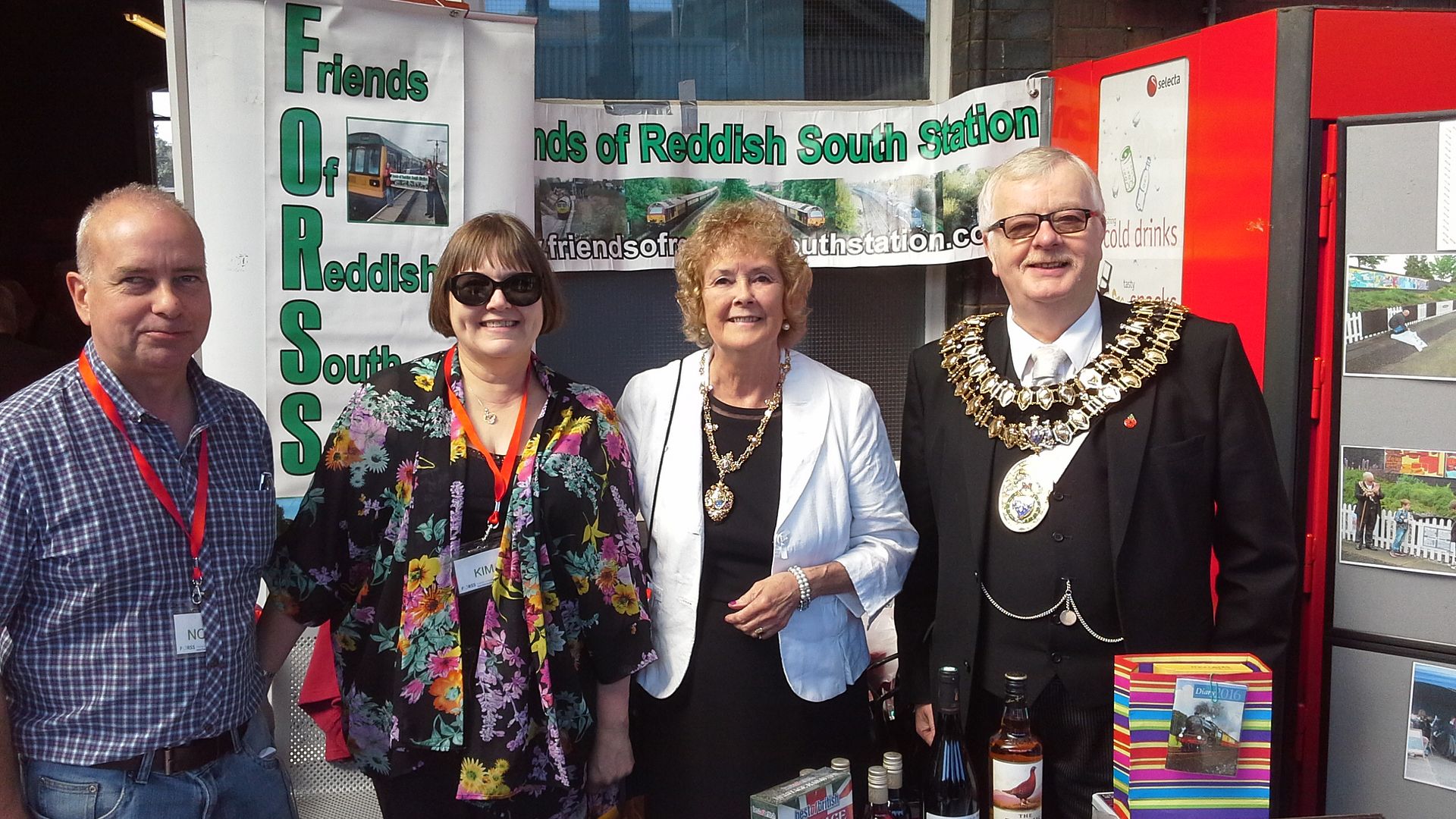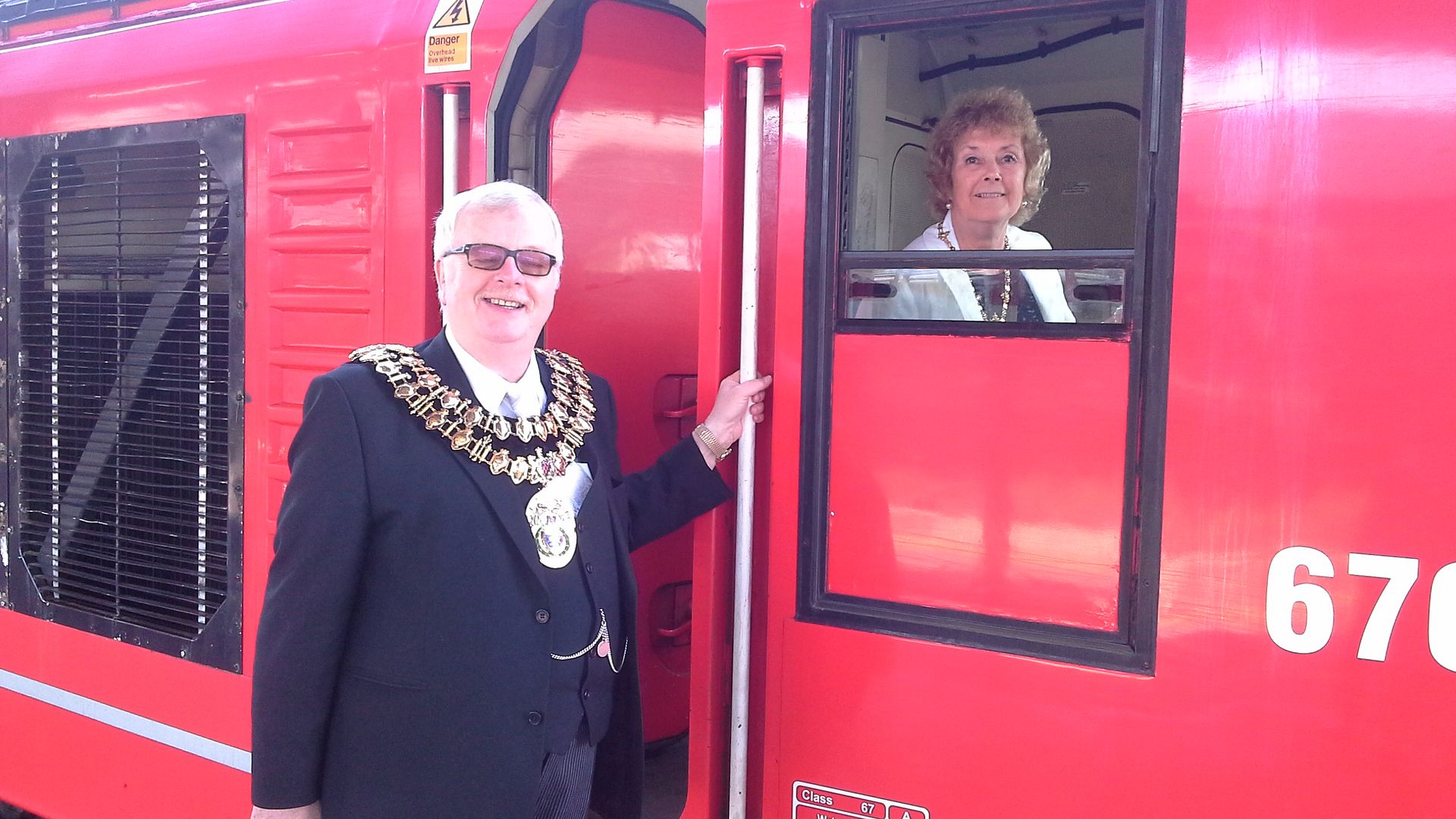 We attended our 3rd Stockport Station Railshow and had one of our best days there with scores of visitors to our popular stall including Stockport Mayor Cllr Andy Verdeille and Mayoress Mrs Cleo Cundall. We also hosted Stockport Councillors Walter Brett and Tom Grundy and visitors from as far as Stone Staffordshire, Chorley and Prestwich. The show was a great success and there were many stalls including East Lancashire Railway, Mid Cheshire Rail Users Association, Cheadle Hulme Model Railway Society and a superb Art Stall by Leanne Thompson with her fabulous and imaginative modern railway art, featuring some images of Virgin Trains. There were far too many other stalls to mention. We raised £56 in our raffle, donating £30 to Virgin Trains Charity " When you wish upon a Star" The Luke Foundation. A great day out, and we look forward to next years show. Also of course we raised lots of interest , enquiries and new members to our campaign for passenger services from Stockport (and beyond) to Manchester Victoria (and beyond), along our line through Reddish South and Denton Stations, which is now in the hands of The Government and its forthcoming decision in awarding the new franchise for our area.
July 11th 2015. Retro Railtours Cumbrian Coast Tour
( A "Brief Encounter ! " )
Double clicking any image will bring it up full page. Use your "back" button to return to the web page
James and his mum Lynne , plus all the staff at Retro Railtours provided us all with yet another great railtour to Carlisle via the beautiful Cumbrian Coast . The tour was on time throughout, had the usual and unique draught beer trolley provided by Greenfield Brewery, and we eventually got the hot buffet food after problems en route with the generator coach. This did not affect first class dining customers, and hot breakfasts and three course dinners went down really well with those we spoke to , enjoying this extra class. We had our own picnic on board and just bought coffees and beers when the various trolleys came round, but we still enjoyed great company in the form of two young lads from Midland and Virgin Trains, on a "busmans holiday" on this Retro tour ! They were so funny , good humoured and very knowledgeable , and they almost drank the trolley dry as well. ! But I must admit we helped them a bit. The tour, the scenery, the timings and of course the company were all superb. Well Done and Thank You to ALL at Retro Railtours for such a great day out to the wonderful border City of Carlisle. We look forward to next years tour, hopefully south or west bound maybe to Llandudno, Holyhead or Aberystwyth. If you have any suggestions for next years Retro Railtours trip, please e-mail them on their web site or us on forss1@ntlworld.com
June 13th 2015. Two events on one day ! ( can't be in 2 places at once )
It was such a shame that the annual "Reddfest Community Event" and the "Retro Railtours" excursion to Skegness fell on exactly the same day after months of completely separate planning by both sets of organisers ! This meant that most of us at FORSS and most of the railway enthusiasts we have spoken to on our weekly "Ghost Train" trips had to choose and it meant a very much lower number of people went on the "Retro" trip to Skegness from Reddish South Station.
The photos above show both events on Sat 13th June, and many more photos will appear shortly on the "Pictures" page.
May 15th 2015. Treasurer is interviewed for the BBC
Dot Ashworth the FORSS Treasurer was interviewed today on the Station platform by Tom Airey who does contract work for BBC Radio Manchester. Tom writes for the BBC's website and was doing research about the Norths' "Parliamentary" or Ghost Trains as we know them. He came to the station to see our famous Ghost Train for its once a week journey to Stalybridge, and to learn more about it. However Dot and members Alan Burrows and Dave Ashworth also bent his ear about our ongoing campaign for a proper passenger service to Manchester Victoria, and Tom was really impressed with all our work at the station, the garden, the mural and the latest art competition and project that will be unveilled and completed on Saturday June 13th. He already knew a bit about "Ghost Trains" but knew very little about our campaign and was really very interested in it. It may well be that if our local ghost train gets some publicity on the BBC website, our campaign will get plenty of publicity too. Well done to Dot for a great interview and thanks to Alan and Dave for back up support too. The photo below shows Dot and Tom at the station today. Double clicking the photo will enlarge it. Your back button will return you to the page.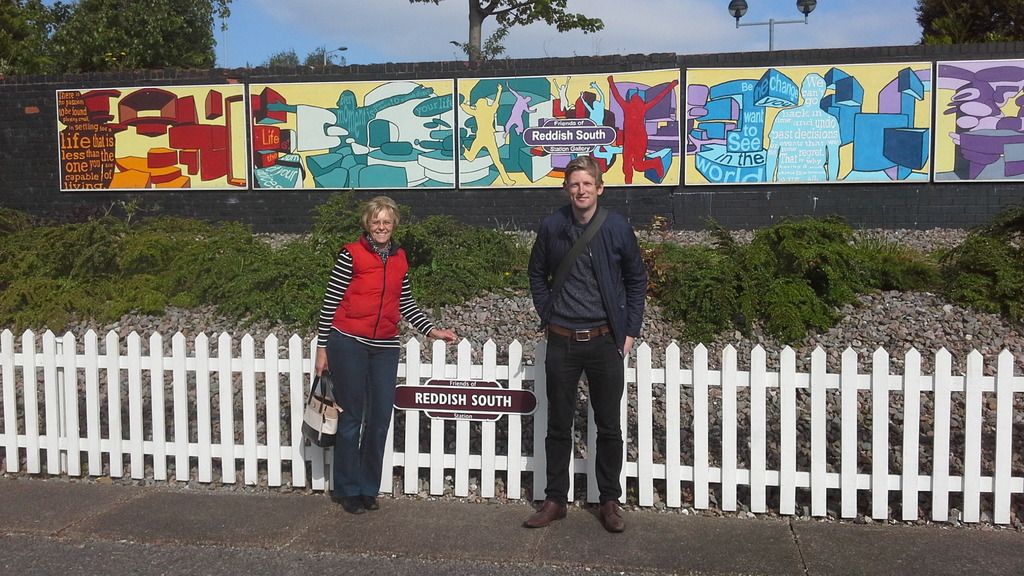 May 8th 2015. Art project Judgement Day !
Today saw the judging of the superb paintings and drawings by five local schools in the theme of "Welcome to Reddish" . The best of these will be professionaly made into posters and will be displayed on the Station Platform picket fence, and in our poster case at the Station. The posters have been displayed in the ARC gallery on Greg Street Reddish and were judged today by Artist Lucie Fitzpatrick, Stakeholder Manager for Northern Rail Matthew Woolmer and ARC Artistic Director Jacqui Wood. All three of the Judges were impressed with all the work done by the children from each of the schools and all stated that the posters had really caught the theme of Welcome to Reddish very well. The winners will be announced on the Station by MP for Denton and Reddish Andrew Gwynne, as he unveils the larger scale professionally made permanent posters on the Station on Saturday June 13th. More details are on the "News" page.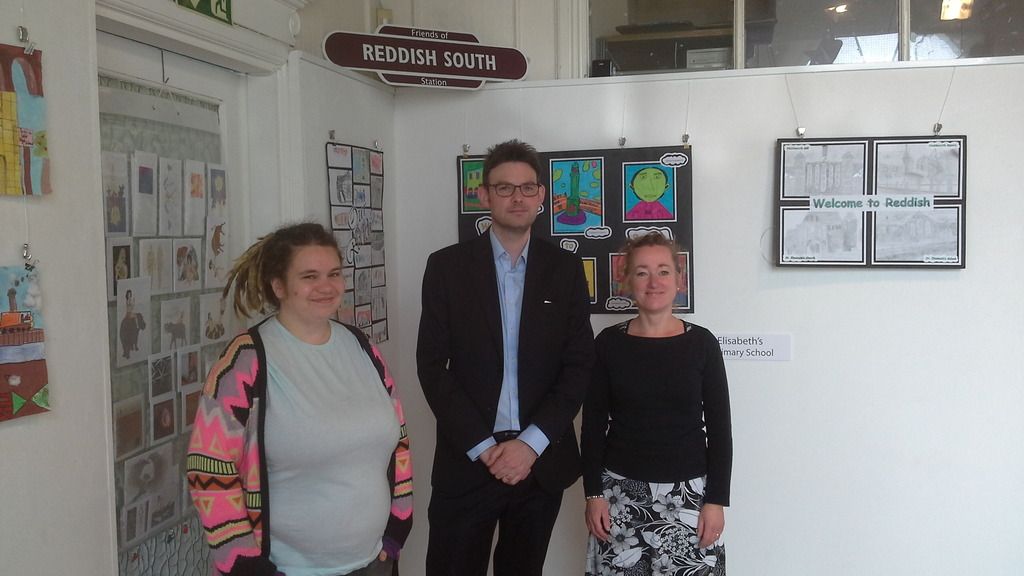 Double clicking the image will enlarge it. Use your back button to return to this page
April 27th. See our "News" page to read about our brilliant art project !
April 3rd Good Friday. 2015.
A report on todays excellent "Folk Train" is now on our EVENTS page.
March 7th 2015.
News has come through from Retro Railtours of their first tour of this season. Please see our "News" page for full details
January 17th 2015.
Please see our "News" page for information of our new Community Art Project !
December 28th 2014.
Some great news of progress with our campaign for passenger services from Stockport to Manchester Victoria via Reddish South and Denton materialised recently with our committee officials having or being invited to meetings with some of the rail companies bidding for the new franchise that will replace the present Northern Rail francise in 2016. Already two meetings have been held with Arriva Trains and more are planned with them in January, also meetings are being arranged by Railfuture with Govia and Abelio two more franchise bidders. Obviously we cannot say too much about these crucial and delicate meetings but FORSS are confident and excited that these companies have seen and are listening to our campaign and that all of them are forward looking railway companies who are interested in enhancing local passenger services and are also committed to phasing out the dreaded two coach Pacers . Exciting times ahead !
News also comes this month with 3 mentions in the influential "Rail" magazine although yet again the passenger figures quoted are way out ! Basically they announce that Reddish South is the 3rd quietist railway station on the National Network with just 26 passengers this year. Obviously with two packed "Folk Trains" and two full length excursion trains to Edinburgh and Stratford upon Avon, the grand total should have been well over 200 and also this does not include the many times we have been ourselves to Denton on the once a week 09:26 train when the conductor does not bother to check tickets or collect fares.
Ironically just the once out of many such short trips to Denton have I been challenged for a ticket and was told in a very strong and bombastic way that my pass was not valid as it was before the dreaded 09:30 deadline. This was despite the train being 6 minutes late arriving at 09:32 ! I had to pay the Senior Railcard fare of £1:90 for this 5 minute trip so I became one of the "Official" 26 passengers this year.
December 7th. Brand new loco visits Reddish South !
This brand new "Direct Rail Services" Class 68 came through Reddish South on the "Yorkshire Yuletide Express" from Newport (South Wales) to Leeds this week. This "scoop" was captured for us by member Keith Chapman .
By the way expert photographer Keith Chapman has now had some of his photos published on two renowned & top quality railway websites www.railtalkmagazine.co.uk and www.railpictures.net/showphotos.php?userid=19055. Apologies that you cannot get a direct link to these sites off ours, but of course you can "copy and paste" these onto your browser to find them.
Nov 2nd 2014. See the "Events" page for a report of last Fridays "Halloween Folk Train"
Sept 26th 2014 MACMILLAN Cancer Support Day
Friday morning Reddish South Station Platform.
Despite pretty constant drizzle and later heavy rain, and despite other very local Macmillan coffee mornings, and even despite our local supermarkets refusal to even announce our event down on the platform next to their car park, we still attracted a lot of local support and have so far raised £196 in cash. There will be more donations to come when"Ace" fundraiser Terry Rourke adds up the money from his brilliant quizzes, find the jack, and name the station fundraisers ! We will of course bring the total ammounts here on this page when everything is added up later.
The "Friends of Reddish South Station" would like to thank all those who came to support this noble charity and those who baked cakes, made the tea/coffee, gave prizes, put up flags, etc, etc. It was all fantastic !
The photos above show (top left to right) Cllr Walter Brett , Treasurer Dot Ashworth & Cllr Tom Grundy. The 09:26 "Ghost Train" Guard enjoying some cake before departure, and bottom L to R. Dot Ashworth with fundraiser extraordinary Terry Rourke, and member Dave Ashworth pledging £10 to go "Sober for October" for Macmillan. This will be particularly difficult as he loves a very large brandy on Sunday evenings ! Anyway he also promised to double this if he fails.
More pictures of the event will be published next week on our "pictures page"

Sunday Sept 28th. Superb news today ! ! Terry Rourke announced today that he had raised £300 from all his various fund raising efforts which gave a grand total of £496, but the "Friends" group FORSS donated the extra money to top the total up to £500 exactly. This amount will all go to the fantastic Macmillan Cancer Support Charity.
Sept 7th 2014
Latest Great News ! !
Below is part of a very important letter received from "The Greater Manchester Chamber of Commerce" that shows their interest and desires for for the passenger service we are campaigning for. This was just a part of a 3 page letter sent to The Department of Transport in London and this gives us a tremendous boost at this crucial time of the current consultation process of the renewal/replacement of the Northern Rail franchise.
•" There are also aspirations from local businesses in Stockport and Tameside for a new service from Stockport to Manchester Victoria via Denton and Reddish South stations. Whilst Denton and Reddish are currently lightly used, there is considerable investment being attracted to the eastern side of the city, creating jobs that need to be accessed so we would be keen to see if a business case could be built whilst the largest scale re-mapping of services in living memory is underway.
The main issues discussed form a significant part of our Business Manifesto produced in advance of the General Election 2015. I hope that you will find our comments useful and would be happy to discuss them further."
Yours sincerely.
Clive Memmott
Chief Executive
* The letter above was re-printed with the kind permission of The Greater Manchester Chamber of Commerce whose support we appreciate.
Mon Aug 25th Retro Railtours "Stratford on Avon" tour.
Please see our "Events" page for a full report of this tour
Sun Aug 10th "Stockport Station Railshow !" See the "Events" page for a report of the Railshow.
Sun 20th July. Todays Reddish Vale Fun Day report & pictures, can now be found on the "Pictures" page.
Sat June 28th saw the Retro Railtour from Reddish South Station to Edinburgh for a 4hr visit to Scotlands Capital. A full report of this rare mileage and rare traction railtour can be found on our "Events" page, also see our "News" page for the NEXT tour !
May 7th Yet another railtour !
Wed May 7th saw yet another railtour pass through on the way to Cardiff from Darlington. This marathon tour of over 18hrs in total is on our "Pictures" page
May 2nd. MCRUA. Railtour to Ayr passes through !
Fri May 2nd saw the MCRUA (Mid Cheshire Rail Users Association) railtour to Ayr Scotland pass through Reddish South without picking up this year. However, several of our members were there to wave the train through on its way to Scotland. The train was hauled by two West Coast Railways Class 47 locos in top & tail mode.
However you will be able to join a railtour to Scotland next month directly from REDDISH SOUTH when Retrorailtours "Edinburgh Scot" picks up on Sat June 28th ! ! Please see the "Events" page for full details of how to book on this railtour .
April 19th Statesman Railtour passes through !
One of the first "Statesman" railtours of the season passed through Reddish South on Sat Apr 19th on a first class railtour from Bridlington to Holyhead on a lovely spring morning. It was hauled by two West Coast Railways preserved class 47 locos in a push-pull mode. (47786 & 47826). Photos supplied by our resident ace photographer Godfrey Stafford. Please see our "Events" page for a report on yesterdays fantastic " Folk Train"
Steam locomotive through Reddish South !
Tuesday 22nd April will see A4 pacific 60019 " Bittern" steam loco passing through Reddish South at about 11:20 en route from the Crewe Heritage Centre to York. If its fine we will try to get some photos of this preserved steam locomotive. Well we did get some great photos and some of them are included here and there are some more on the "Pictures" page
April 9th 2014. Railtour to Edinburgh announced.
Please see our "Events" page for full details of this Railtour which will Pick-up and Drop off at REDDISH SOUTH on Sat 28th June. It will be going to EDINBURGH.
Mar 18th 2014. News Update & "Events" News.
There is very little news from the MBC Executive Councillors & our MP Andrew Gwynne's meetings with the TfGM, but we are assured that they are "ongoing" and that we are at last recognised by the TfGM as being a viable group with genuine needs and aspirations about a regular passenger service along our line between Stockport & Manchester Victoria ( and beyond). We will of course be attending more full MBC Council meetings to get news as and when it comes from our Executive Councillors, and any news will be published here.
We can announce 3 important forthcoming events ( A Work Day , Folk Train , and Quiz Night ) and of course these can be seen in full detail on the "EVENTS" page !
Jan 29th 2014. Test train visits Reddish South again.
(& news from Stockport MBC council meeting)
Following extensive work on the track between the "Red Bridge" & the "Money Box Bridge" near Reddish South Station, that disturbed some residents during the very early hours of Tuesday morning this week, the Network Rail test train again passed through Reddish South several times on Wed 29th Jan. The train , made up of 4 special testing equipment coaches and topped and tailed by 2 Direct Rail Services class 37 locos was caught on camera (below) at our Station at lunchtime that day.
A full transcript of the Stockport MBC Executive Councillors reply to the question by the FORSS Secretary, at the Council meeting on Thurs 23rd Jan, asking what progress has been made with the TfGM will be found very shortly on our "News" page. However, we can briefly confirm that full Executive level meetings between Stockport MBC & Tameside MBC with the full committee of the Transport for Greater Manchester (TfGM) will take place, within the next few weeks. Please watch the "News" page for full details shortly.
Jan 29th. Bishop joins "Friends of Reddish South Station" ! !
We are pleased and honoured to announce that His Grace The Roman Catholic Bishop of Portsmouth Philip Egan has now joined our campaign for passenger services to and from Manchester Victoria. Apparently Bishop Egan, a very keen and enthusiastic railway supporter was given the subscription as a Christmas present. So as well as professional railway men and women, a nuclear scientist and several Councillors, we now have a Bishop on our side !
We welcome you Bishop Egan and hope that within a year or two we might be inviting you on our first regular TfGM backed service to Victoria operated by the new franchise holder whoever that might be.
Jan 15th 2014. First "Special" of the year.
This Direct Rail Services Class 37and 3 coach Network Rail track and signalling test train passed through Reddish South this morning on a convoluted and circuitous route to and from Longsight MPD. These excellent photos were taken by top railway photographer Godfrey Stafford at Guide Bridge Station , shortly after passing through Reddish South and Denton.
Nov 14th 2013. Royal Train at Reddish South !
Thursday Nov 14th saw the Royal Train pass through Reddish South Station going towards Stockport. Its route and timings are always a state secret, but it may well have dropped off Her Majesty the Queen at Manchester Victoria for her visit to the new Co-op building and Harpurhey today. It was hauled "top and tail" by two silver DB class 67 locos and consisted of about 5 or 6 coaches, and passed through just after 11:00am.
Nov 1st 2013. Folk Train.
Some of the early arrivals for this mornings great "Folk Tain" gather on the platform and on the right are our resident Folk Group who went down really well on an absolutely packed train and in the famous Stalybridge Station buffet bar. More pictures and a report can be found on our "Events " page but obviously you can see that the Mayors of Tameside & Stockport agree that both communities need a passenger service along the line to Manchester Victoria and not just our "Joke" Folk Train to Stalybridge. !
Council backing ! Thurs 17th Oct 2013.
Reddish South has the pots of gold at the end of the rainbow with the unanimous backing of both Stockport & Tameside MBC's. Photos kindly supplied by Andy Burns (Left) and Noel Henry (Right)
It can now be announced that BOTH Stockport MBC and Tameside MBC have now voted unanimously in favour of backing our joint campaign for passenger services along our line. The motion passed in the Town Hall Stockport on Thurs 17th Oct stated "That the service would improve access to attractions , amenities and places of work in the area of the City Centre served by the station for which there is a high demand locally and would have significant economic benefits for Stockport including supporting local employment and visitor attractions." It was actually seconded by no less than THREE Councillors of ALL political parties and was of course passed unanimously.
This great news from Stockport MBC was backed by the same support from Tameside MBC earlier in the week and is superb news for our campaign. It means that the councils can now put forward proper professional and ACCURATE financial plans backed by survey results and "Green" issue benefit reports to TfGM who so far have either ignored or produced inaccurate facts and figures against such a service. As MP Andrew Gwynne pointed out, it seems that TfGM have not got accurate information and probably not even seen or read any of our previous correspondance, information DVD's or paper reports.
We will be reporting more of our MP's latest information and reports here later, especially those from TfGM representitives to whom he has written forcefully expressing his comments against some of the more inaccurate information coming out of TfGM at the moment. We must all continue to emphasis to TfGM our urgent need for another form of public transport to help people to get to and from Manchester Victoria and beyond, that will alleviate the chronic road traffic situation that blights us all in Reddish and Denton. And remember that such a service would also help people from places like Bolton and Wigan to get to places like Stockport, Hazel Grove or Buxton as well as us all here in Reddish and Denton.
Macmillan Charity Coffee Morning. Fri 27th Sept
First the "GOOD News" then the even "BETTER News" ! !
First of all , the good news , it was a lovely warm sunny day. Then there was a huge turnout including our special guests, the area MEP Chris Davies & his PA Jackie Wilson, our local MP Andrew Gwynne & Cllr Alison Gwynne, and of course the Mayor and Mayoress of Stockport Cllr Chris Murphy and Mrs Murphy. It was also very pleasing to see many senior citizens who managed our steep station steps to support a very worthy charity. At the other end of the age group we also had some young families with babies and even a couple of cyclists who all managed the steep steps too ! ! A GREAT effort and well done to you all and a big THANK YOU ! Some of you may be in one of the photos below.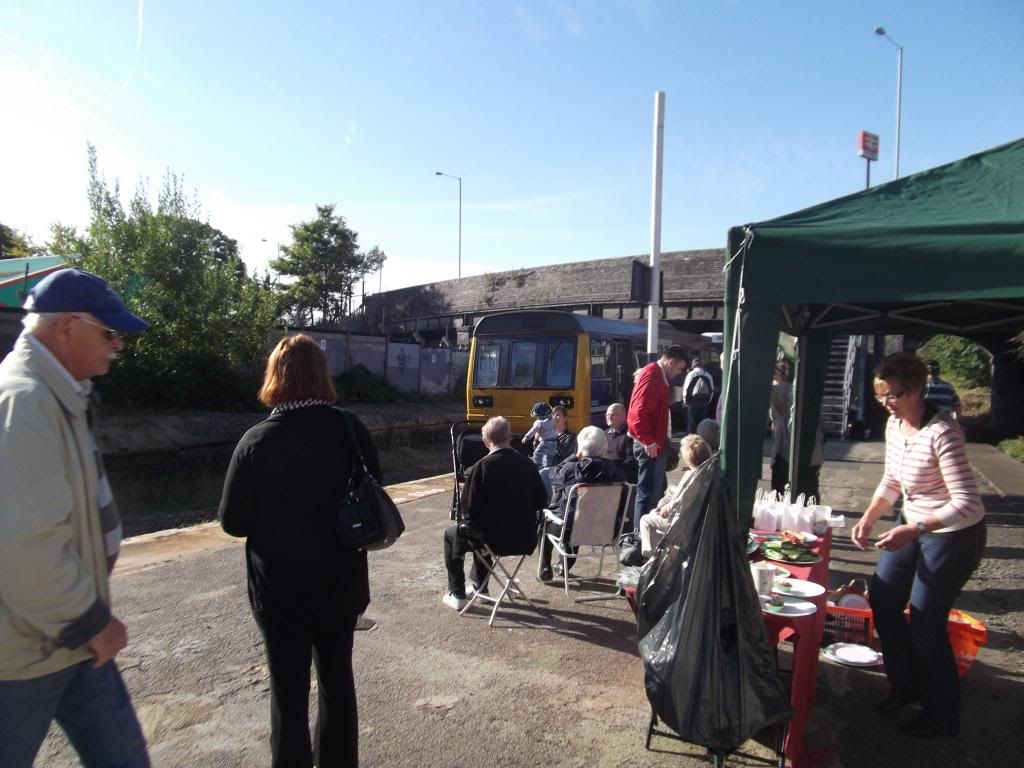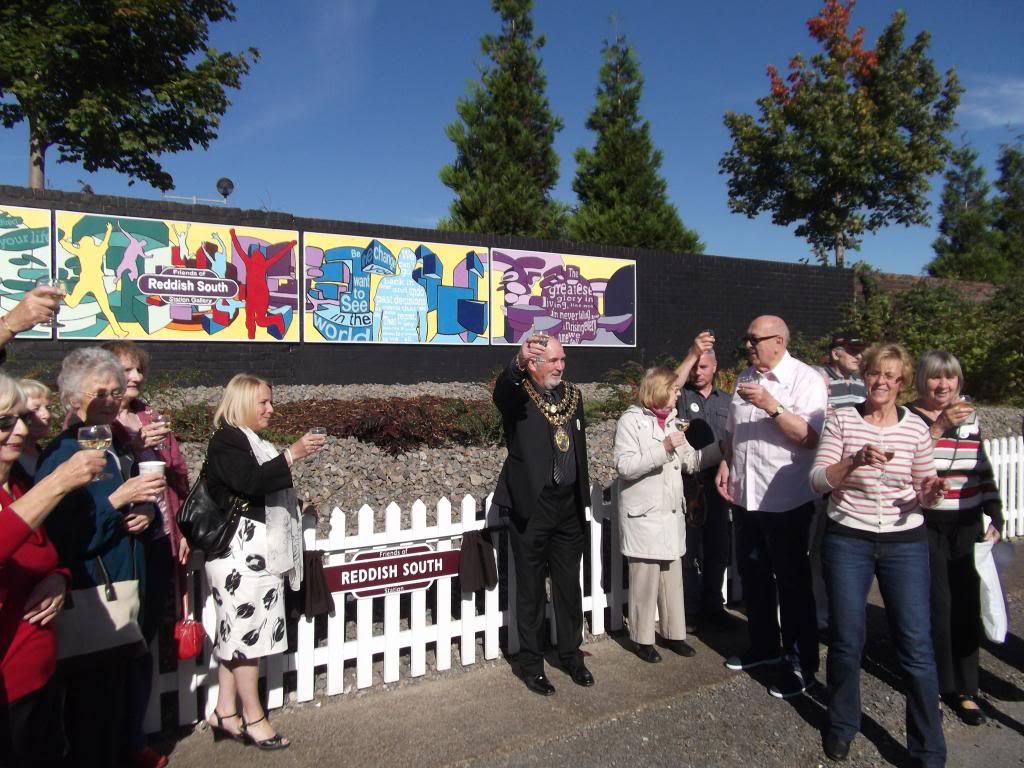 The Mayor and Mayoress of Stockport Cllr Chris Murphy and Mrs Dorothy Murphy raise a glass with some of the many spectators and supporters of the Macmillan event as he unveilled the plaque commemorating the latest landscaping project at Reddish South Station.
The above photos show the once a week service to Stalybridge that actually brought a few supporters from Stockport to our coffee morning event including area MEP ( Member of the European Parliament) Chris Davies and his PA Jackie Wilson, and they also show our members giving a cake to the driver , who was as surprised as the many passengers on the train !
And now for the even BETTER news ! ! Well over £310 was raised for the Macmillan Cancer Charity. There is some more money to come in from a couple of pledges and a charity quiz, so the total is expected to be about £320. We will of course reveal the final amount later. This huge amount smashes last years total of £250 and Everyone at FORSS would like to Thank all those who provided cakes , buns , special quizzes, champagne, tomatoes and of course COFFEE for this great Macmillan Coffee Morning, and finally for all of you who turned up to give your hard earned money for this cause. Thank You ! The Grand Total finally came to £372 (19/10/13) This final figure now includes "ace" fundraiser Terry Rourke's last donations. Well Done Terry ! !
Special meeting Denton "Town Hall" Aug 13th 2013.
A special meeting chaired by MP for Denton & Reddish Andrew Gwynne and attended by representitives from both Denton and Reddish South "Friends" groups, Councillors from Stockport, Reddish and Denton, Executive Leaders of both Tameside and Stockport MBC's and very importantly a representitive from Transport for Greater Manchester (TfGM) who is a Stockport Councillor. The main reason for the meeting was to draw attention to and to gain support for our joint campaign for rail services to and from Stockport and Manchester Victoria and beyond. many opinions and facts and figures were given and produced and basically everyone was agreed that this service is urgently needed on a very under used line to get people off our overcrowded, congested and painfully slow roads into central Manchester. The meeting was very encouraging for the campaign because we got 100% support from both Council Leaders Kieran Quinn of Tameside and Sue Derbyshire from Stockport MBC. Andrew Gwynne MP is obviously behind the campaign and speakers from both "Friends " groups and the many Councillors there all spoke up for such a service. It was all really very positive and the TfGM representitive was seen to be frantically taking notes , hopefully to be taking back to the main body of TfGM the enthusiasm, drive and support from everyone present that we need a passenger rail service to Manchester Victoria.
It is now expected that another meeting will be held in October after the top people at this meeting have written to , spoken to and had their own meetings with TfGM on our behalf and Kieran Quinn the Executive Leader of Tameside MBC promised that he would report back to Andrew Gwynne MP of any progress he makes and would then re-convene the meeting. It is excellent news that so many top people are supporting our joint campaign and it is very encouraging that at last we might be beginning to persuade and showing the "purse strings" of all our transport needs and requirements in our region, TfGM. Apologies for not naming every Councillor or representitive there at the meeting, but there were simply too many to list !
Printed below is a copy of an e-mail sent from our MP Andrew Gwynne , who chaired the above meeting and it tells us his views and opinions about it, and indeed the progress of our campaign for passenger services. It makes interesting and encouraging reading.
It was really great to get both the Friends of Reddish South Station and the Friends of Denton Station round the table to discuss our 'missing piece of the jigsaw' proposals with the Leaders of Stockport and Tameside Metropolitan Borough Councils. It's so important to the success of the campaign that we get the full backing of the two local authorities and I was delighted that Councillor Sue Derbyshire and Councillor Kieran Quinn got fully on board with our aims.
So where to next? Well Tameside and Stockport Council Officers are now speaking to each other with a view to both Councils taking a report to their respective Executive Cabinets in October to formally request Transport for Greater Manchester conducts a thorough and in-depth study into better utilising the line from Stockport through Reddish South and Denton, to Manchester Victoria and beyond. This is a major breakthrough because the two Councils, working together, have the capacity to drive our campaign up the agenda at TfGM.
In the meantime, I will continue to directly lobby Northern Trains, Network Rail, Transport Ministers (and whoever else will listen), on the merits of our argument. However, I know it is a great boost to the two Friends Group's campaign to get both Stockport and Tameside Councils fully on board. This is really only the start of a long process, but it is an important milestone nevertheless! Andrew Gwynne MP
Very unusual train visits Reddish South. ! On Sunday Sept 8th a Trans Pennine Express special train stopped at Reddish South for a few minutes. The train actually turned out to be a "Branch Line Society" special charter operated by a Class 185 Trans Pennine Express DMU originating from Manchester travelling to York and back, via some rare passenger lines and many sidings and depots that are not normally used by passenger trains. The society members are very knowledgeable railway enthusiasts and it was brilliant that they chose to visit Reddish South Station which hopefully soon will be host to regular passenger services and not just special charters. Unfortunately at the moment Reddish South can be classed as "rare" to the Branch Line Society because we only have one train a week !
The train itself was almost an hour late and our members who were gathered on the platform specially to welcome the visitors were just about to give up and go home when it was spotted coming under the bridge. We frantically put the banners and flags back up, got our fridge magnets and mugs back out of the bags and were just about ready again as the train slowed and stopped. However, because of the late running the society members were not allowed off the train , much to our disappointment and regret. But not all was lost as the Trans Pennine Express Managers and Crew very kindly allowed our members onto the train for a quick trip to Stockport and back to make up for our disappointment. We managed to distribute our publicity flyers and information sheets and were so very grateful to Trans Pennine Express and The Branch Line Society for this great opportunity and of course for the free ride ! ! Many Thanks to both. Photos of this special train will appear later. Photos are now on our pictures page
After we got off the train on its return from Stockport it was realized that this had become the first time in almost 40 years that passengers had traveled from Reddish South to Stockport and back. Lets hope we don't have to wait another 40 years for the next train ! !
Railtour to Settle & Carlisle (Sept 11th) A report of this tour is now on our "News" page.
Retrorailtour to Norwich/Great Yarmouth Sat 31st August
A report of this tour is now on the "News" page.
Stockport Station Open Day Aug 4th 2013. We had a great day out with our joint show stand with "Friends of Denton Station" , and their Chaiman Alan Jones, which was really well attended. We even had celebrity and rail enthusiast Pete Waterman at our stand who was really enthusiastic and supportive about our campaign. He also gave us some possible leads to more funding and supporting people and organisations and it was fantastic to get this moral support from such a well known rail person. Pete Waterman was at the station event to officially name a Vigin Pendalino "Stockport 170" to commemorate the 170th anniversary of Stockport Station, and he gave a great speech about the station , Virgin Trains and the future HS2 Project. He is such an enthusiastic and knowledgeable person about railways and he got a fantastic round of applause from the large crowd. The show also featured many great railway stands and exhibits, particularly good were the model railway and tram exhibits and were all very well attended.
We raised £80 from our raffle , half of which went to the official show charity "Wish upon a Star" ,and we also sold scores of our now famous fridge magnets , so it was a really good day out for us. There was even a steam loco hauled excursion train stopping at the station during the event on its way to North Wales . It was a "Black Five" 45231 Sherwood Forrester and some shots of it are below. The steam hauled excursion train attracted hundreds of people and it created a great atmosphere at the show. Many thanks to all who attended our stall and special Thanks to Pete Waterman for his support. The steam loco is shown below along with Pete Waterman, Alan Jones (Chairman of Friends of Denton Station) Dot Ashworth (Treasurer FORSS) and Dave Ashworth (FORSS Publicity)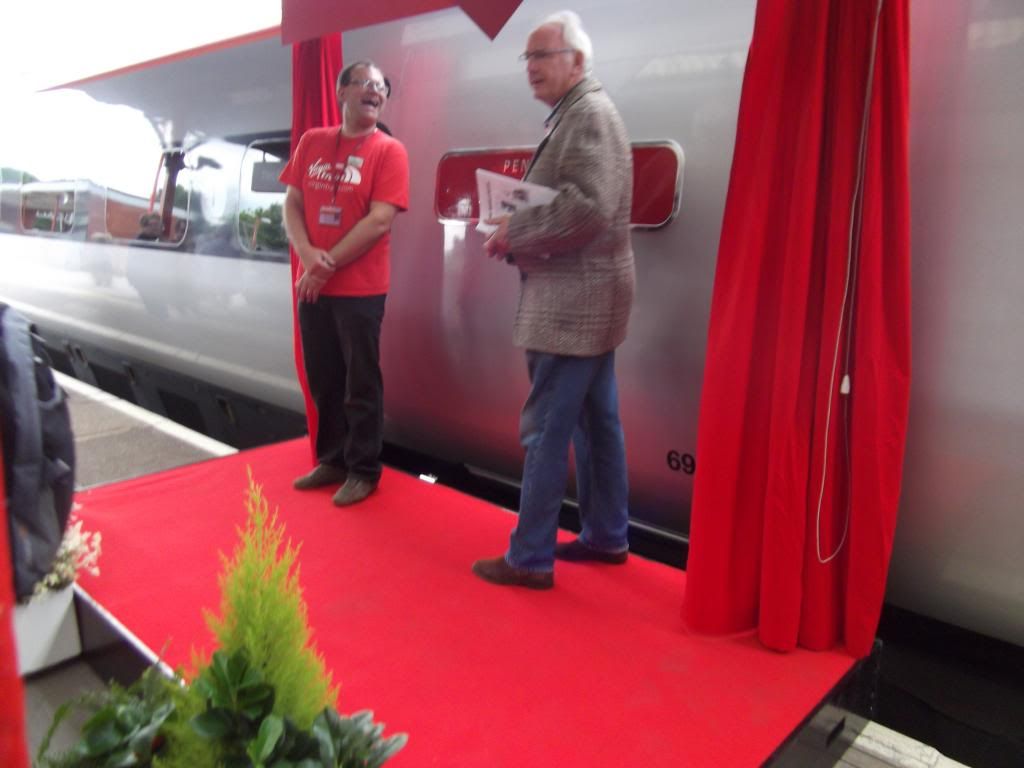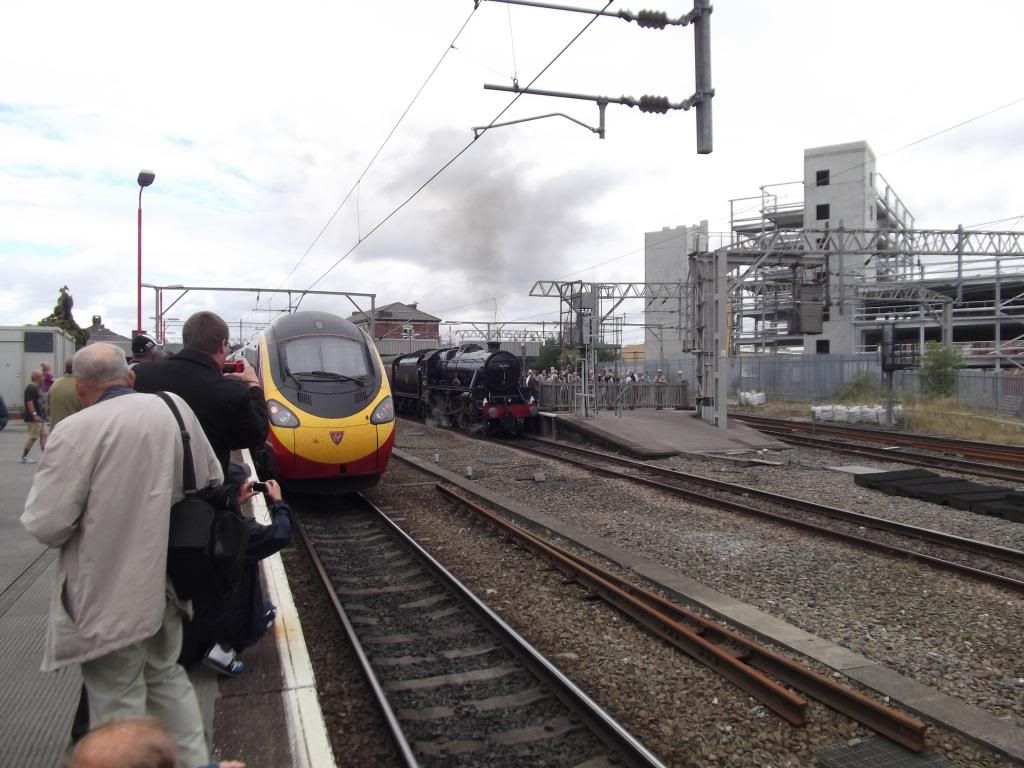 Scarborough Flyer 2013. This steam train excursion passes through Reddish South every Friday until Sept 11th but DOES NOT STOP to pick up or drop off. To travel on this train you must board at STOCKPORT. We do however have 2 diesel hauled railtour excursions from Reddish South on Aug 31st and Sept 11th and full details of these excursions are on our "Events" page. Below are photos of previous steam excursion trains that have passed through Reddish South and we hope to include some photos of this years locos which today Aug 2nd ,was A4 Pacific "Union of South Africa"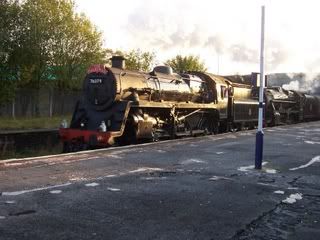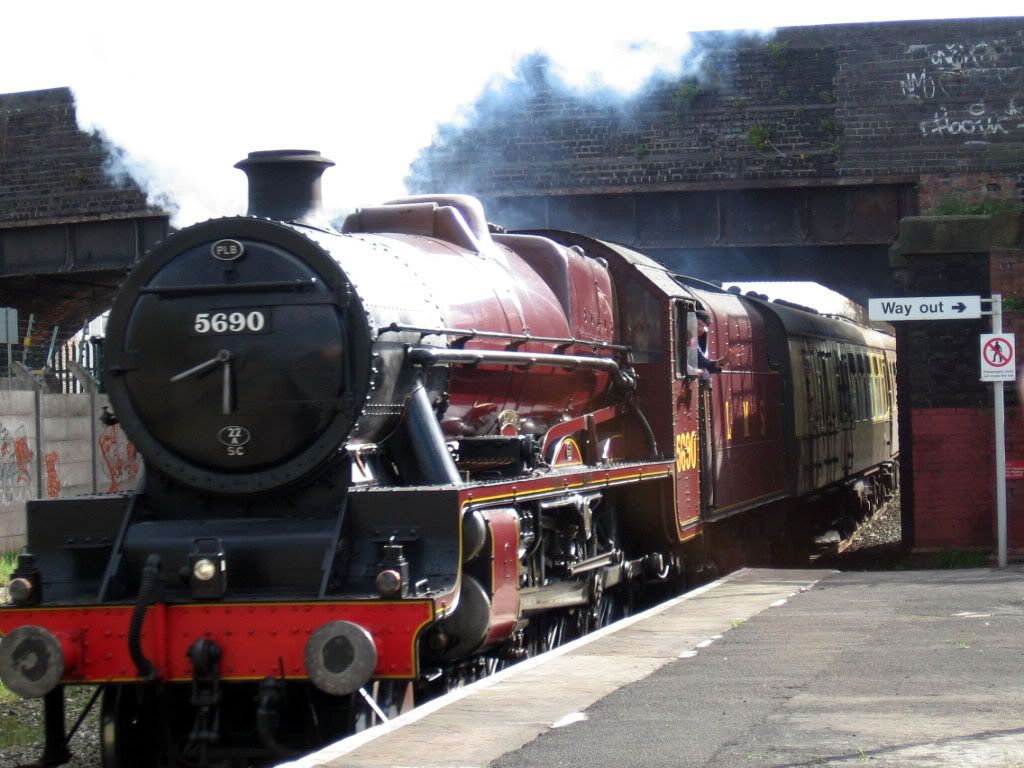 Reddfest event Houldsworth Square June 15th
MP for Reddish Denton and Dukinfield Andrew Gwynne attends our "Redfest" event in Houldsworth Square where he updated us with the latest news about our campaign for services through Stockport Reddish South and Denton to Manchester Victoria. He told us that he was continuing to gain support from Stockport MBC and Tameside MBC to persuade TfGM that such a service is necessary , viable and important to the people around here. This is of course to improve transport links and to get motorists off our congested roads and onto a rail service that so far does not exist. He reiterated the fact that we at FORSS and FoDS must continue to lobby the members of TfGM for this service and that our surveys, reports and DVD's must continue so that TfGM will accept that we have a valid reason to be included in the next franchise agreement for this new rail service. Andrew Gwynne is pictured with Alan and Kim Burrows (FORSS Secretary) and Dot Ashworth (FORSS Treasurer). Stockport Lord Mayor Cllr Chris Murphy and Lady Mayoress Dot Murphy also attend our stand at the Redfest event and also lend their support to our campaign. We always welcome support from such important people along of course with all the many people who completed our survey that day.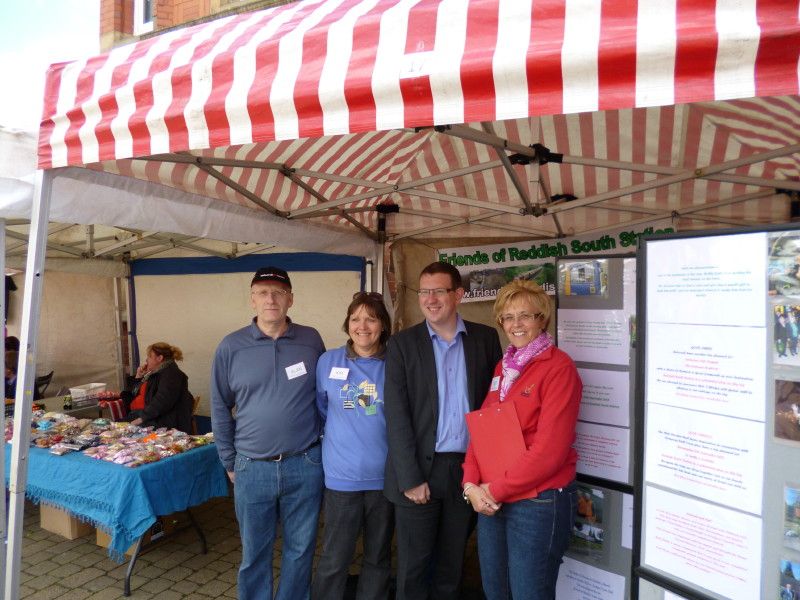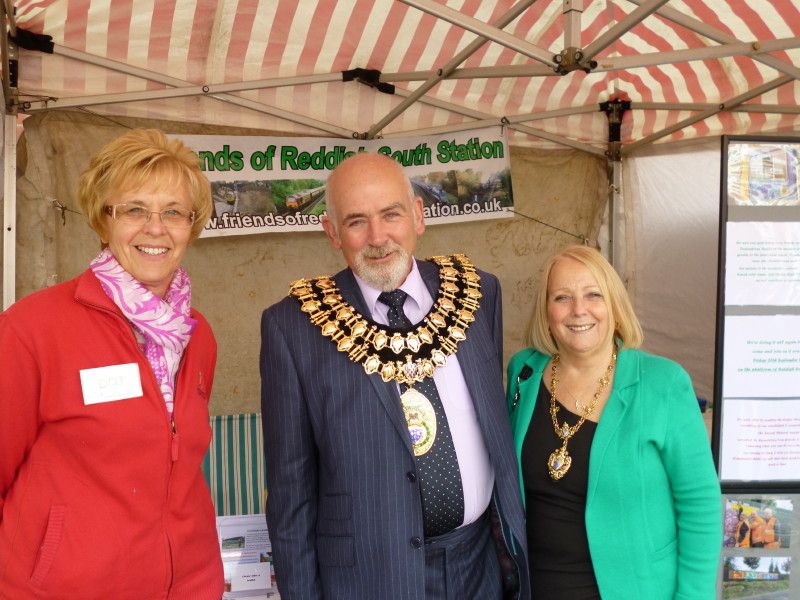 20th May 2013 Mid Cheshire Rail Users Group MCRUA announce their annual railtour. ! ! The tour this year will be to Carlisle via the very scenic Settle and Carlisle line . It will of course pick up and drop off at Reddish South and full details of the trip can be found on the "Events" page
5th June 2013 Retro Railtours announce their 2nd railtour this year. ! ! This next tour will be to Norwich & Great Yarmouth. Full details can be found on our "Events" page. It will pick up and drop off, as the last tour did, at Reddish South.
We now have 2 more railtours this summer from Reddish South !
27th April "Retrorailtours" Cardiff/Swansea trip.
This was a brilliant day out and a full report of it can be found on the "News" page
20th April 2013 Stockport Station "Survey"
Five members of the "Friends" group descended on Stockport Station in two seperate shifts on Sat 20th April to conduct a survey of travelling passengers with regard to services from Stockport to and from Manchester. The survey lasted from about 10:00 to 14:00 and the main questions were about possible new services to Manchester Victoria. It was pretty obvious even from a very quick analysis of the results that most people would prefer a choice of services to both Piccadilly and Victoria . It seemed that many people did not realise exactly where Victoria was and that many of them had been to the MEN Arena without knowing that it was Victoria Station that was next to it ! Many others said that they would use Victoria services to shop at the Arndale Centre almost opposite and to commute to Victoria as their workplace was much closer than Piccadilly so the free bus shuttle would not be necessary to get to work.
Anyway a full analysis will be done and the results will be detailed here at a later date. Many Thanks to Lesley the Station Manager and to all the platform Staff at Stockport Station for their help and support to us for this survey.
14th April 2013 "Quiz Night"
Please see the "News" page for a report from last nights Quiz Night
June Meeting with TfGM (Transport for Greater Manchester )
News about our overall campaign for passenger services from Reddish South and Denton Stations has progressed quite favourably. A very important meeting chaired by local MP Andrew Gwynne and attended by Cllr Fender of TfGM (Transport for Greater Manchester) and representitives from the Reddish South and Denton Stations groups took place in Manchester at the HQ for TfGM Piccadilly, and the overall impression was given that our joint cause was justified. An agreement was reached for further meetings this time to be attended by all the above, plus Network Rail and Northern Rail to go into more details of the needs and reasons why we all need these services and possibly to see how further progress can be made. We cannot stress how much MP Andrew Gwynne was important and forceful at the meeting with TfGM who at first seemed to be dismissal of our campaign. This seems to be a very poor attitude given the chronic need for a passenger service along this line to alleviate the terribly congested road network in East Manchester. This attitude also fails to recognise the fact that such services would also benefit people from places like Chester,Hazel Grove, and Stockport who would like to travel to Manchester Victoria, the true heart of the City , rather than to Manchester Piccadilly and then have to get a free bus to the centre.
Check out You Tube and you will find an excellent copy of Noel Henrys promotional DvD about the station and our efforts at getting services along the line to Manchester Victoria. Also there are two snapshots of steam trains passing through Reddish South on special rail tour duties. Just search for "Reddish South" and enjoy !
July 3rd. Check the "pictures" page for latest pictures of 3 railtours on one day through Reddish South
Dec 21st. Jeremy Vine Show Radio . See the "NEWS" section for details of National Radio coverage !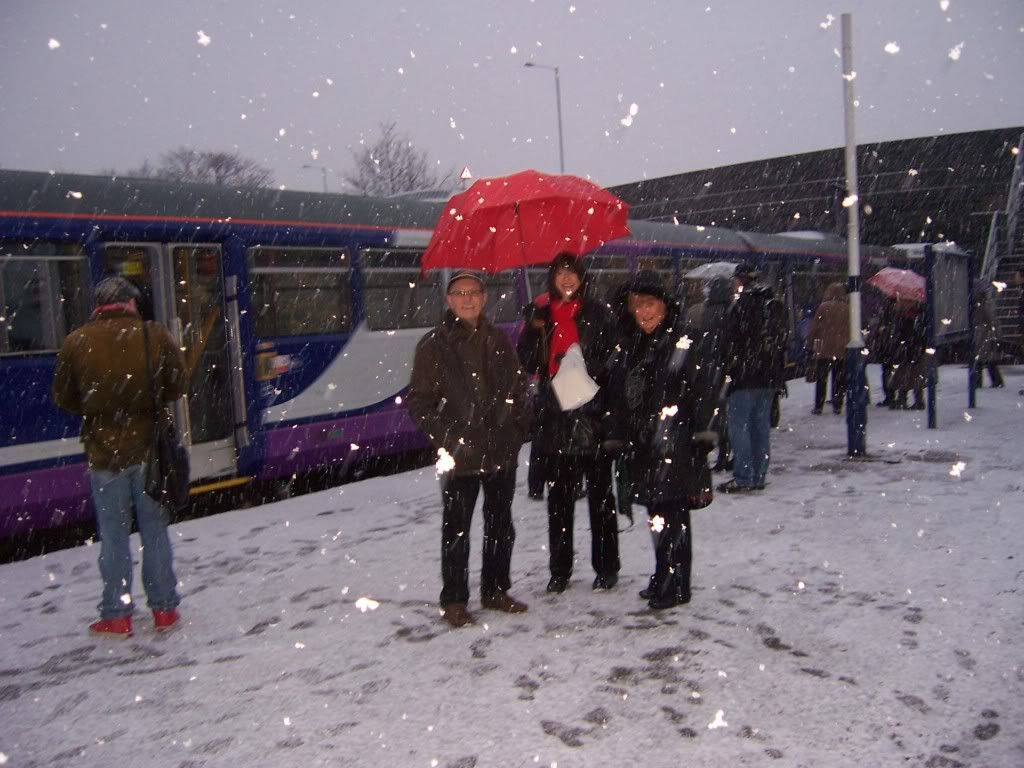 Dec 16th. Christmas 2011 Folk Train. ! The first snow of the winter did not deter the 40 or so passengers on the Folk Train on Dec 16th, which is shown above. See the events page for a report about the train.
Dec 6th. See our news "News" section for news of a great railtour stopping at Reddish South in Spring 2012.
Nov 9th. ACORPs meeting House of Commons.
Dave Ashworth was our representitive at the ACORPs meeting and here is his report.
I went down to London on Virgin Trains from Stockport and then enjoyed a nice walk to Westminster in the late autumn sunshine, through Trafalgar Sq and Whitehall. The security to get in to the Houses of Parliament is incredibly tight, but was well organised and I was in and at the Members Dining room where the meeting was held within a few minutes.
It started at about 4:20pm with a short welcoming speech by MP Ben Bradshaw, who then introduced the main speaker , The Rt Hon Teresa Villiers MP, The Minister of State for Transport. To cut a long speech short , she was very enthusiastic and supportive of Community Rail projects and highlighted some of the best and most improved lines in the country to support her views. Perhaps the most famous and certainly the best in terms of passenger number improvements is the branch from Truro to Falmouth in Cornwall, where the simple addition of a passing loop along the single track line plus some funding and re-scheduling of services, has boosted passenger numbers by over 90% in a year. I have to say that Mrs Villiers came over as being really enthusiastic and I would have loved to have shown her our promotional DVD !
Then we had similar kinds of speeches from Mark Hopwood of First Great Western and Richard Alan the Area Director (north and east) for Northern Rail. Again they sounded enthusiastic and interesting, but after briefly speaking to Richard Alan of Northern Rail afterwards, who was very dismissive of our particular campaign, and I have to say was quite rude, I was not sure of his motives.
The formal part of the meeting was concluded by Neil Buxton the General manager of ACORPs, who sounded really excited that ACORPs had had a meeting in the Houses of Parliament attended by so many MPs and the Minister of State for Transport. ! We then all mingled and swopped ideas and plans and I met some very intersting members who had done some fantastic improvements to their lines and services. The best part was meeting Cyrus from The Friends of Denton Station and we both bent the ears of a nice chap from Northern Rail whos name escaped me. He was a Projects Manager at Preston and Blackpool who has done a lot of work with The Friends of Poulton-le-Fylde station to get a Station re-vamp , painting and even a new lift that has now seen a dramatic increase in passenger usage at Poulton. We have been promised a couple of free passes each for Denton and Reddish "friends" groups to go and see the improvements at Poulton-le-Fylde and to get some ideas what we could do if we got actual services. We can also meet some "Friends" from Poulton.
This chap from Northern Rail was brilliant. He actually supported our causes at Denton and Reddish, he was positive, enthusiastic and certainly not rude like his more senior Northern Rail Area Director. I gave him one of our reports and DVDs and I expect this one will actually be read and viewed ! He also promised to sign our online petition and as the number went up , I think he actually did. !
I gave out many flyers and all the reports and DVD's and most of them went down really well. Hopefully we will get some much needed publicity for the campaign. Unfortunately apart from Andrew Gwynne MP, who of course is already on our side in a big way, I did not get a chance to bend the ears of other MPs as they all had to dash out to go and vote in a division in the House when the division bells rang half way through the general chatting. However flyers have gone out to ACORPs members in Cornwall Devon Essex and Derbyshire as well as to several from unknown affiliates.
A great meeting , superb location, really nice food and drinks and even enough time to visit the actual House of Commons chamber itself .
Nov 6th See the pictures section for photos of the latest railtour to pass through Reddish South yesterday, Nov 5th.
New Station Mural unveilled by MP Andrew Gwynne.
Please see news page.
Reddish South station is presently served by the once a week "Parliamentary" train know locally as the "Ghost Train" which runs every Friday. It runs one way to Stalybridge with request stops at Reddish South and Denton. The train leaves Stockport at 09:15 and calls at Reddish South at 09:26.
The "Friends of Reddish South Station" FORSS, were founded in 2007 with a handful of supporters and now have hundreds of people who have backed our campaign for proper passenger services to Manchester Victoria.The website will aim to keep you updated about the groups progress, will include pictures of the site, details of the next meeting, events etc.
As a local resident and commuter I know that the Reddish, Gorton and Hyde road corridors are becoming increasingly congested we need to be thinking about alternative modes of transport to Stockport and Manchester.
Ultimately the group fully supports the full re-opening of line with a decent timetable to Stockport and Manchester. It also wants to tidy the station and provide South Reddish with a tidy and maintained station.
Please keep checking the site for further updates.
Thanks
Jon Ashworth & Dave Ashworth (e-mail address is haleywatch@yahoo.co.uk)