2016 Events
July 9th Canterbury Belle Excursion & July 31st Stockport Station Show.
We had nearly 40 people getting on at Reddish South and more at Stockport because of the lifts at Stockport. The train got to be 15 minutes late at Rugby but by using the more direct west coast route we made up time and arrived at Clapham Junction just a few minutes behind schedule. About 50/60 got off in London but just about the same number got on for the "mini" tour from there to Cantebury. The sun shone as we arrived at Canterbury West and we had almost 4 hrs to explore this beautiful City and Cathedral. The streets are narrow and beautifully restored and maintained with some buildings dating right back to the 15th century. Just fantastic. The return trip was spot on time and we picked up the London visitors at Clapham after passing over the viaducts of South London giving great views of Canary Wharf, The Shard, The London Eye and many more famous London buildings. We enjoyed our picnics with wine and on board draught beer served right to our seats. What a great innovation having draught beer on a trolley, well done RetroRailtours and your resident brewery ! The train arrived back spot on time just after 10:00pm. A great day out !
On Sunday 31st July the "Friends" group attended the Stockport Station Show hosted by Virgin Trains and superbly organised by Nikki one of their Customer Services platform staff. There were lots of trade stalls, "Friends" groups , model railway displays, book stalls and Railway Preservation groups. We had absolutely loads of visitors to our table and we gave out lots of information about our campaign for passenger services ffrom Reddish South and Denton Stations and we also sold lots of fridge magnets and model locomotives that we inherited from the estate of Mr Mills of Reddish. Thank You to the Mills Family. The Show also had a visiting DB Freight loco from the pool at Peak Forrest Buxton and the cab was open to visitors too. Another great day out, profitable for FoRSS both cash wise and morally with many expressions of support for the campaign. Special thanks goes to Nikki of Virgin Trains, to Councillors Tom Grundy and Walter Brett for their support and to Graham Kelsey for his railway knowledge and expert sales technique and negotiations in selling almost all our model locomotives and magazines.
June 12th 2016. Queens (very wet ) Birthday Event !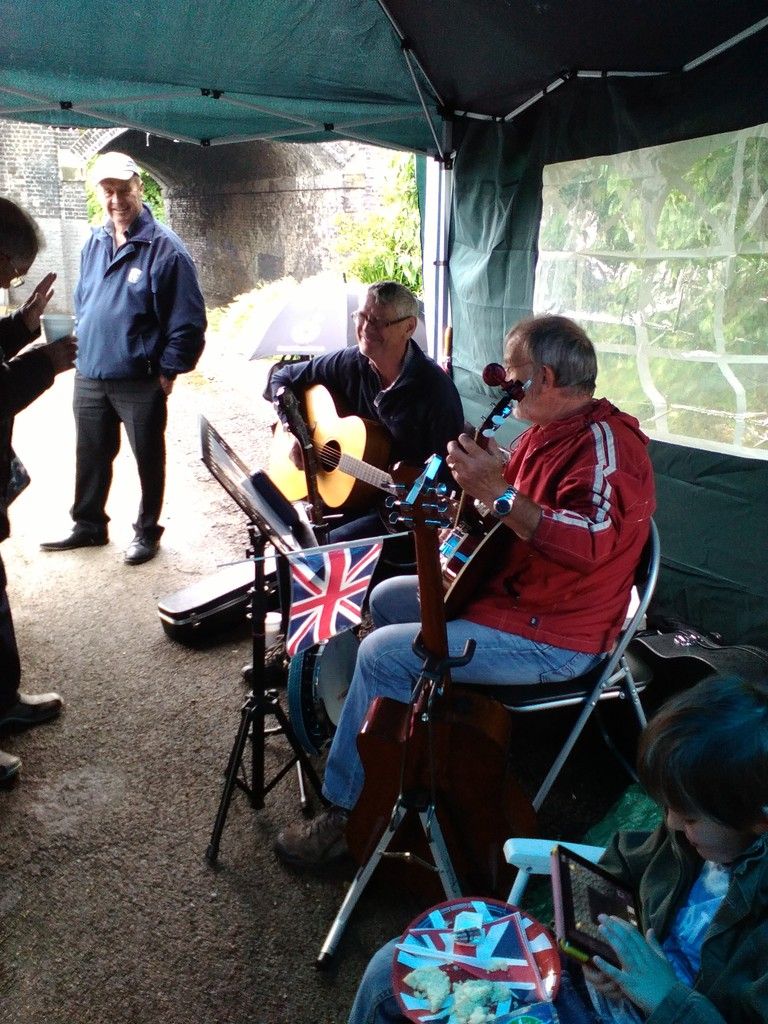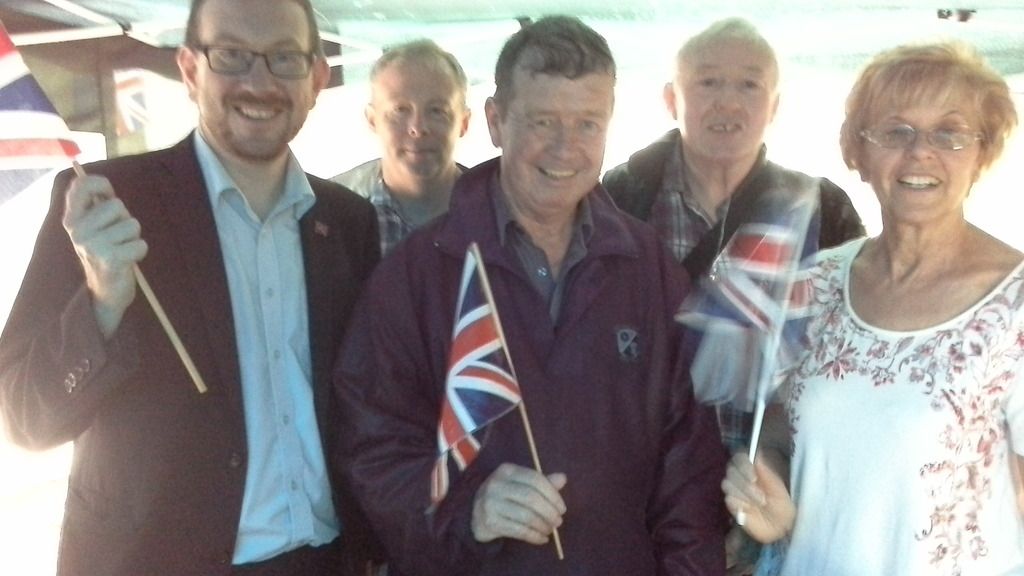 Double click on any image will bring it up full page. Your back button will return to page.
Well if you tried to create worse weather for this event it would not have been possible ! It drizzled, it rained and it absolutely poured down but it did not stop us huddling under our gazebos and tarpaulins and enjoying our Queens Birthday Event yesterday afternoon. Our intrepid Folk Duo Ged and Phil provided the excellent music and we still got well over 50 visitors coming down to the Station platform to enjoy free teas coffees and cakes and scones, which all went down really well. As well as our 50/60 visitors we also hosted our MP Andrew Gwynne, local Councillors Dave Wilson, Walter Brett and Tom Grundy along with Stockport MBC Transport Officer Stephen Forde. YES it was very wet but still enjoyable and it was the usual stoic British determination that shone through and it was good fun ! Special mention must go to member Len who provided a last minute huge tarpaulin that kept us dry between our gazebos and who walked round constantly to keep the water from building up too much on the roof !
We can't say too much at the moment but one of our members will hopefully feature on BBC's Antique Roadshow with some very , very rare and valuable memorabelia from the original preserved Flying Scotsman when it came from British Railways. It is very exciting news. Watch this space !
Good Friday March 25th 2016. Easter Folk Train.
A really nice sunny morning saw quite a few passengers on the platform for our annual "Folk Train" special to Stalybridge Station and of course to its famous buffet bar. This year our resident duo were joined by Colin on the train and also by Mike who joined us at the buffet bar on the station. Dot Ashworth went round the train with Cadburys Cream Eggs for the kids and we were fortunate this year with support for the event and for our cause regarding the ultimate aim of getting PROPER passenger services along our line and not just for the "joke" once a week service to Stalybridge, from local Councillors Walter Brett and Tom Grundy. We were also supported by Stephen Forde a Stockport MBC Council transport official.
The ladies at the buffet bar had opened specially for our party and we filled two rooms while they provided teas coffees and various breakfasts for our hungry party. The now "quartet" provided the excellent and varied music and song and it was a really nice morning out. Thank You to all of you who supported the event and when we get pictures of it, we will post them below. Many Thanks as well to the staff at Stalybridge buffet bar, the bacon butties were lovely !
2015 Events !
Good Friday April 3rd 2015. Easter Folk Train
An amazing 8 carriage train pulled into Reddish South Station on Good Friday morning to take the good sized crowd on the platform to Stalybridge for our usual Easter Folk Train event. Only 2 carriages were open for public use but these were both pretty full from those already on from stockport, plus those passengers from Reddish South and Denton stations. Phil and Mike provided the excellent music on the train and then again in the buffet bar at Stalybridge that had been specially opened for our party. We all enjoyed the music and great breakfasts provided by all the staff who came in early for us, so well done ladies and Thank You from all at FORSS and FODS. !
Kim and Dot went round on the train itself with Easter Eggs for everyone on board and as well as going down really well with the families and kids on board, quite a few of the real train buffs who joined us enjoyed them as well ! Fortunately there were a few left over for the conductor , driver and even the Stagecoach bus driver on the rail replacement bus that took us to Victoria on the convoluted journey home. It was another good "Folk Train" day out, good atmosphere , good company, good music and good food. What more could you want, why don't you join us next time ?
Great Folk Music in the famous Stalybridge buffet bar and on the train on the way. This was just half of the first carriage, and the second one was pretty full too. ! Double clicking on any image will show it full page size, clicking your back button will return you to our web page.
2014 Events !
Fri 31st October. The "Friends of Reddish South & Denton Stations" "GHOST FOLK TRAIN" on Halloween, Fri 31st Oct.
The train was announced at Stockport as the "Halloween Express" and with passengers boarding in good numbers at Stockport, Reddish, Denton and even a couple at Guide Bridge quite a few people decended on Stalybridge, after being entertained on the train by Ged, Phil and a new friend on guitar who's name escapes us at the moment. Kim & Dot dressed suitably in Witches costumes handed out halloween treats to all the children and other passengers on the train, who included TfGM representitive Steve Magner. Those of us who had time to visit the famous Stalybridge Station Buffet Bar enjoyed bacon butties , breakfasts and teas and coffees while our new "Trio" played their fantastic folk music.
Thanks to all our musicians, buffet bar staff , Northern Rail and all our passengers who made it a very enjoyable and atmospheric morning out. Pictures of the event will appear here shortly.
The photos above show the "Halloween Express " musicians , guests and a couple of Witches who gatecrashed the event last Friday ! ! Double clicking on any photo will enlarge it to full page, then use your "back" key to return to our web page.

Mon 25th August "Retro Shakespearean Tug" Railtour to Stratford on Avon.
Despite very heavy rain for most of the day in this fantastically historical town, this was a brilliant Railtour. The 10 coach train was quite well filled but our numbers at Reddish South were just a bit down on the last tour to Edinburgh. However we did enjoy an ontime trip at every timing point and we arrived spot on time in Stratford on Avon. We were hauled by a rare loco on passenger work, a class 60 "Tug", and the rail enthusiasts on board were also treated to a short visit to the Bescot Yard "up and down goods loop"in Birmingham, that is very rarely used for passenger trains. The rest of us just had to be contented by the lovely scenery through Cheshire Staffordshire and Warwickshire, while enjoying the comfort, great catering and well stocked "Greenfield Brewery" bar ! We also had some wonderful folk and blue grass music from our resident Reddish South duo "Phil and Ged" who were actually invited to play in the Stratford riverside pub "The Dirty Duck" when we arrived. They played for about 45 minutes on both legs of the journey and they went down really well, both on the train and in the pub !
We had a group photo on our return to Reddish South and everyone agreed that it had again been a well run rail tour, spot on time and a credit to the very hard working "Retro" crew and stewards. A great day out. ! Hopefully some photos will be on our pictures page in a few days time.
Sun 10th Aug Stockport Station Railshow.
The lack of a passing steam locomotive due a cancellation and the remnants of "Hurricane Bertha" causing a lot of heavy rain caused a huge reduction in visitor numbers, but it was still a great day and we had a lot of support for our campaign and we still sold many magnets and mugs. The raffle was quite well supported too. We had visitors from London, Sheffield and Derby as well as our local area. Our "star" guest visitor was MP Andrew Gwynne and we were also supported by our local Councillors, who we Thank for that support. The event was sponsored by Virgin Trains, DB Schenker Railways and DRS Railways, who provided static locos in the bay platform for visitors to board and have a look round. There were many trade, magazine and model railway stalls and it was a very interesting show. The picture below shows our stand with Cllr Walter Brett , FORSS secretary Kim, and Virgin Trains dispatcher , one of the organisers.
Sat 28th June. 2014. The first Retro Railtours trip of the summer to Edinburgh turned out to be a fantastic day out after a rather incongruous start with a 70 minute delay due to a broken down dmu passenger train right in front of the tracks at Crewe carriage sidings where the "retro" train was stored and prepared. It seems that a second dmu was sent to rescue the first one and that too broke down. However due to some quick thinking and brilliant team work from Retrorailtours, Riviera Trains, DB Schenker, and Network Rail, we actually ended up in Edinburgh Waverley Station just 18 minutes late. Brilliant, and well done to all concerned.
The train itself was packed with almost 400 passengers, enjoying the fabulous scenery through Yorkshire Lancashire and Cumbria to the Scottish border at Carlisle. From there we saw the beautiful southern uplands of Scotland past Lockerbie, Beatock Summit, Abington and Carstairs, before dropping down to the Lothian city of Edinburgh. Everyone had plenty of time to enjoy this famous capital city with its castle, royal palace, other beautiful architecture, and even brand new trams on the world famous Princes Street. After almost 4hrs we made our way back to Waverley, where both "Retro Railtours" and "Reddish South" made it onto the famous departures board at this iconic station.
On the return, we all enjoyed our picnic meals or even a full 3 course hot meal in "Premier Dining" and of course the famous Greenfield Brewery were serving their great beers in the buffet bar, that even had a discount price after the Preston stop ! It was a very well run tour, with trolley service, regular cleaning runs, a couple of good charity raffles and even a party of ladies enjoying cocktails & hor's-doeuvre, complete with Hawaiian leis, hair decorations and party poppers. They looked like they enjoyed themselves. !
A brilliant day out despite the late start. So a big WELL DONE to Retro Railtours and all the teams involved. We now have some photos, on the "Pictures page.
Sat 14th June. "Reddfest Day"
Today's FORSS contribution to the local Reddfest Day was held on the Station platform itself rather than in the usual place in Houldsworth Square. This was hopefully to show people our landscaping efforts on the Station and to update them of our latest rail tours and "Folk Trains". We also updated people on our campaign for services along the line between Stockport and Manchester Victoria , and the day was judged to have been very successful by the numbers of local people asking specifically about the campaign and by those wanting to know the actual dates of the railtour and folk train. We had the official support and the visit of local Councillor Walter Brett, a message of support from Councillor Tom Grundy on holiday in Devon and a visit by MP Andrew Gwynne and family. This official support from our Councillors and Member of Parliament Andrew Gwynne is very important to us and we are now going to table some questions in the full Council meeting of Stockport MBC later this month about the campaign and its progress with TfGM . Watch out for that news in a week or two !
Treasurer Dot Ashworth, Secretary Kim Burrows & local MP Andrew Gwynne pose infront of the mural on Reddfest Day !
In the meantime we can say that we had a great day out at Reddfest, we sold some more fridge magnets and mugs and got some new members too, and no doubt got some more cutomers for the railtour to Edinburgh on the 28th June and the next Folk Train in October. All this on a nice warm dry day in sunny Reddish. !
Friday April 18th. Good Friday Folk Train to Stalybridge !
The nice spring sunshine brought out plenty of people for this years Easter Folk Train. In fact one of our members counted 74 people on the train, who all enjoyed the great music provided by Ged & Phil our resident musicians. They also played in the buffet bar as usual while we enjoyed the "butties" and "full breakfasts" but unfortunately the large numbers of people seemed to overwhelm the kitchen staff and some of us had long waits for the food and teas ! Still , we got fed and watered in the end and the music was good which was all that mattered.
We also got to speak to James Palmer of "Retro Railtours" who provided us with more flyers and booking forms for their Edinburgh Railtour on Sat June 28th. We now have plenty of these available but you can also book online on the Retro Railtours website.
Saturday 10th May. Quiz Night. ! & Hot Pot Supper !
This years event had a few less teams booked and was also competing with the Eurovision Song Contest on TV but we still made over £75 after all the expenses. The Retro railtours team from Ashton won the First Prize of Five £5 vouchers for the Plaza Cinema/Theatre/Cafe in Mersey Sq Stockport.
Everyone enjoyed the great Hot-Pot supplied by Sykes Cafe in Reddish, and the fantastic Folk Trio entertained us all with some wonderful music and songs until closing time ! ! Thanks to all who made the night so enjoyable. We hope to include some photos of the night, here in a few days time.
2013 Events
November 1st 2013 "Folk Train "
Today's Folk Train was a great success with many people having to stand as some of the photos show. The photos above were taken on the train and in the fantastic buffet bar on Stalybridge Station with our special guests the Mayors and Mayoresses of both Tameside and Stockport MBC's enjoying the music on the train and in the buffet bar. The bottom left shows our resident Folk group with another special guest Laura playing the chello who just joined in as if she had played with the group all her life ! ! And the bottom right shows our Mayors group with Caroline the Manageress of the Buffet Bar who provided us all with great food and drink. The full breakfasts and bacon butties went down great ! Although the "Folk Train" is just a nice day out and a publicity event for our joint campaign for passenger services along our line through Reddish South and Denton, it was also a nice way to thank our Mayors of both MBC's for officially backing us at Council level in persuading TfGM that these services are both necessary and economically viable. It was a great pity and really quite obvious that no representitives from TfGM were on the train to guage for themselves the depth of feeling from our communities that we are serious and do indeed have a groundswell of support.
Reports from Open Day Events 2012
Sun 22nd July Stockport Station
The pictures below show the very well attended open day on platforms 3 & 4. Top left is ace salesman Terry Rourke who sold all the magnets with Secretary Kim Burrows. Top right is the passing steam loco A4 Pacific 60009 Union of South Africa. Bottom left are Kim and Alan Burrows directly infront of our fantastically located stall, next to the buffet/newstand and passenger stairs, and the final picture bottom right shows Treasurer Dot Ashworth, Technical and DVD producer Noel Henry and member Alan Burrows. We had a superb day with well over a hundred visitors and many pledges of support for our campaign for passenger services along our line to Manchester Victoria
The picture on the left above shows "Friends" member Graham Kelsey and Treasurer Dot Ashworth holding the nameplate off one of the Virgin Trains "Thunderbird " rescue locomotives that Graham had brought to the Station Open Day along with some more of his fantastic collection of nameplates and station totems. Graham has some unique and very rare memorabilia and his small exhibition drew hundreds of visitors. Apparently he has many more at his home in Dorset. Many Thanks Graham for sharing your collection with the enthusiasts in Stockport. The picture on the right shows our stall on Platform 3 and ace fridge magnet seller Terry Rourke making yet another sale ! Again Many Thanks Terry for making lots of magnet sales and for keeping us all entertained with your sales patter !
Next events :---
Sat 4th August. Lloyd Street / Grafton Street Park 12:00 till 4:00pm
Sat 18th August . Unity Park Reddish Road 12:00 till 4:00pm
Fri 24th August 09:26 departure. "Folk Train Special " to Stalybridge Station buffet bar
Sun 9th Sept . Manchester Road Park
Sun 16th Sept . South Reddish Park Greg Street 12:00 till 4:00pm
The Lincolnshire Poacher.
The MCRUA rail tour this year to Skegness (calling at Lincoln and Wainfleet) was a great success and enjoyed by a completely full train of 526 passengers that would have been even more if only the platform at Skegness could have fitted a 13th carriage. ! ! Everone we asked said that they had thouroughly enjoyed it and had also enjoyed the wonderful entertainment on board provided by Ged Phil and Rob our own very talented Folk Trio. They got off at Lincoln and provided more entertainment to the delight of a local pub landlady and her clients !
The weather at Skegness was unfortunately very cold, windy and quite rainy with some squally showers, but that provided the local pubs shops and cafes with some much needed business. We enjoyed some some dry spells to get in some brisk walks before the return journey which was again on time, picking up as on the outbound leg. The route home was via Boston Sleaford Gainsborough Lincoln Doncaster Wakefield Huddersfield and Stalybridge to REDDISH SOUTH.
The train itself was hauled by EWS (DB) Class 66 freight locos and attracted many railway enthusiast cameramen along the journey, as it was quite rare to see such locos on passenger trains. It was quite amazing to see some of them in very remote Yorkshire and Lincolnshire fields miles from any towns, just to get that "right shot" of our train.
We would like to extend a great big THANK YOU to our hosts on the train, The Mid Cheshire Rail Users Association (MCRUA) and to all their organising committee and helpers on the train , for yet again organising such a great day out. Fortunately they were very happy with the numbers joining at Reddish South and have promised that they will try again next year to have their annual rail tour stop at our station, Reddish South.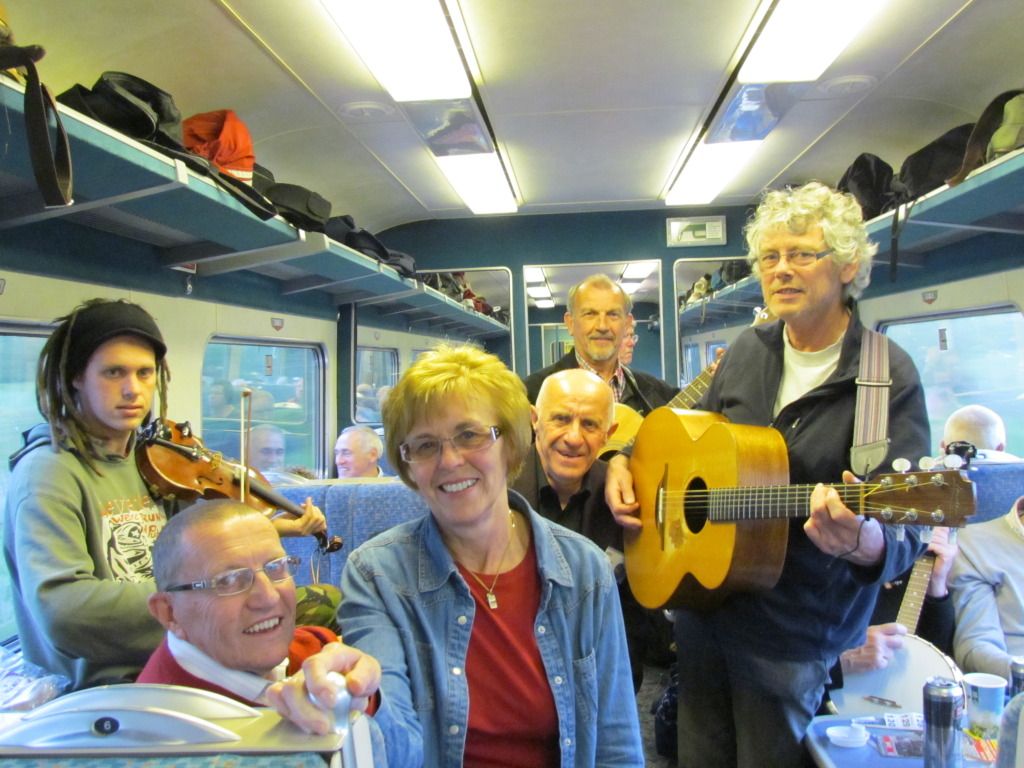 The resident folk trio entertain the packed "Lincolnshire Poacher" rail tour on the return journey from Skegness. Below, some of the many passengers returning to Reddish South after a great day out in Lincolnshire

The next rail tour will be on Sat may 19th 2012 to GLASGOW. A report and more pictures will be posted here , after the event.
May 2011 Railtour Roundup!
Sat 28th may saw no less than 4 Railtours passing through Reddish South with one stopping to picking up passengers. This was the "Retrorailtours" Southend Air Show tour with a London option. A fair number got on at Reddish South and about half the passengers on the train got off at West Hampstead London while the rest got about 3 hours in Southend. There were lots of real hard core rail enthusiasts on the train who had travelled many miles to ride behind the very rare preserved Class 31 locos , owned by British American Railway Services. This is part of the American Iowa Pacific Holdings group. The locos were 31601 and 31190 with a third loco on the back of the train to provide heat and lighting, this was a DB Class 67 67029 which is Deuch Bahns executive train loco , which again is pretty rare on a passenger train.
The tour was on time all the way to and from London and was going very well until the return to Stoke on Trent when everything came to a halt along the line due to trespassers on the line north of Stoke. Unfortunately when the line was cleared by the Police , the Virgin Trains and Cross-Country Trains scheduled services had priority and the rail tour had to wait about 50 minutes for a clear path, and infact 4 trains passed us while we were held in a siding just before Stoke on Trent Station which must have been infuriating for the passengers waiting to get off in Stoke. !
Anyway this did not detract from a superb day out and the Friends of Reddish South Station group were kindly allowed to sell some fridge magnets of the stations along our line , by Retrorailtours , for which we are very grateful.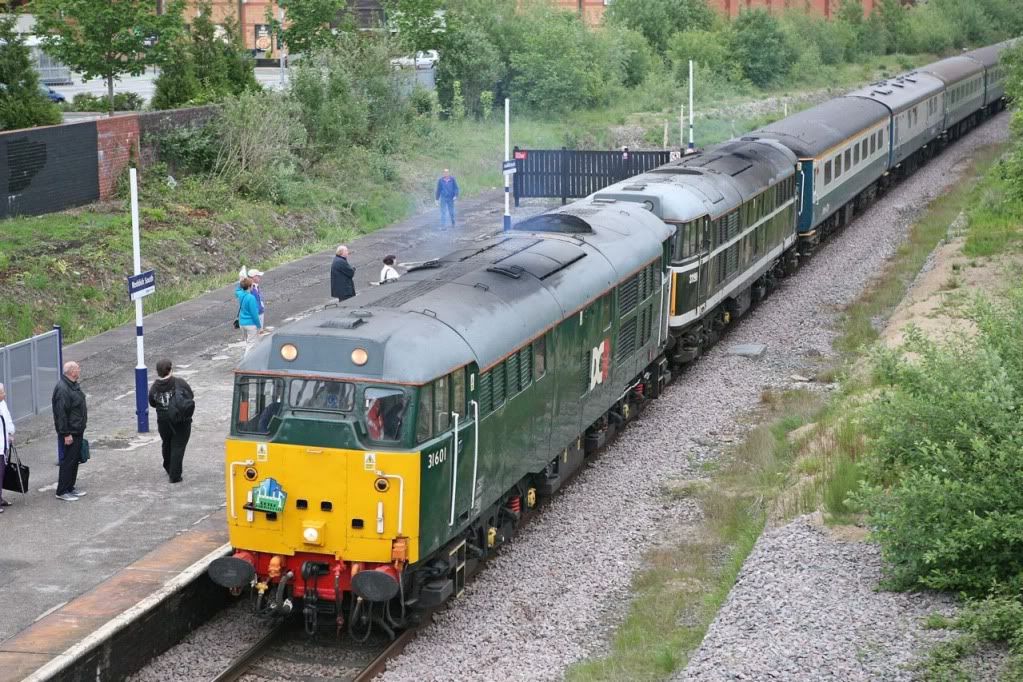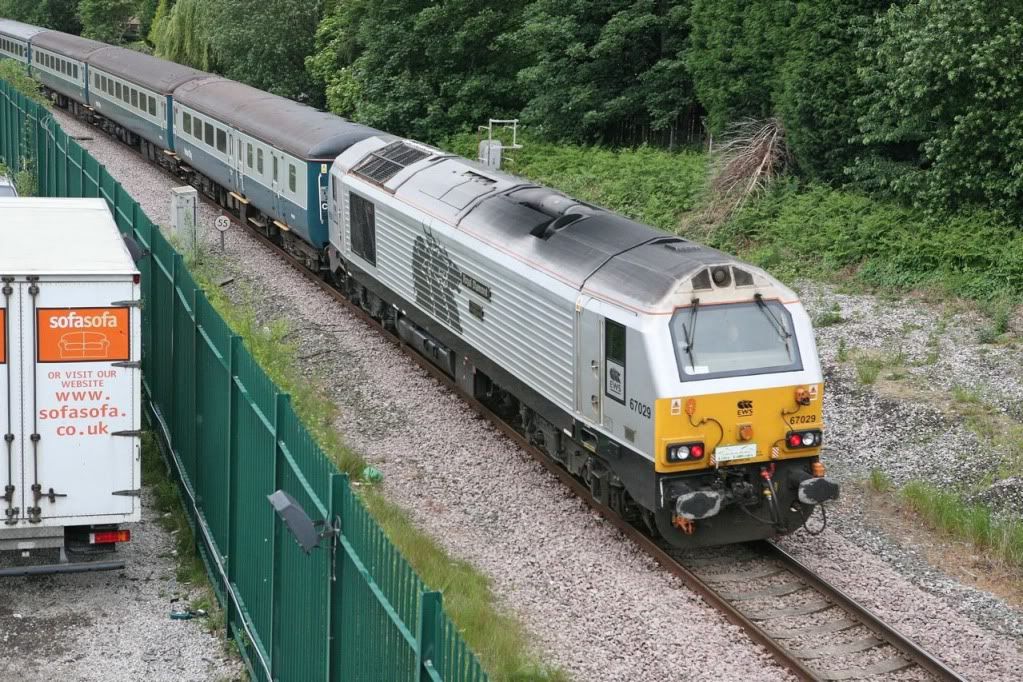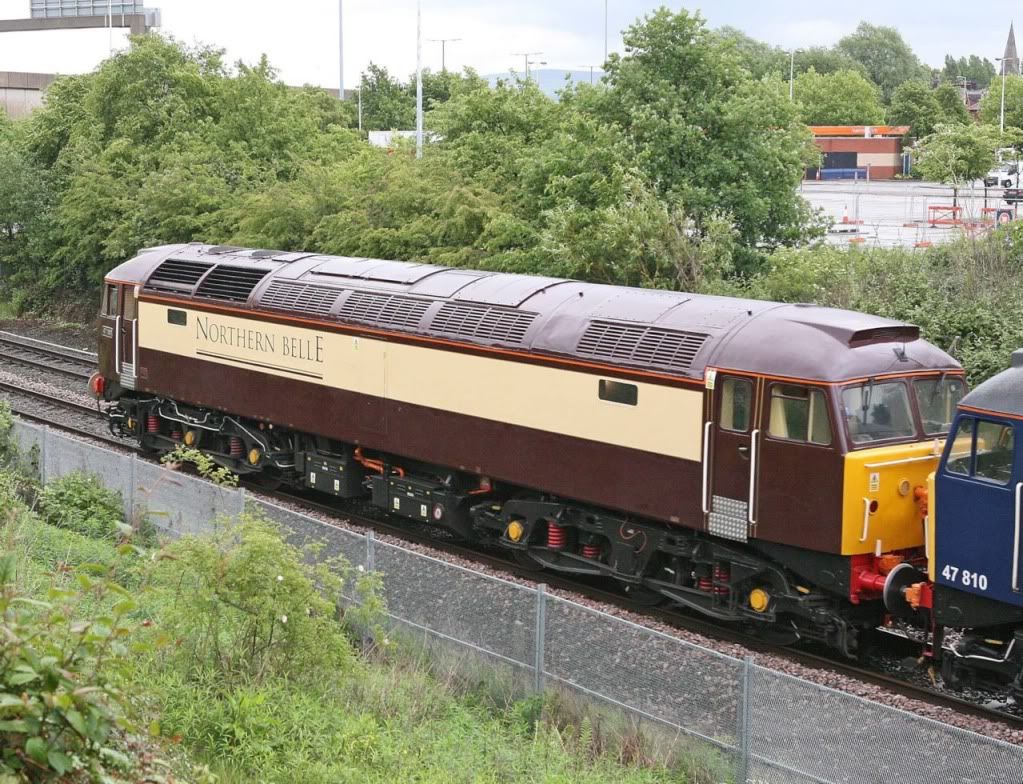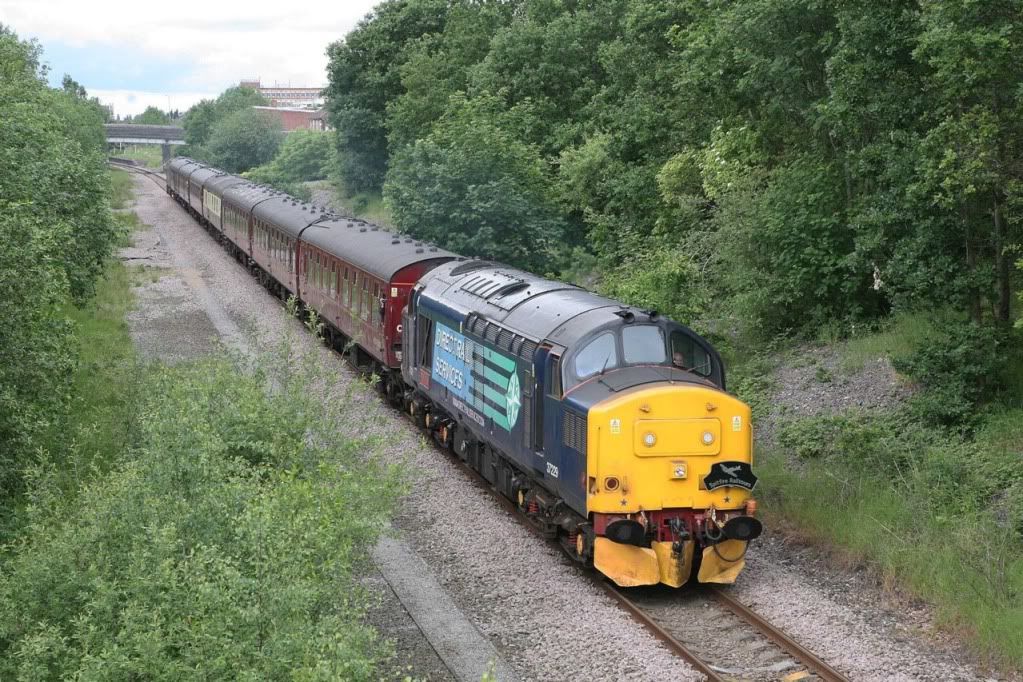 Station Clearup - April 2011
A very succesful " Clear up and Planting Day" took place on Sunday 17th April when trees, shrubs and summer bulbs were planted by the volunteers who turned up on this warm sunny morning . Grants from the " Manchester Airport Community Trust Fund" and the "Community Foundation for Greater Manchester" funded the tools and equipment and all the plants, trees and bulbs. Our own sales of Reddish South Station fridge magnets also funded the teas and refreshments for the volunteers who turned up to help. ! It was a great morning and the 2 hours planned to get all the work done had to be extended by an hour or so to finish the work planned so far. We have a lot more young plants to go in after any frost danger has passed , so eventually Reddish South Station should look really nice this summer.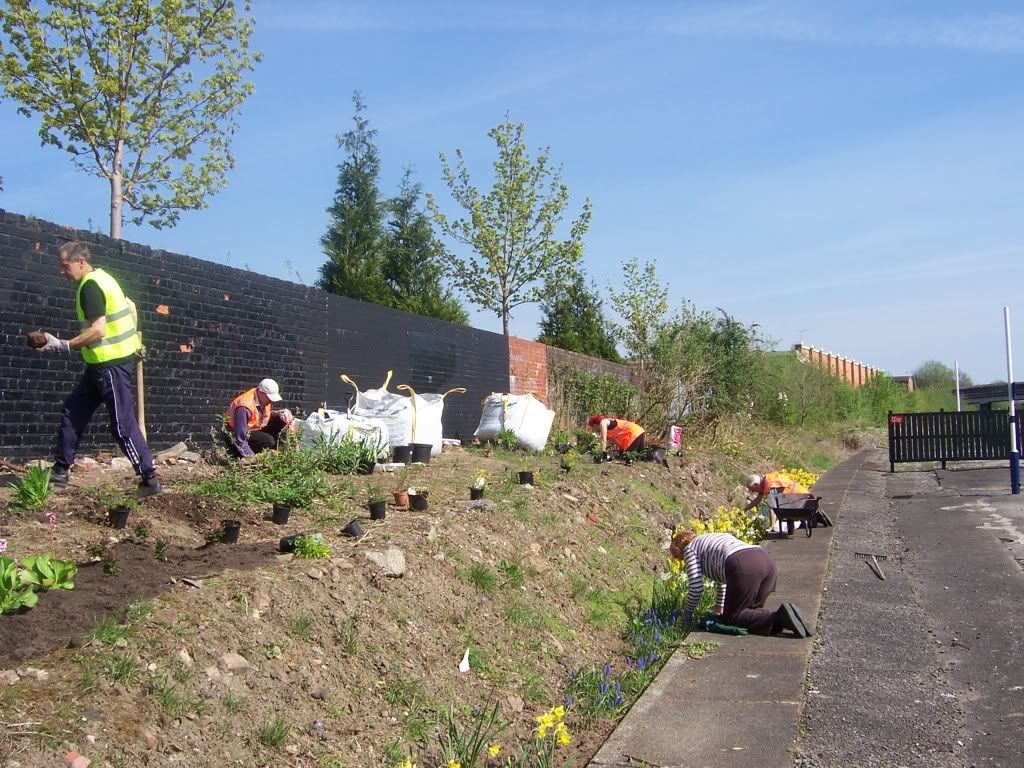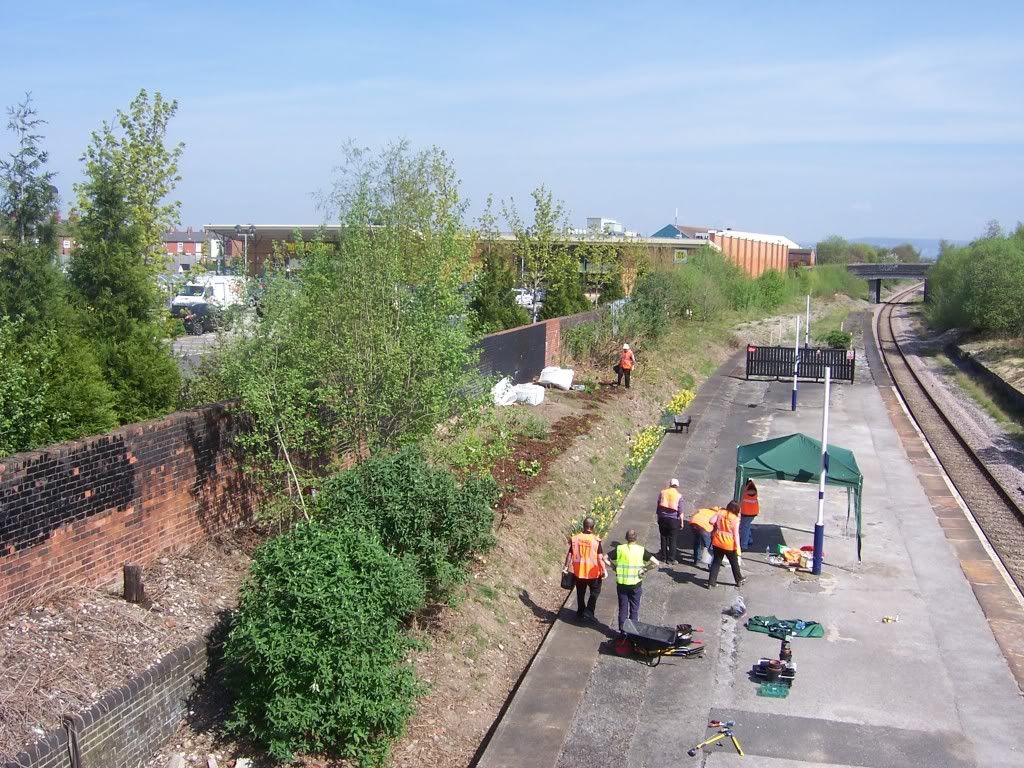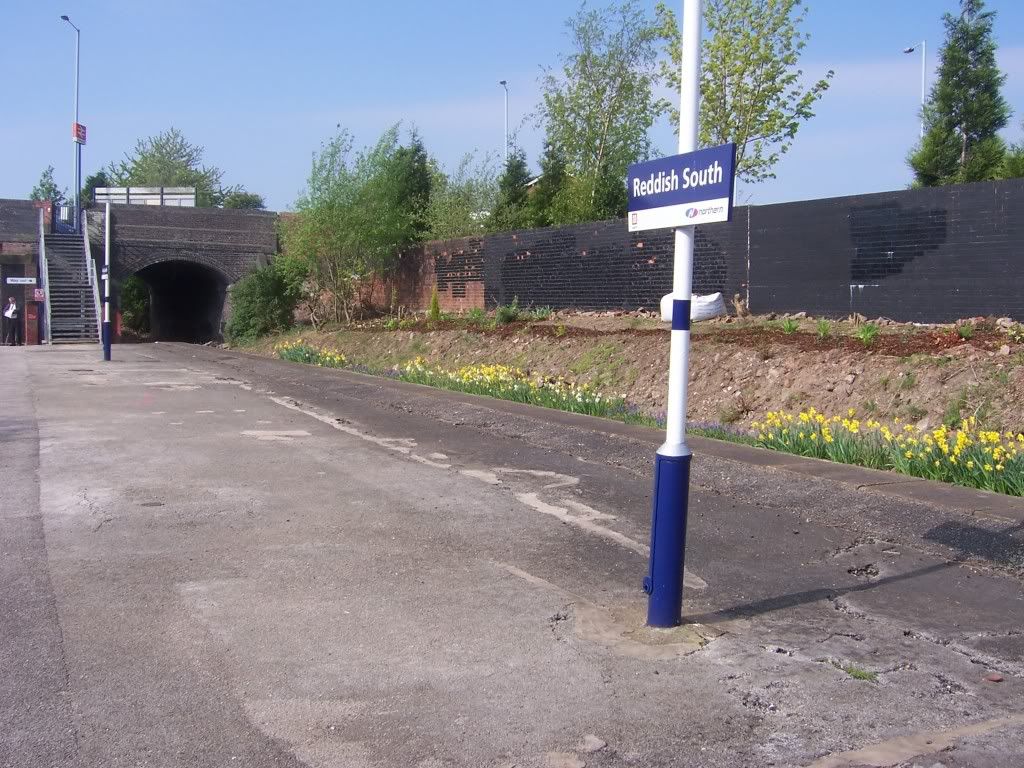 Bulb Planting Saturday 30th October
A lovely warm autumn day saw plenty of people joining the "Friends" volunteers in planting over 2000 spring bulbs. Four ton of Top Soil was delivered early and over £40 was taken in donations for the bulbs. A special thank you should be given to Terry for getting the passers by on to the platform. Dot and Kim took people down to platform, where Alan, Tom, Dave and Noel were busy planting and covering the bulbs with Top Soil. We are now looking forward to spring time when our Station should be a mass of colour.
Thank you to all who came and supported our efforts. We look forward to seeing you all on the 17th December when our Christmas Folk Train will leave the station at 9 26am.

2nd April 2010 - Good Friday Folk Train
Well over 60 people joined the Folk Train to Stalybridge on Good Friday for breakfast and entertainment in the famous buffet bar. Unfortunately due to illness MP Andrew Gwynne was unable to join us, but the "Friends " group were supported by three local Reddish Councillors and plenty of passengers . There were some passengers already on the train from Stockport and as well as the large contingent who got on at Reddish South we were also joined by some passengers at Denton. "Splash Radio" of Wigan were represented on the train and they did some interviews which will be broadcast shortly on their web-site. They campaign for better transport facilities in Greater Manchester and we welcome their support.

Obviously there were no updates from our MP on progress towards our campaign for passenger services to Manchester Victoria, but maybe there will be some progress by the time we have our next "Folk Train" in August.
The next train has been provisionally booked for FRIDAY AUGUST 27th which is the Friday before August Bank Holiday Monday. We will also be attending some local community park "Open Days" with our stall.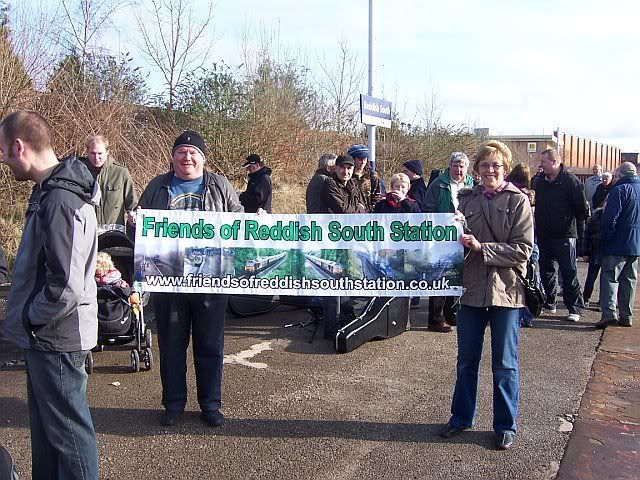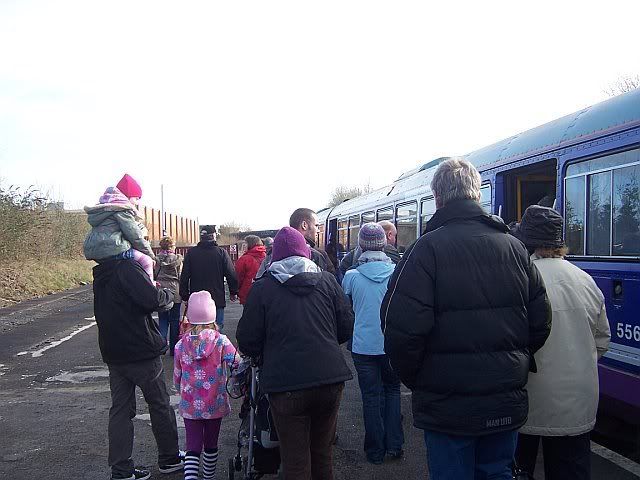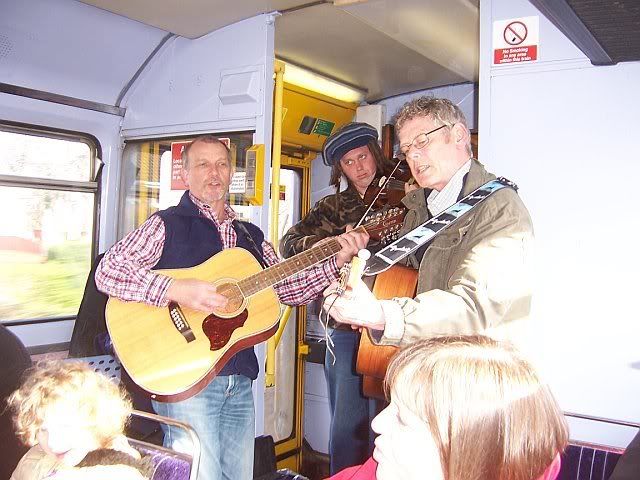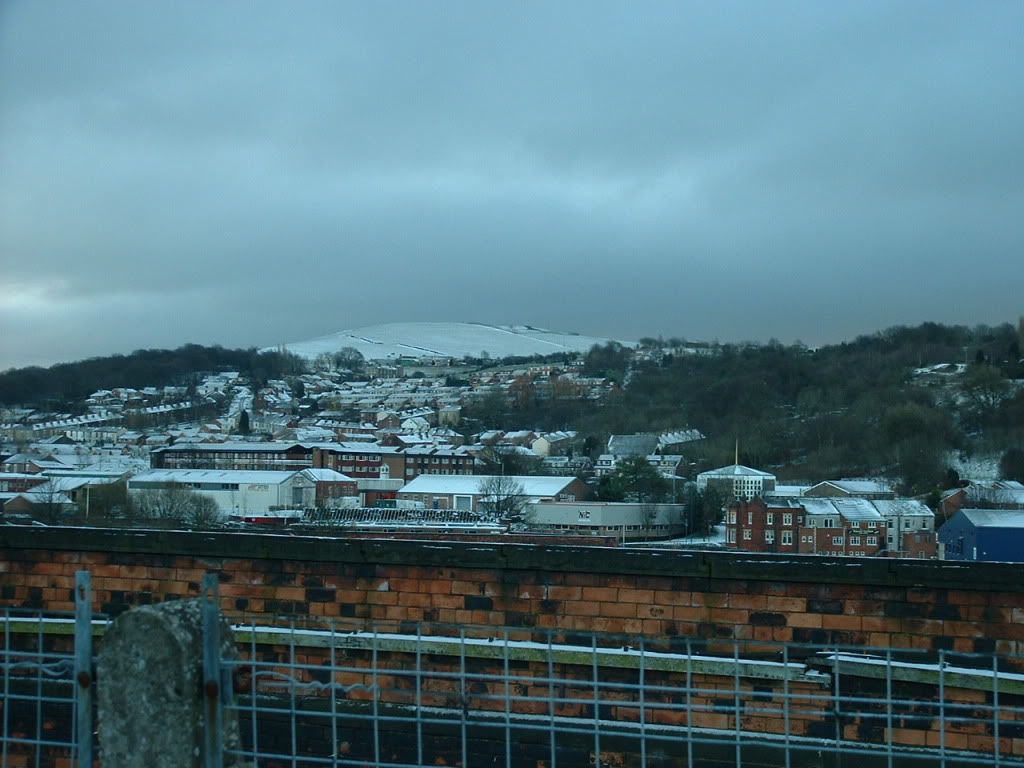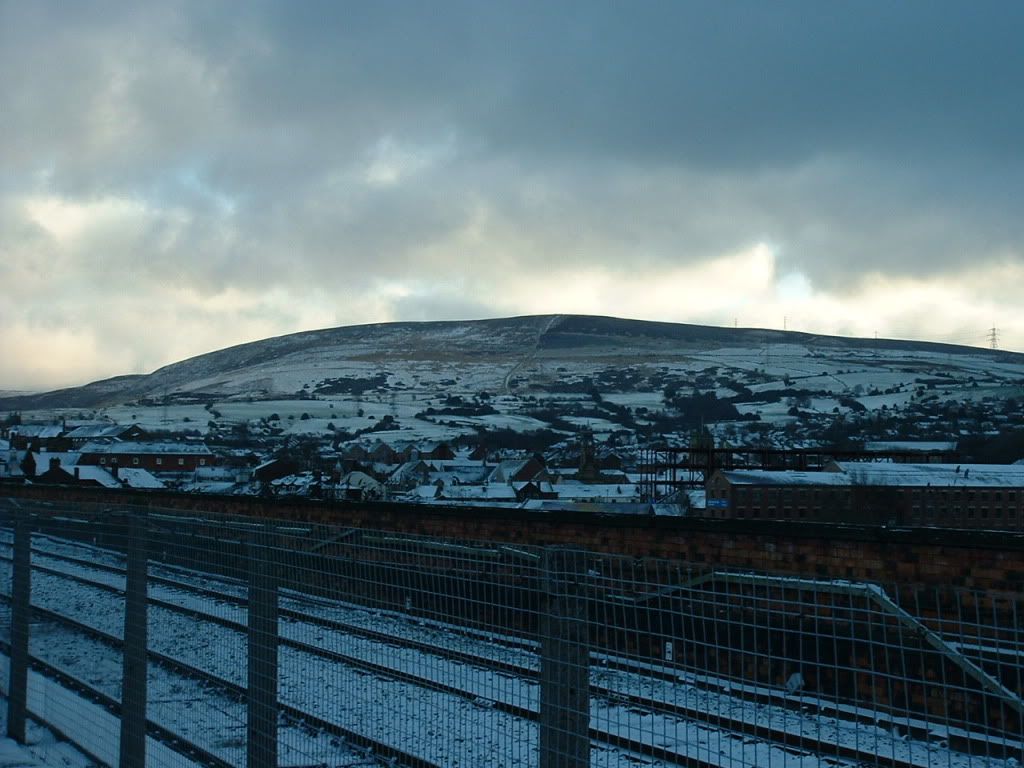 Reddish Heritage Day - Saturday 12th September
Another very successful open day was enjoyed by hundreds of visitors to the Reddish Heritage Day at the park near St Elizabeths Church on Saturday 12th Sept. We had over 80 new signatures to our list of supporters for opening the line to passenger services to Manchester Victoria and we sold lots of fridge magnets too. We now have well over 500 signatures of support from the various "open days " this summer and have had support from Stockports Mayor and Lady Mayoress , along with both their Deputies in office and the continuing support of all the local Councillors and of course that of MP for Denton and Reddish , Andrew Gwynne.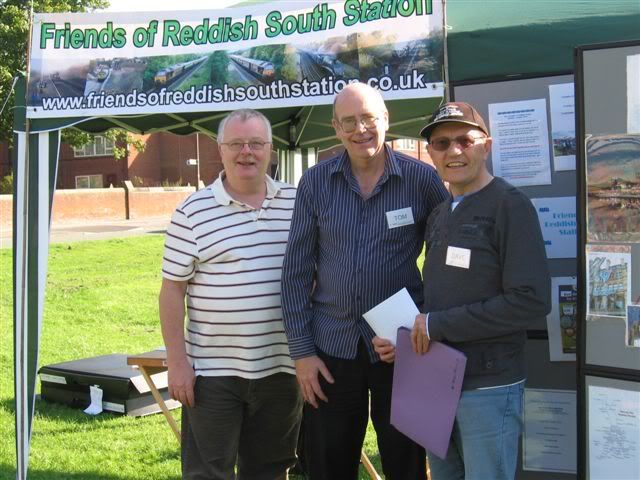 Folk Train Special - Friday 28th August
The following 3 pictures were taken on the "Folk Train Special" on Friday Aug 28th, when well over 50 people joined the train on a very wet and windy weekday for breakfast in the famous buffet bar on Stalybridge station. We were entertained by our resident folk duo "Ged & Phil" both on the train and in the buffet bar and we would like to Thank them for some great music.
Our MP for Denton & Reddish Andrew Gwynne also made a brief speech in the buffet bar and he gave us some encouraging words about the campaign. He said that although Northern Rail could see no possibility of using the existing empty trains that are seen every day passing through Reddish South, because these trains are too infrequent and at the wrong times for economic services, there may be scope for the campaign via the "Manchester Hub" project. This is a long term plan for the whole of Greater Manchester for better rail links, services and expansions whereby major funding is being sought for the whole of the area. It is a long term plan which will rely on funding and subsidies but at least it may be a way forward with some prospects for our campaign. Mr Gwynne went on to say that he has got some hope for the future and will continue to lobby all the bodies concerned on our behalf, and his speech went down really well and he got a standing ovation at the end.
It was a great day out and our thanks go to everyone who supported us including some travellers from Nottingham and Wigan , to "Ged & Phil" the folk duo and to the staff at Stalybridge buffet bar who supplied some nice breakfasts / bacon butties / drinks etc and of course to Andrew Gwynne MP for his continued help and support.
Unity Park Family Fun Day - Sat Aug 22nd at the Park in South Reddish
A couple of pictures from the newly named Unity Park Family Fun day, where the friends had their stall on display.
The top photo shows Cllr Colin MacAllister Mayor of Stockport and Andrew Gwynne MP supporting our Reddish Unity Park open day stall where we gained even more support for our campaign for new passenger services from Reddish South to Manchester Victoria. It was a great day , lots of visitors and plenty of signatures of support for these services.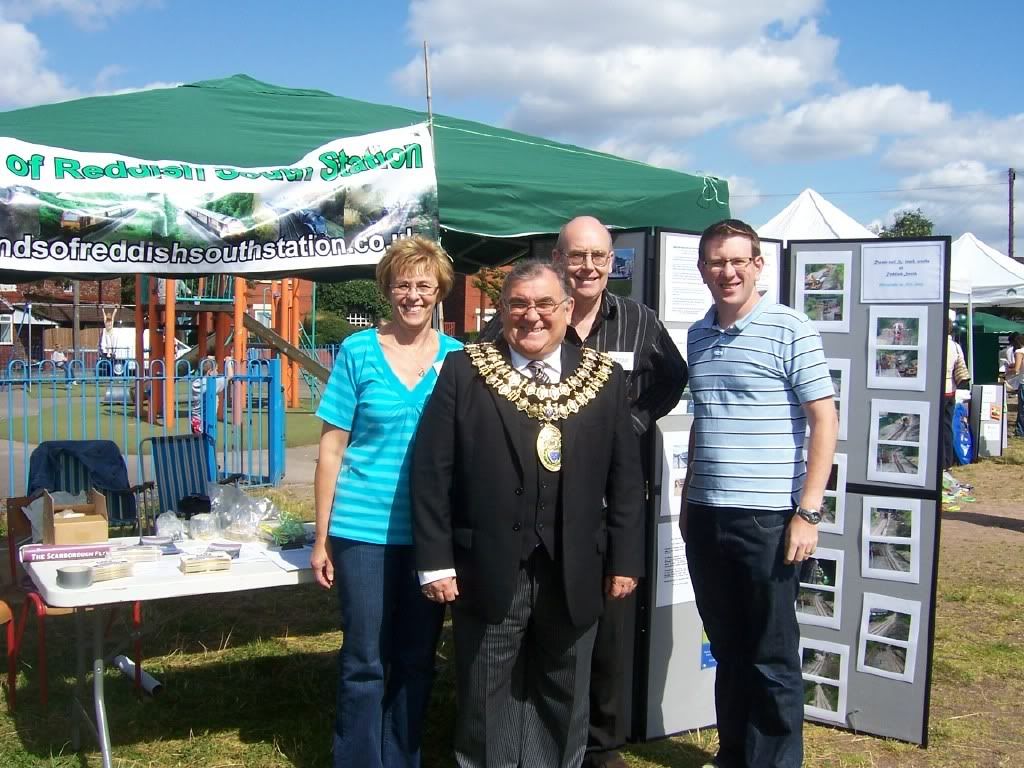 " Friends" members Alan , Kim , Sue , Keith , and Dot man the stall at the latest open day at Unity Park Reddish.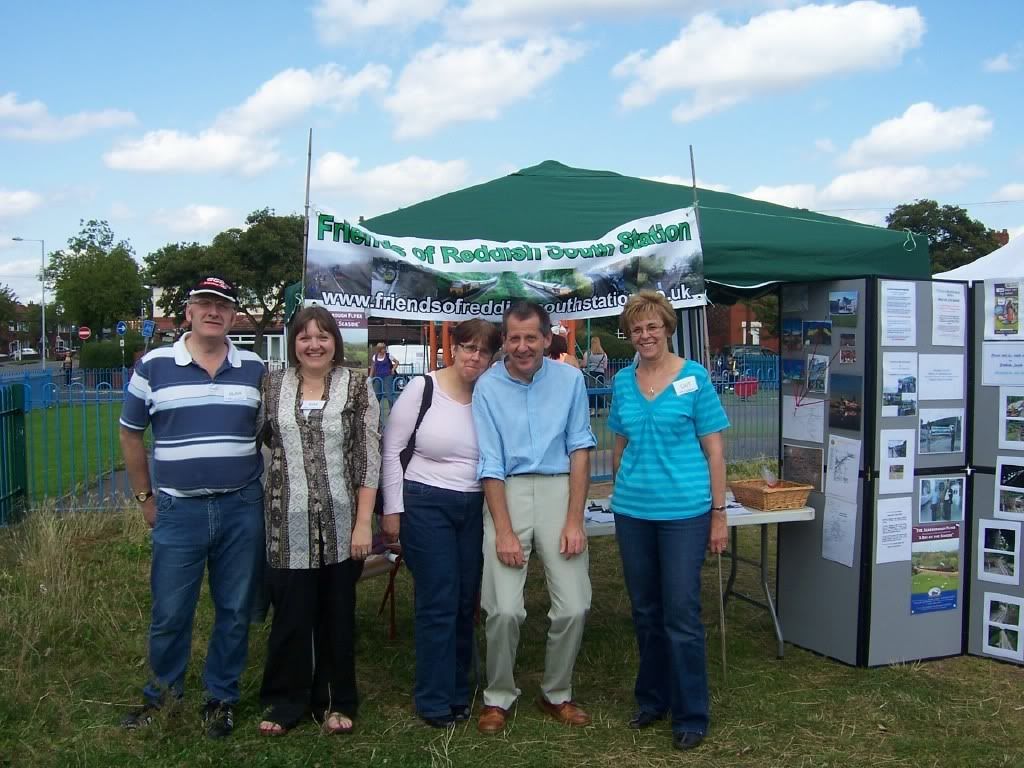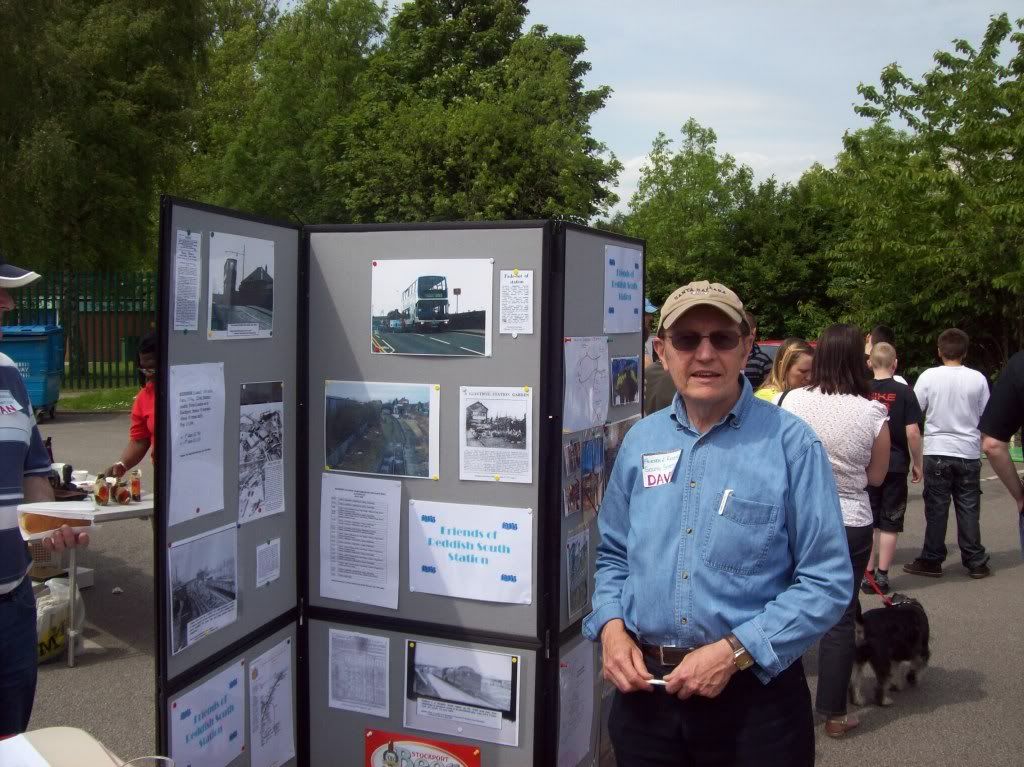 ---
FOLK TRAIN "2" SATURDAY 26TH JULY REDDISH SOUTH STATION - Report and Pictures
The second folk train special was a huge success, the train was full to standing room only. They could only just cope in the buffet bar with all the meals. Cllr Walter Brett gave a great speech encouraging everyone to get behind the campaign, which is now gaining momentum. Apologies were sent by MP Andrew Gwynne.
Thanks for all your support with the event - it shows that the people of Reddish do want a regular service and would support it.
Here a selection of pictures from the day:
The crowds gather at the station.

Waiting for the Saturday only train.

The station as it is today.

The conductor was a little surprised with the number of passengers!!

The busy train! Standing room only!

At the Buffet Bar.
---
| | |
| --- | --- |
| | "The Reddish Ramblers" the un-named folk group, performing at the Buffet Bar. |
| | Some of the early arrivers at Reddish South Station- about 50 to 60 got off and joined us in the Buffet at Stalybridge. ! |
| | Some of the 50 to 60 passengers on the train. |
| | MP Andrew Gwynne alights from the train at Stalybridge |