Please note that some of our older photos will be deleted from this page shortly due to web page capacity. On most of our pictures you can double click them to enlarge them full page. Use your back button to return to the page.
Sept 17th 2016 Reddish South
The day saw 2 special trains. The first one should have been a steam locomotive hauled "Buxton Spa Express"! Unfortunately the "Jubilee Class Leander " had mechanical problems and the train was diesel hauled to Buxton. The second , pictured below was a Northern Belle train from London to Leeds and was class 68 top and tailed. Also pictured below is USA Stock Car driver Jamie Pfeifer who had recovered from his double roll over in his Heritage Stock Car in a race at Coventry Stadium the week before his "FolkTrain" trip with Dave and Dot to the famous Stalybridge Station Buffet Bar.
May 11th 2016. Manchester Piccadilly Station. Community Rail Event.
Dave, Alan and Kim man our small display at Piccadilly Station. As well as keeping busy with Reddish South information we also helped two Swedish and one German visitor find hotels in Manchester as there is no tourist information office at Piccadilly !
Dec 21st. Northern Belle & Drax biomass trains.
The Northen Belle luxury dining train came through Reddish South recently on a special from Nottingham to Nottingham round trip via Derby, Sheffield, Guide Bridge, Stockport and Derby, while another new regular GbRail freight service delivering imported biomass material from Liverpool docks to the Drax biomass power station in Yorkshire, is shown in the other 3 pictures above. The distinctive brand new blue and white freight trucks, are British built in the midlands.
Double clicking any image will bring it up full page. Use your "back" button to return to the FORSS page.
June 13th 2015. "Welcome to Reddish" Art Project.
After early morning rain, the weather improved and even the sun came out later ! A good crowd built up slowly through the morning and were treated to some great music on the station platform by the Stockport Silver Band. The band played for over half an hour on either side of the official unveilling of the winning posters by Andrew Gwynne MP for Denton and Reddish, accompanied by the Mayor of Stockport Cllr Andy Verdeille. It was a great day, and you can see many pictures of it below. By double clicking on any image, you will see a full page image of it. Use your back button to return to the page
FORSS would like to thank the Stockport Silver Band, the Mayor of Stockport Cllr Andy Verdeille, Mayoress Mrs Cleo Cundall, Denton & Reddish MP Andrew Gwynne, Network Rail, Sykes Coffee Bar, Art in the Community (ARC), all the 5 local schools and their Pupils & Head Teachers, and of course all the scores of visitors who came down to the Station platform for the event and made it so enjoyable and sucessful. Total donations at the event which will go to future Station projects came to to £170.
May 1st 2015. Very unusual freight train !
This very unusual freight train consiting of about 50 Ford Transit vans now passes through Reddish South about once a month, and fortunately one of our members Keith Chapman was at hand to get this photo of it just before it passed through the Station. Transit vans used to be made in Southampton but this particular train runs from Warrington to Doncaster ! ! Can anyone explain it ? The very latest photos taken today May 18th, show the train in the station and enlarged views of it show that the vans could possibly be Citroen. What do YOU think ?
April 28th 2015. Victoria Station's new roof !
Manchester Victoria is getting a new roof and we include some photos of it below taken by FORSS member Jon Ashworth. This multi-million pound project is a fabulous addition to this wonderful old station, but unfortunately if you go down and look at it, the roof does not actually cover the whole of the platforms ! The ends of the Metrolink platforms are having to be provided with small individual covers which defeats the object of providing shelter for waiting passengers. Go and wait for a tram on a rainy day and see what we mean. !
The pictures at the bottom of these 4 show the inside of the new roof quite nicely and they show that the Metrolink platforms are open at the end where the trams actually stop. OK, they have built some small shelters for passengers but it begs the question, Why on earth didn't they build the new roof further out to cover the full length of the Metrolink platforms ?
Double clicking any image will englarge it full page. Use your "back" button to return to the page.
April 7th 2015. Cleethorpes to Llandudno via Reddish South !
The two images below were taken at Guide Bridge as this Cleethorpes to Llandudno train turned left at the junction for the Denton and Reddish South line to Stockport on Sat April 4th. The locos are the popular Class 67 that "top and tailed" the train because Llanduno is terminus station. These superb photos were kindly supplied by Godfrey Stafford.

Aug 25th 2014 Retro Railtours "Shakespearean Tug" to Stratford on Avon
The photos above show the on board entertainment provided by resident "Reddish South" folk duo "Ged & Phil" who played on the train and in the Dirty Duck pub in Stratford on Avon, that was originally named "The Black Swan" but was frequented by World War 2 American Airforce pilots and crews who nicknamed it the Dirty Duck and the name stuck ! The music went down well with everyone and was even "tweeted" by Retro Raitours on their webpage. Also shown is another great photo from Godfrey Stafford who took this shot of the Class 60 "Tug" loco 60059 as it pulled into Reddish South at the start of the journey to Stratford. The tour was on time both ways and was very well organised, and although the weather in Stratford was extremely wet, we still got to all the Shakespeare sites, had a river cruise and got to hear Ged Phil and three other good musicians from Yorkshire "jamming" together in the pub ! A cracking day out and we at the Friends of Reddish South Station, FORSS can't wait for next years Retro Rail tour. How about Bridlington/Scarborough. Colwyn Bay/Bangor/Holyhead. Or Aberystwyth as 3 lovely possible destinations. ?
Double clicking any photo will enlarge it.
July 20th 2014 Reddish Vale "Fun Day"
The sun came out later in the day after a slightly cloudy start and it shone on the many hundreds of visitors to this great family fun day out in the beautiful Reddish Vale Country Park. Our stall was in a fantastic spot as everyone had to pass it on the way in and out of the main field. We had absolutely loads of visitors showing loads of interst and support for our campaign, We also handed out scores of flyers for next months Retro Railtours excursion from Reddish South Station to Stratford on Avon (plus other pick up points ! ) and we sold lots of FORSS magnets, mugs and memberships. A great day out !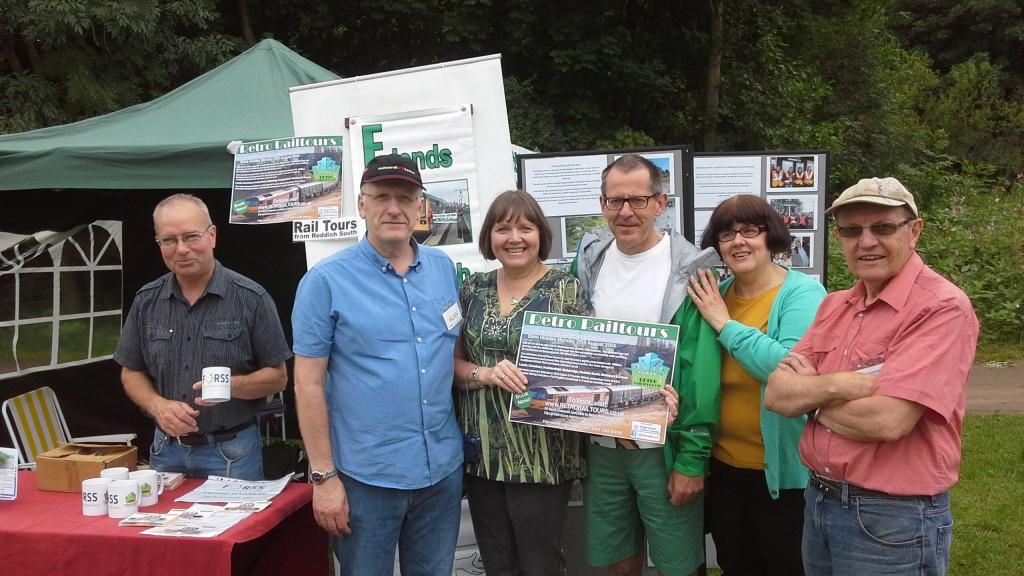 The top left photo shows the Deputy Mayoress of Stockport, Cllr Linda Holt and husband Ken Holt at our stall with our Chairman Cllr Tom Grundy. Top left shows the general scene and our location at the start of the main field. Bottom left is our team with one of the many score of Retro Railtours flyers that we handed out on a very busy day. "Double Clicking" on any image will enlarge it to show more detail. !
June 28th 2014 Retro Railtours Class 92 Edinburgh tour.
The two pictures below show our Class 92 Electric Freight loco pulling into platform 20 at Edinburgh Waverley for the return trip to Reddish South, and on the right the proof that we have made it to one of the most iconic departures board on the national railway network, Edinburgh Waveley !
The picture above left, shows the fabulous Edinburgh skyline taken from Colton Hill, if you double click the image you will see the Castle, the Scott Memorial, and the spire of St Giles Cathedral on the Royal Mile. On the right is FORSS treasurer Dot Ashworth with the irrepressable "Bobby Ball" the retired Retro Railtours steward who makes us all laugh and helps to make the tours so atmospheric. Good luck "Bobby" with your forthcoming knee surgury, Best Wishes from FORSS. Double clicking on any image will show that one in more detail.
May 7th Darlington to Cardiff via the "Mid Wales" line passes through Reddish South.
Yet another railtour passed through on Wed May7th hauled by two West Coast Railways class 47 diesel locomotives. The tour began before 06:00 and will arrive back just after midnight, making it a marathon trip of over 18hrs ! This did not deter the packed and fully booked train, pictured below.
Mar 2014 Rare/Unusual locos pass through.
Our resident "Garden Manager" Noel Henry took these shots while working on our landscaping during March 2014. They show a Network Rail "Railgrinder" machine, and a convoy of 3 Class 20 DRS Locos.
Apr 23rd 2014. 4464 Bittern Steam Loco passes through. !
The photos above were supplied by Gavin Muffet taken at Reddish South Station and by Godfrey Stafford taken down the line at Denton Junction, just before Guide Bridge.
Mar 23rd 2014 Week-end stone trains
Thanks go to Noel Henry for these two superb photos of a couple of this week-ends stone trains passing through Reddish South.
Nov 8th 2013. East Midlands HS125 came through Reddish South and Denton stations where this superb Godfrey Stafford photo was taken. The train was a special charter visiting the East Lancashire railway and came through our station a couple of weeks ago.
Oct 19th. Steam locomotive " Oliver Cromwell" came through Reddish South on Sat 19th Oct and can be seen on Youtube http://www.youtube.com/watch?v=RJHSWzxkzNo Sorry that we can't get a direct link to it on our website for technical reasons but it is there and looks great !
Sept 8th latest pictures of the Branch Line Society's visit to Reddish South.
Apologies if some images are duplicated and also if many of the Branch Line officials / Trans Pennine Express or FORSS members are not named, but there was just not enough time to get all the names.
There will be many more photos of this very special visit of the Branch Line Society and the train operator First Trans Pennine Express special charter, on this page. We are very grateful to both organisations for visiting us at Reddish South and if you have any photos from the train we will glady publish them if you can e-mail them in the normal way to davdot@sky.com. The 2 photos below show our very patient members waiting on the partially restored and landscaped platform for the special train and also of their patience being rewarded when they were kindly offered a free ride to Stockport and back on board the Society's special train. People on the train included Tim Brawn (Trans Pennine Express) Terry Rourke (FORSS) Tom Gilbey (Branch Line Society) and Ian Walker (FORSS)
The 2 photos above show both ends of the Class 185 train. The one on the right is of the train approaching from Stockport on its return, and it shows the other headboard , that of the "Branch Line Society" If you scroll all the way to the bottom of this pictures page you will see some photos of Reddish South when the track was re-layed about 6 yrs ago and before the "Friends" group had done any landscaping.
August 23rd 2013. "Scarborough Flyer" photos
4-6-2 Pacific 46233 Duchess of Sutherland passes at speed under the "Red Bridge" next to Reddish South Station on a bright sunny August 23rd day, on its morning journey to Scarborough. The photo on the right was taken two weeks previously as the same train departed Denton Station on its evening return journey , after its usual 35 minute water stop, being pushed at the rear by its diesel back up loco Class 47. 47580 County of Essex. The "Scarborough Flyer" had to wait at the signal protecting the single line section to Heaton Norris for the scheduled "Bin Liner" train on its empty positioning return to the Bredbury waste disposal plant which has this week just had a devastating fire. This Class 66 hauled train can be just seen on the right , in the gloom of the summer evening.
Below left is the "Scarborough Flyer" taken from a banking just past Reddish South on Friday August 30th as it speeds past on its way outbound to Scarborough. On the right is the "Flyer" taking on water infront of some very young admirers at a very gloomy late evening Denton Station water stop Aug 23rd.
Macmillan Coffee Morning & New Mural Unveilling Pictures. Sept 28th 2012
Too many faces to name and too many photographers to acknowledge, but many thanks to all that attended, well over £200 raised with the final figure to be announced shortly when the quiz money is finalised. Enjoy the photos !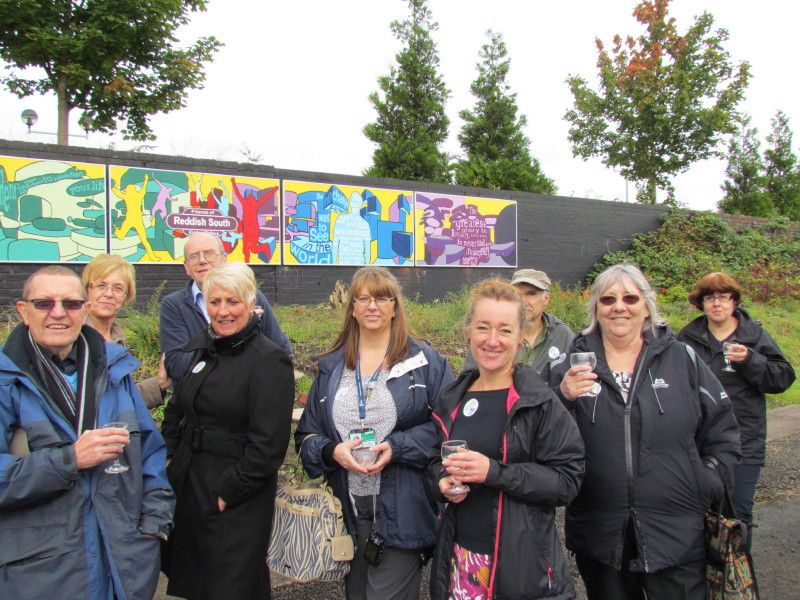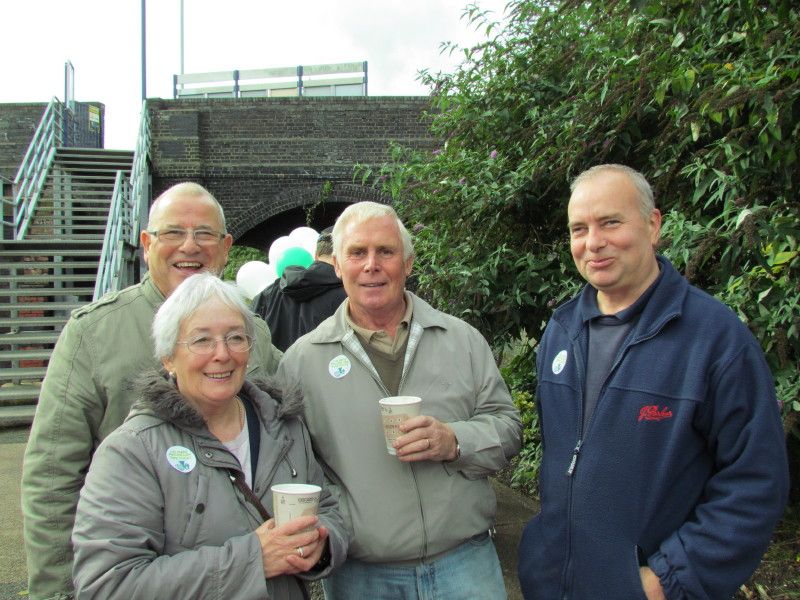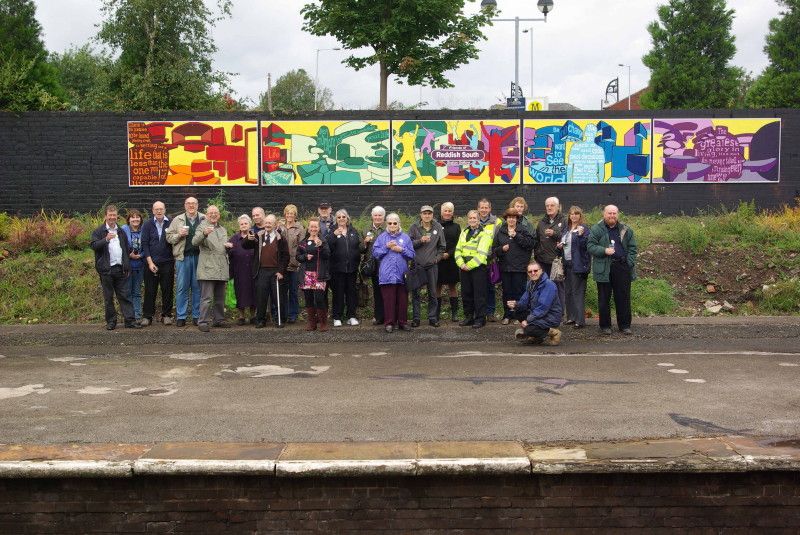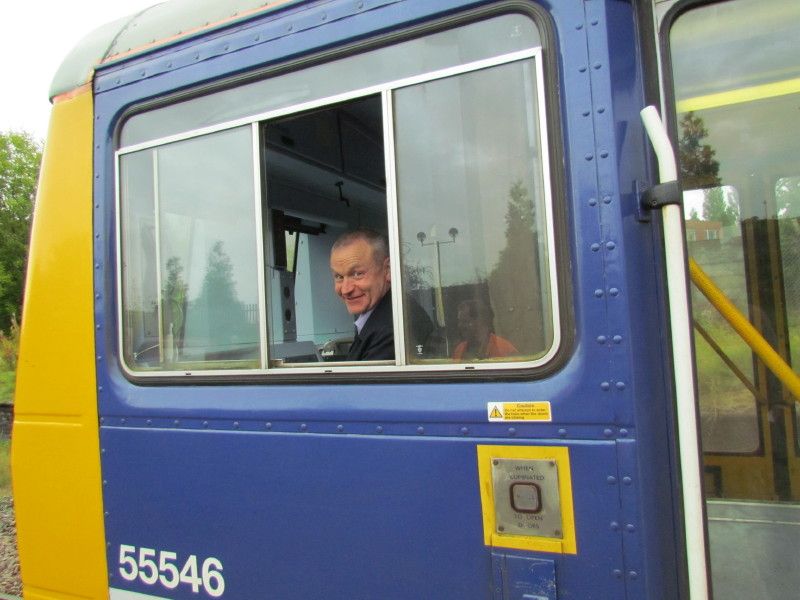 Friday Sept 7th
Fridays Scarborough Flyer hauled by Gresley A4 pacific "60009 Union of South Africa" , having passed through Reddish South, this photo was taken by our resident photo ace Godfrey Stafford as the special approached Denton Station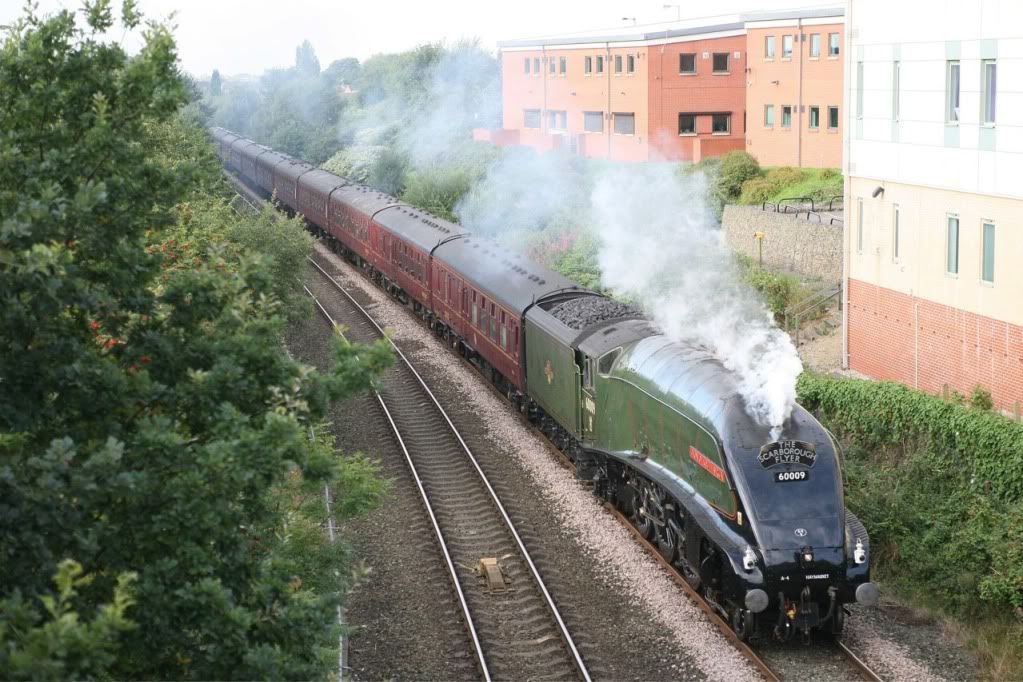 August 12th. North Wales Coast Express
This mornings departure from Stockport behind A4 Pacific 60009 Union of South Africa. Taken today with new FORRS members on board Ian Walton and his Mum , a life long steam enthusiast, enjoying a steam trip to Holyhead. Ian from Manchester joined the "Friends" group at our open day at Stockport Station in early August , and is himself a steam traction engine engineer and builder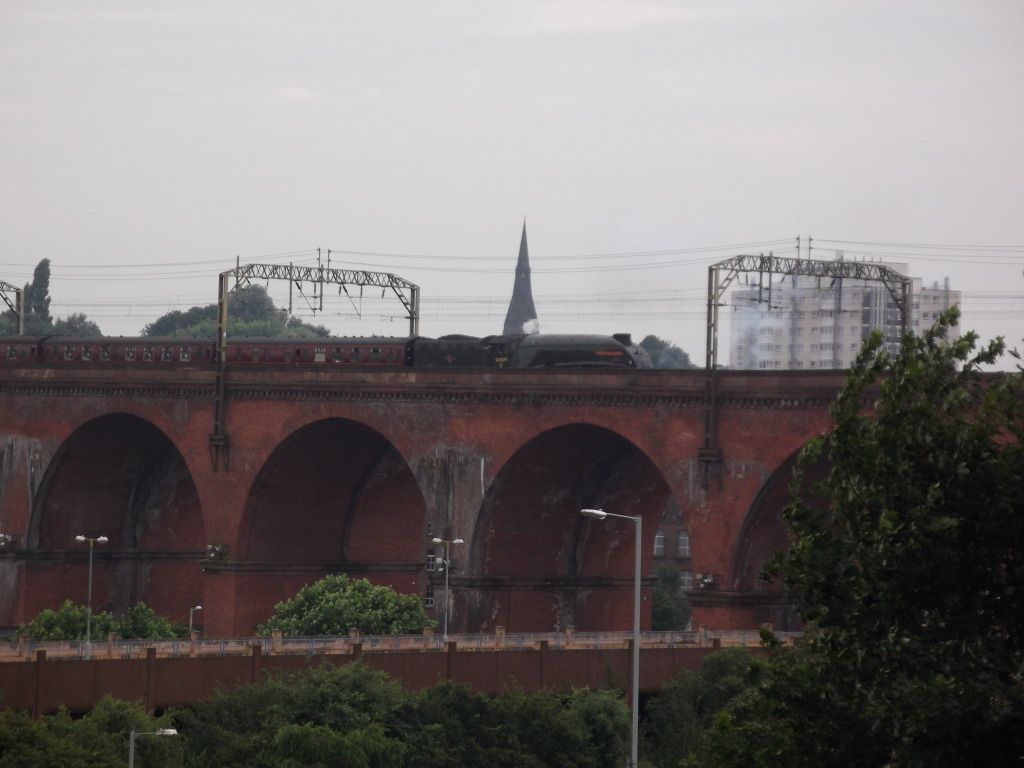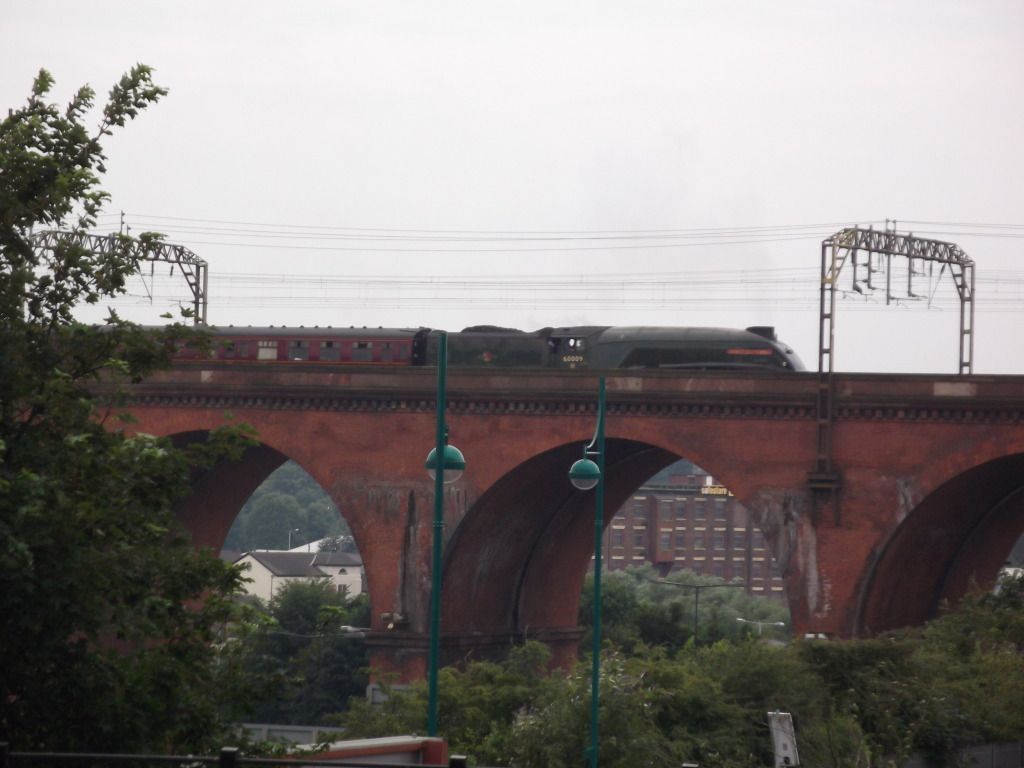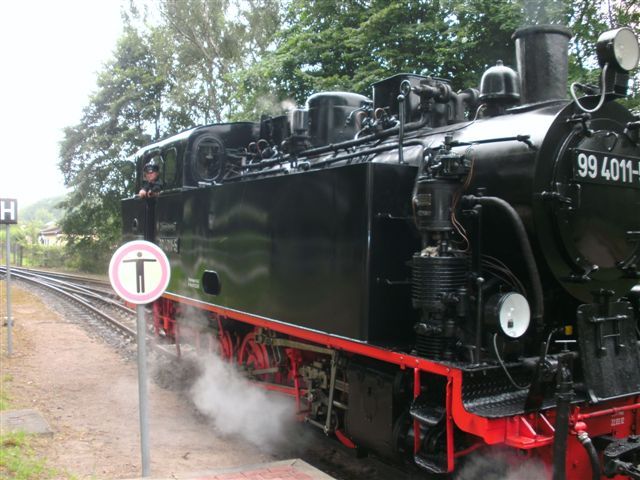 The photos above are from Rugen Germany, sent in by Terry & Margaret Rourke of Reddish, from their recent Baltic cruise.
Not Reddish South but this one below is from Halifax Nova Scotia Canada and is of a couple of VIA Rails observation cars waiting to be attatched to the one train a day service to Quebec
JULY 20th 2012. The first of this years "Scarborough Flyers" came past Reddish South this morning hauled by 4-6-2 Pacific "Duchess of Sutherland.
The second picture on the right was taken on Friday July 27th 2012 when the same loco took the second tour to Scarborough through the Station. Apparently the Gresley A4 Pacific Union of South Africa was booked for this weeks train but was sidelined at Crewe with minor boiler problems after its tour last Sunday to North Wales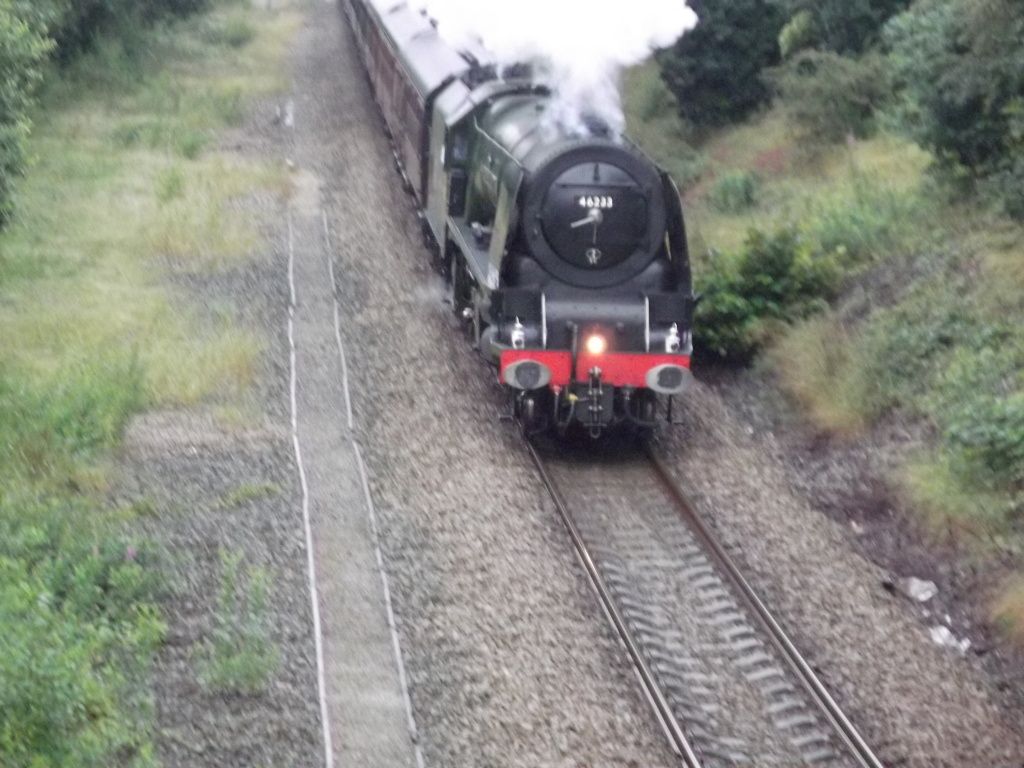 SSSSsssSS
SS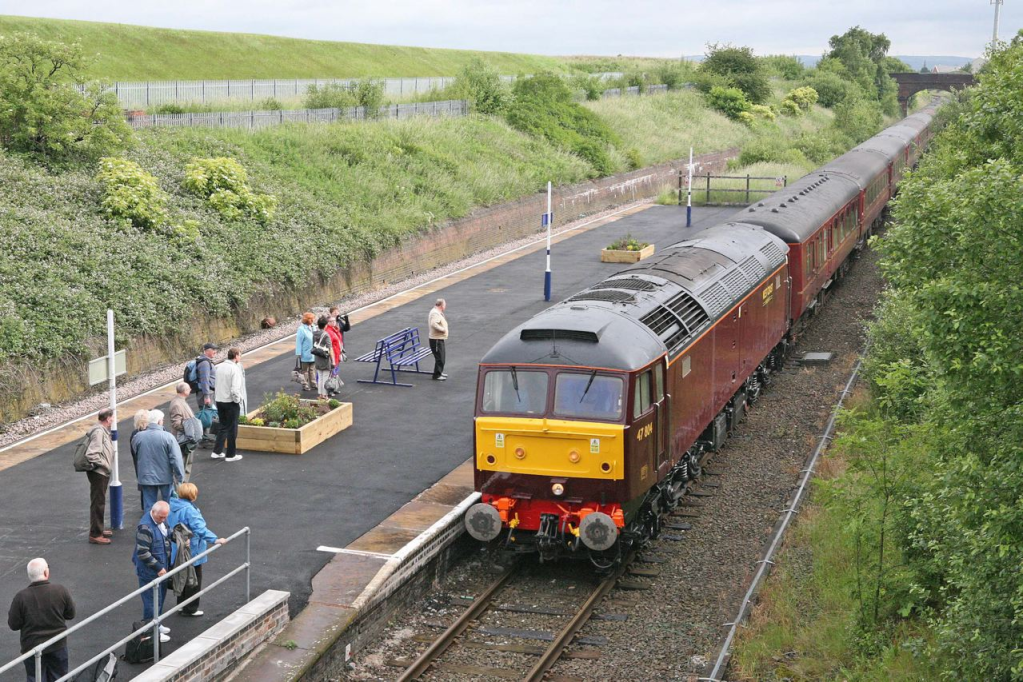 .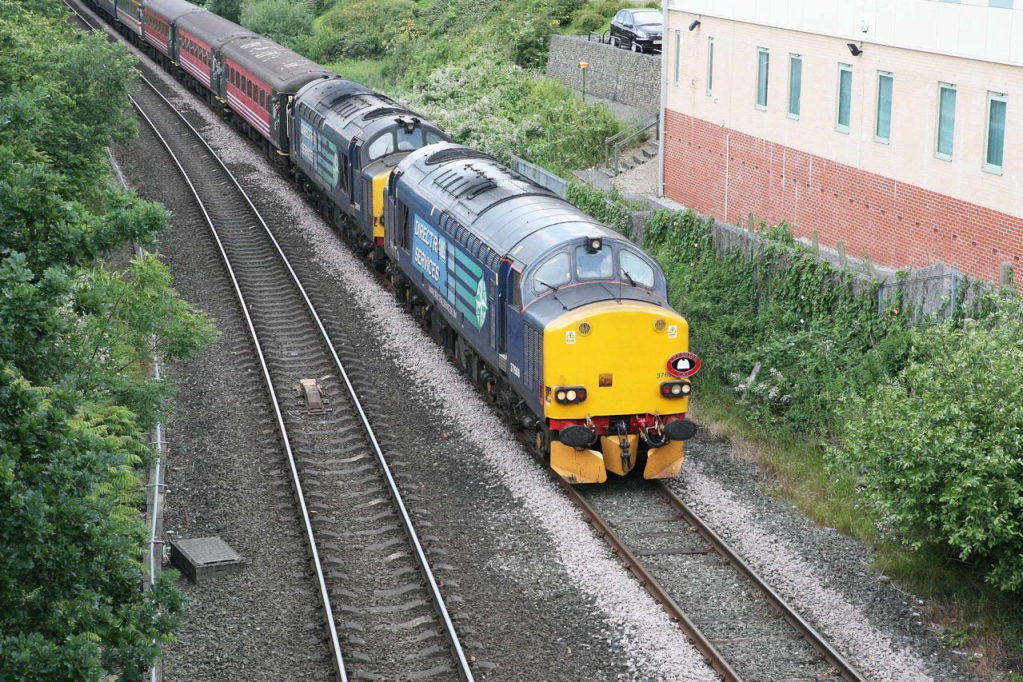 Sat 30th June saw 3 railtours through Reddish South. These are all shown above. The one on the left was the Compass tour to Ffestinniog, the one on the right was the UK tours to the East Lancashire Railway . The bottom picture shows the 2 class 37 locos that had come from Cardiff and was on the way to Scarborough . Many Thanks to Godfrey Stafford for these great photos.
The photos below are from rail enthusiasts Keith and Sue of Reddish and show local movements and were all taken recently in and around the Reddish area. They feature the daily "Binliner Train" and our local "Ghost Train" Keith and Sue have also provided the bottom two photos in this quartet from their travels. The first one is from Belfast with the giant Harland and Woolfe cranes in the background, showing a local DMU, and the second is from Luxembourg and features a double deck commuter train, just a bit better than our 30yr old "nodding donkey" DMU's !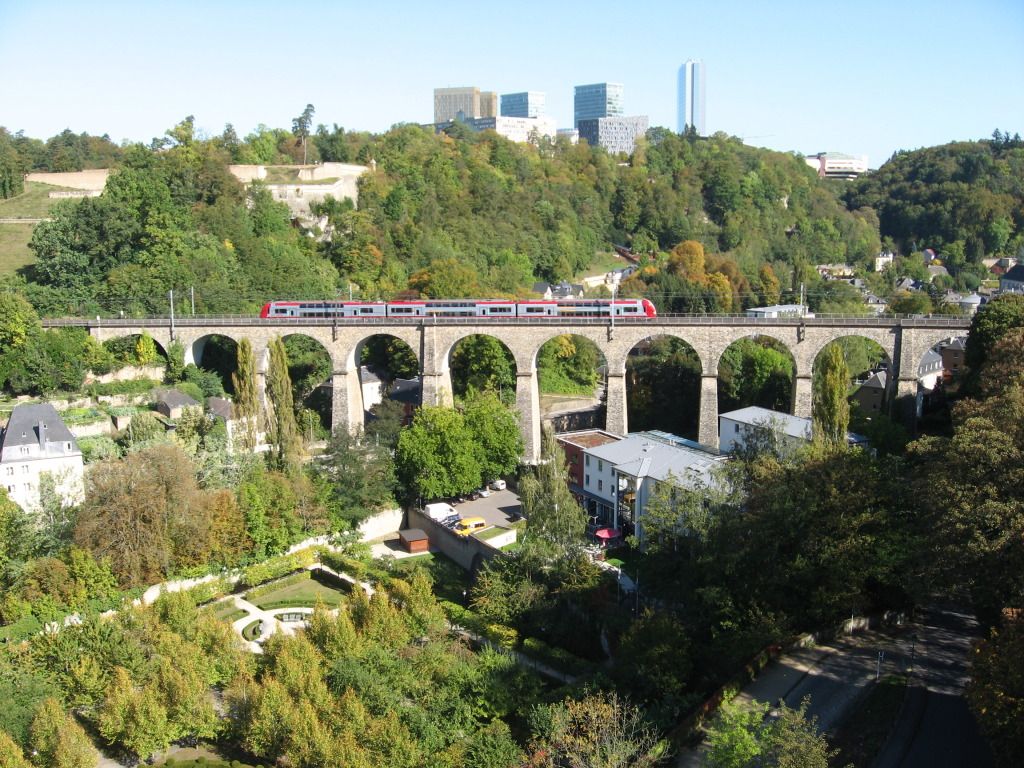 These photos below were taken earlier this year when "Friends of Denton Station" Chairman Alan Jones arranged a special "Ghost train" ride for pupils of St Mary's School Denton, who were entertained on the train by a special performance by Folk Duo Ged and Rob. Many of the children were dressed in 50's style clothes and they thoroughly enjoyed the trip and the music. Note the vast improvements now at Denton Station, which has now been tarmaced, had seats installed and which now also features some really nice flower beds thanks to the hard work of Friends of Denton Station volunteers. Well done !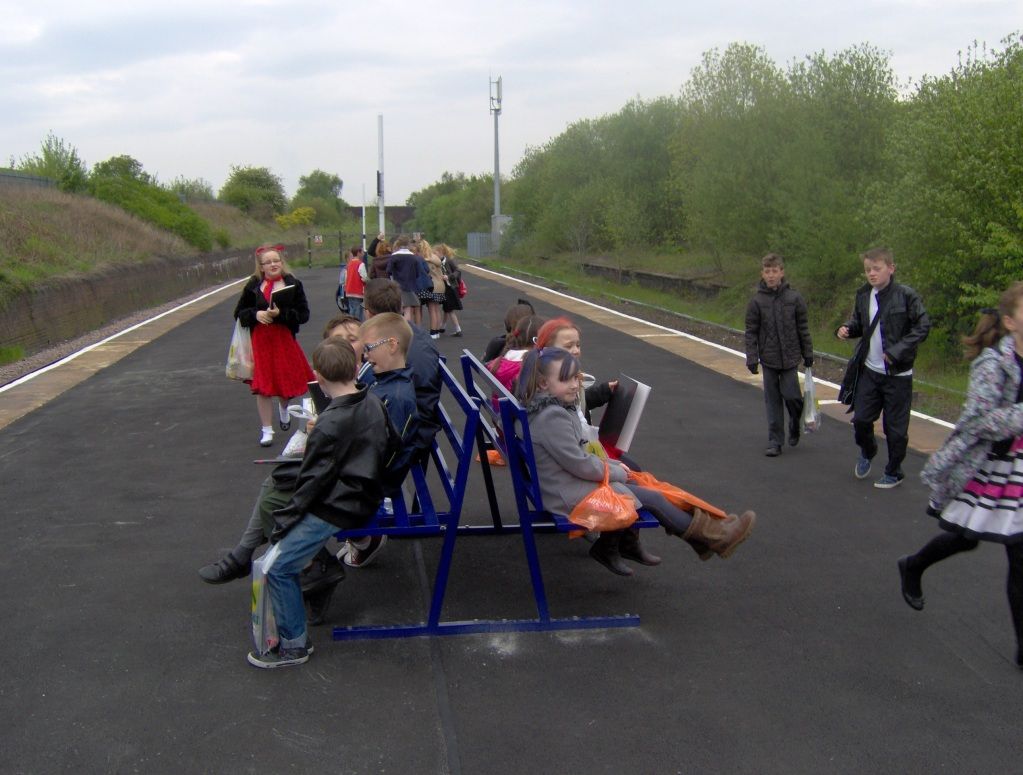 November 5th
This superb photo taken by Godfrey Stafford was taken on Sat Nov 5th of the "Buxton Spa Express" passing through our Station. It is not only a great action shot , but also shows off our "Second Chances" mural. The locos are "Black Fives" 45407 & 44871. The photo on the right taken by Dave Ashworth, is of the same train taken from the station steps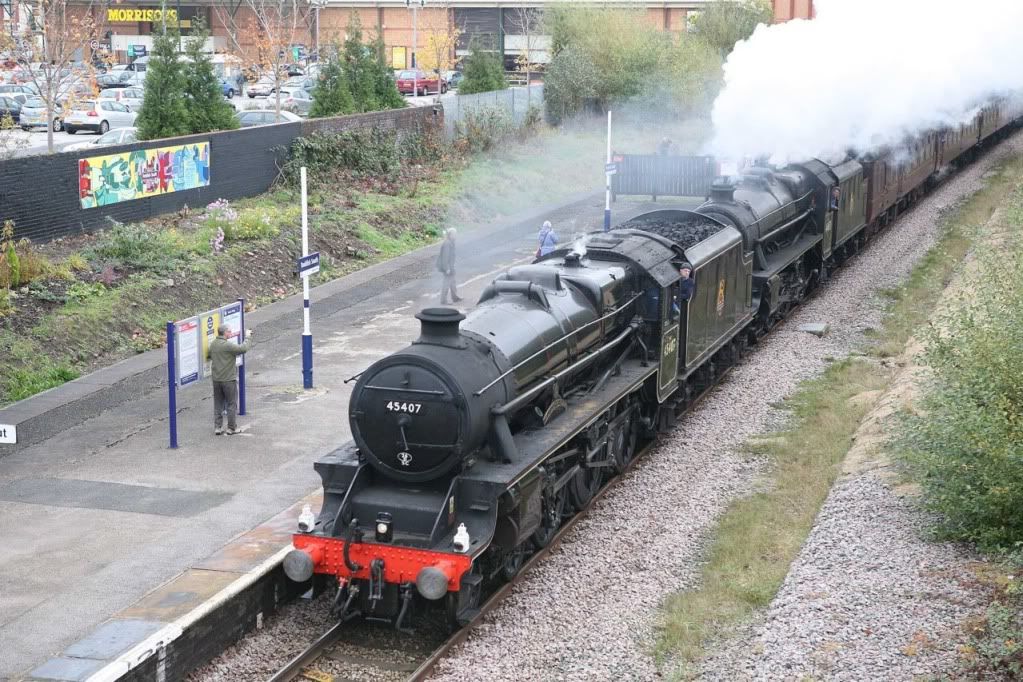 Cllr Walter Brett discuses our campaign with Cllr Les Jones Mayor of Stockport at one of our "Community Open Days" at South Reddish Park earlier this year. These open days have been very sucessful and have drawn lots of new support for our campaign, many people not even knowing South Reddish Station existed ! !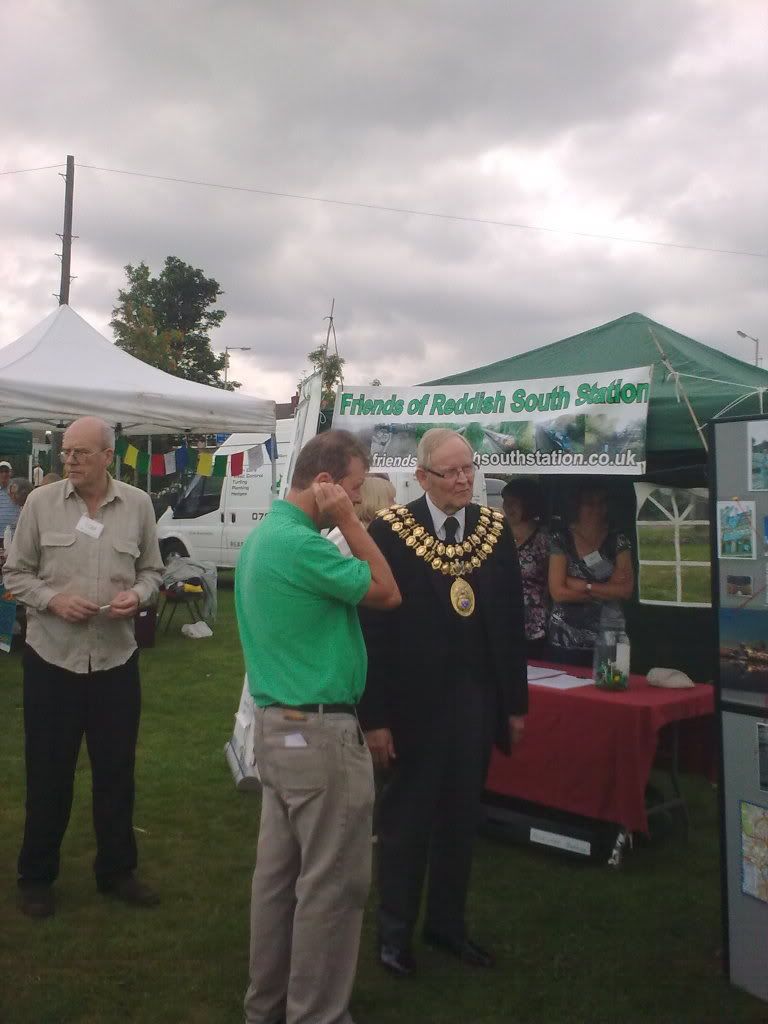 This was 4-6-2 Pacific No 6201 "Princess Elizabeth" at speed passing through Reddish South on one of this seasons "Scarborough Flyers" This summer saw a pool of 4 locos on this duty, the others being "Oliver Cromwell" "Tangmere"and occasionally a "black five"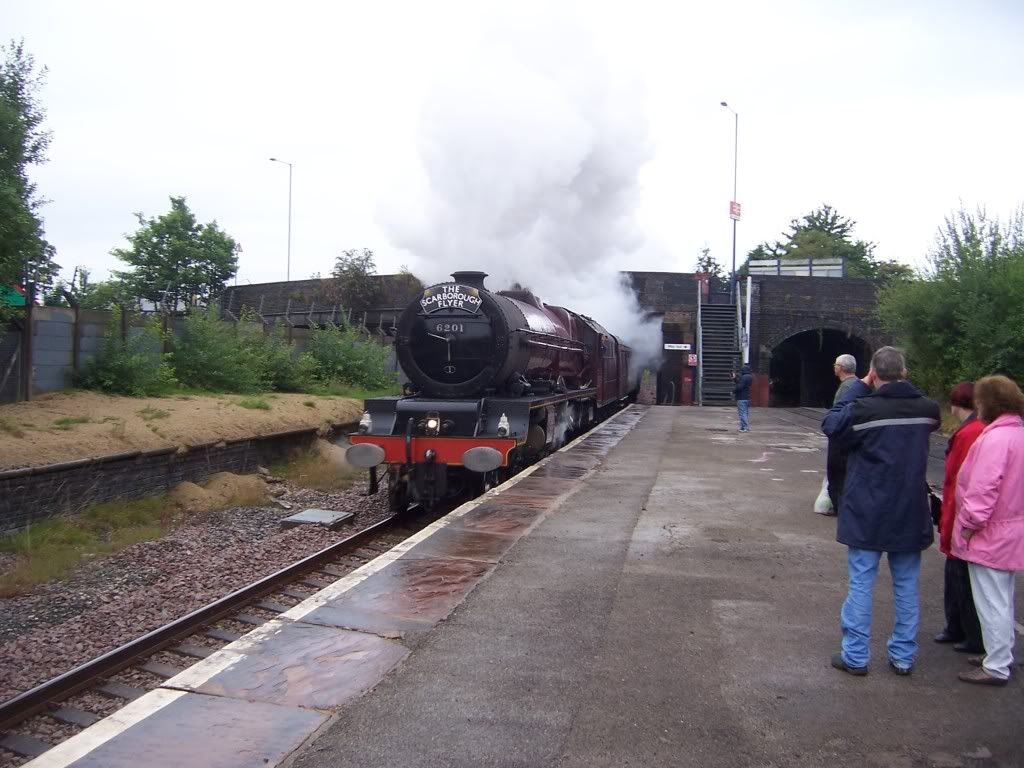 July 2011
Various shots: The first 2011 "Scarborough Flyer" steams through Reddish South hauled by Southern Region pacific "Tangmere" being just too late to have seen the two foxes strolling along the line just minutes earlier. ! !
The once a week steam special will be passing Reddish South at 08:15 each Friday morning and at approx 9:25pm in the evening after taking on water at Denton station on its return to Crewe.
Battle of Britain class 4-6-2 pacific "Tangmere" races past Reddish Vale between Reddish South and Denton Stations en-route to York and Scarborough on Fridays weekly "Scarborough Flyer" steam train.
This superb shot passing the Vale was from the lens of Godfrey Stafford, the one passing through Reddish South Station is from David Ashworth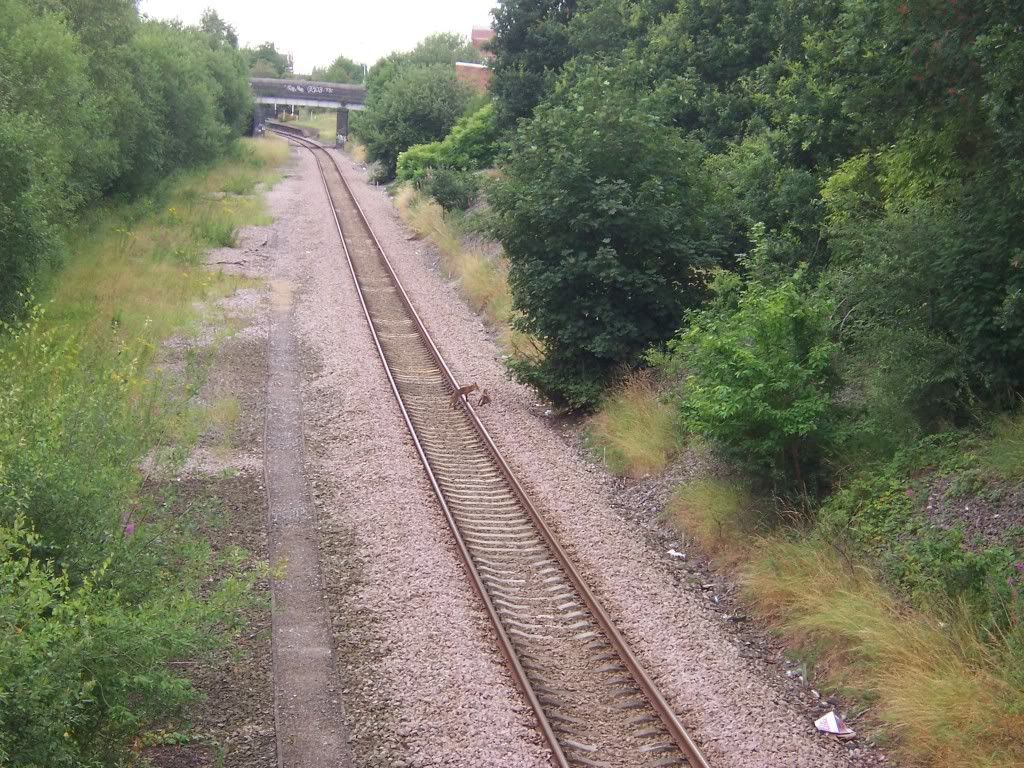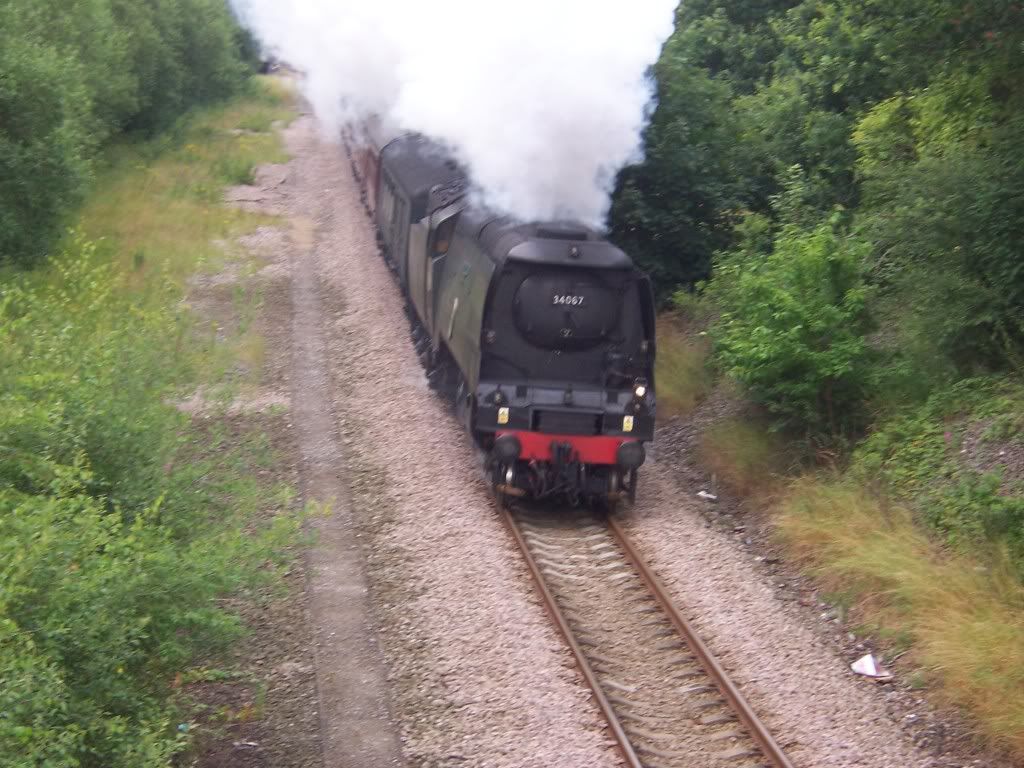 Another great picture from Godfrey Stafford that reminds us that Reddish South sees many freight trains passing through as it is a very important line to Network Rail and will never be shut down as was once threatened. So if the line is so well used by freight trains and is so well maintained for them , then why can't it also be used for our much needed passenger service too. The train in this superb picture is a class 66 Freightliner loco hauling the regular "binliner" waste disposal train that started its journey at the Bredbury waste disposal plant, and has crossed Tame Valley via Woodley , Hyde , Guide Bridge and Denton en route to land fill site in Lincolnshire.
Correction: There is a correction to the picture of the regular "Binliner" class 66 Freightliner train passing through Reddish South station. This should read that the train is heading to the Northenden waste disposal plant from the Lincolnshire landfill site at Wroxbury. We thought it was heading to Wroxbury from Bredbury. Apologies for the error.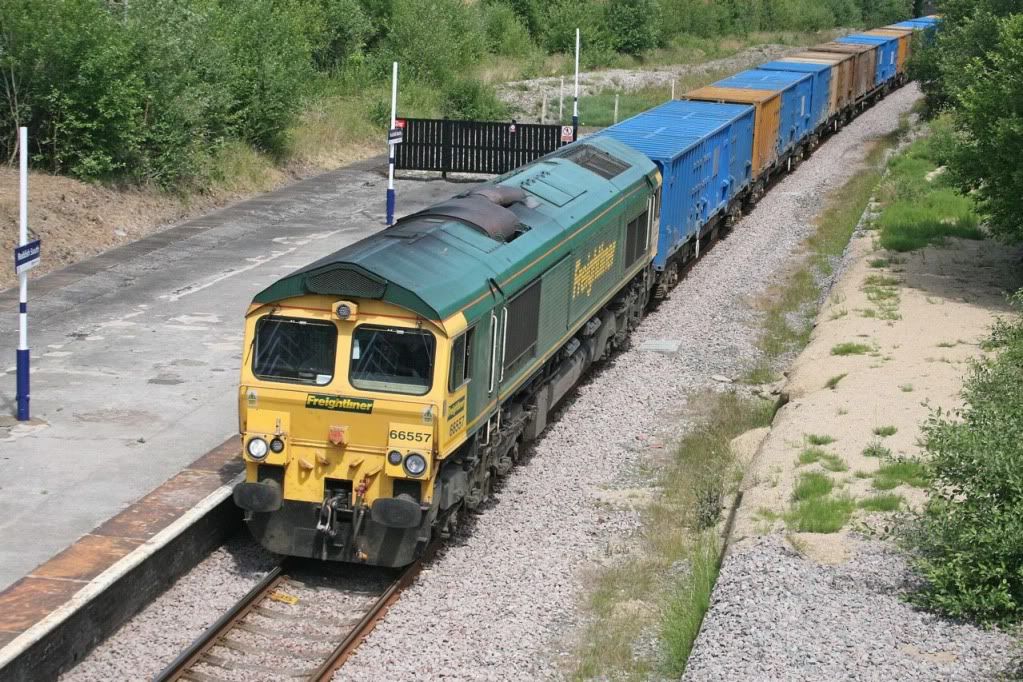 Photographer Godfrey Stafford got these two fabulous photos early on Friday May 27th when the Northern Belle luxury dining train passed through Reddish South on it's Liverpool Lime Street and Manchester Victoria "Chelsea Flower Show Special" The top photo is a Direct Rail Services Class 47 diesel and the bottom photo is of the the rear of the train passing through Reddish South Station with a Northern Belle liveried class 47 diesel loco which will be used for the return leg of the trip. The "Friends" group would like to thank Godfrey for continuing to support us with his superb photograpic skills.
May 2011 - Pictures from the North Eastern Express. From Dave Ashworth and Godfrey Stafford.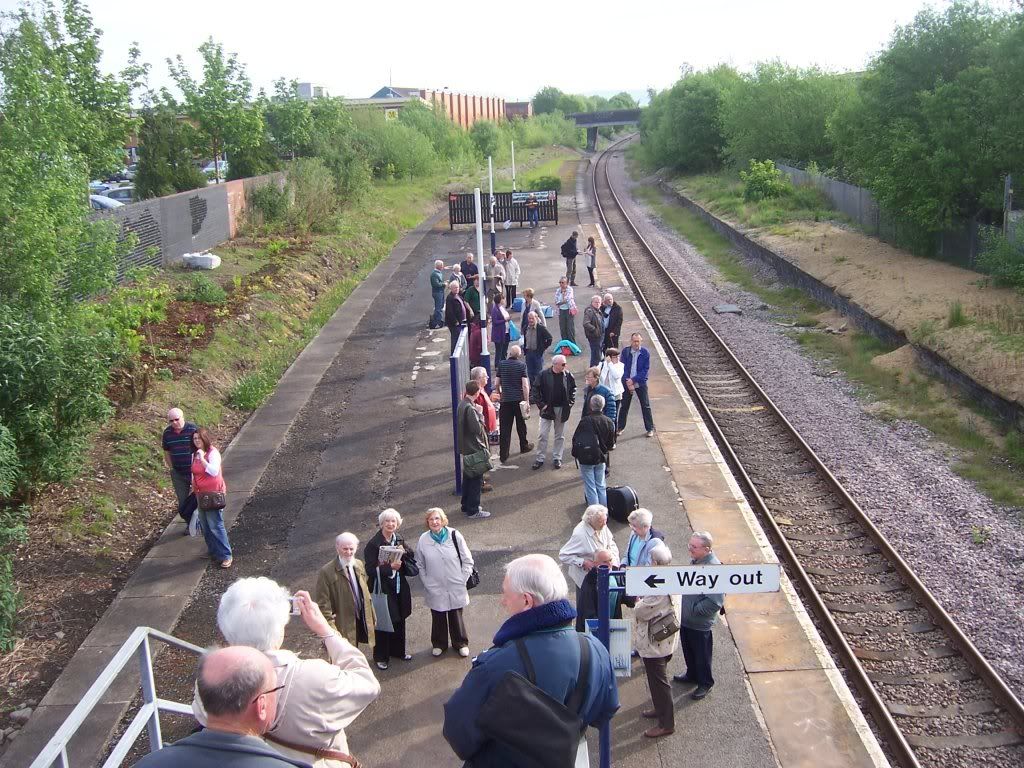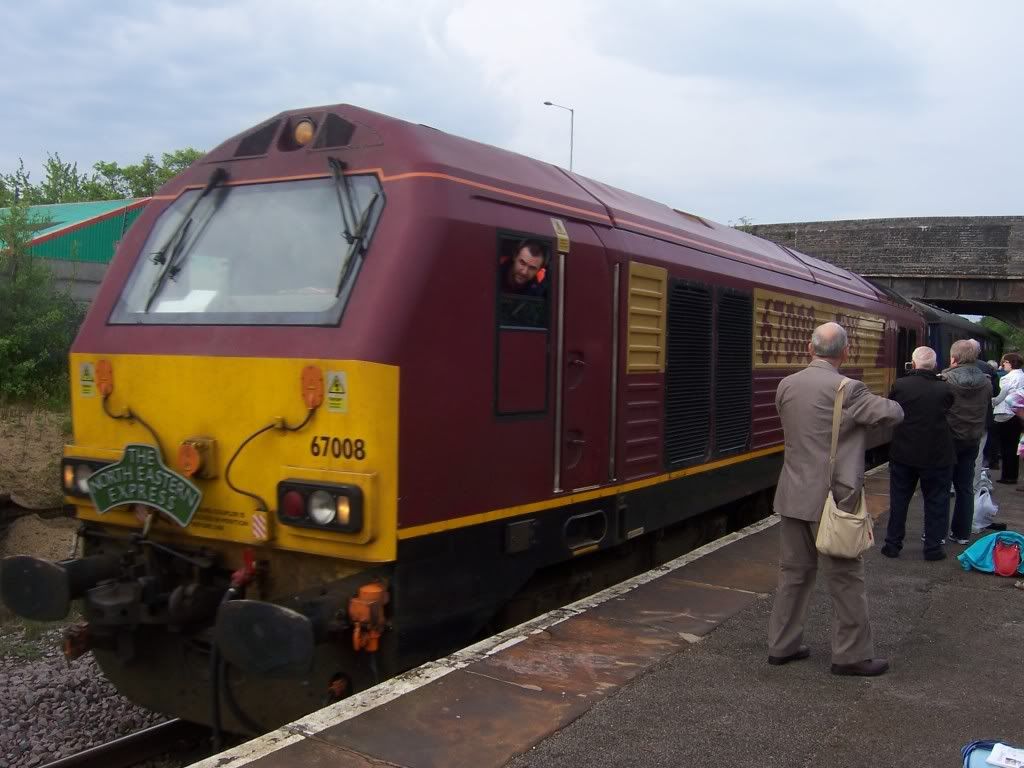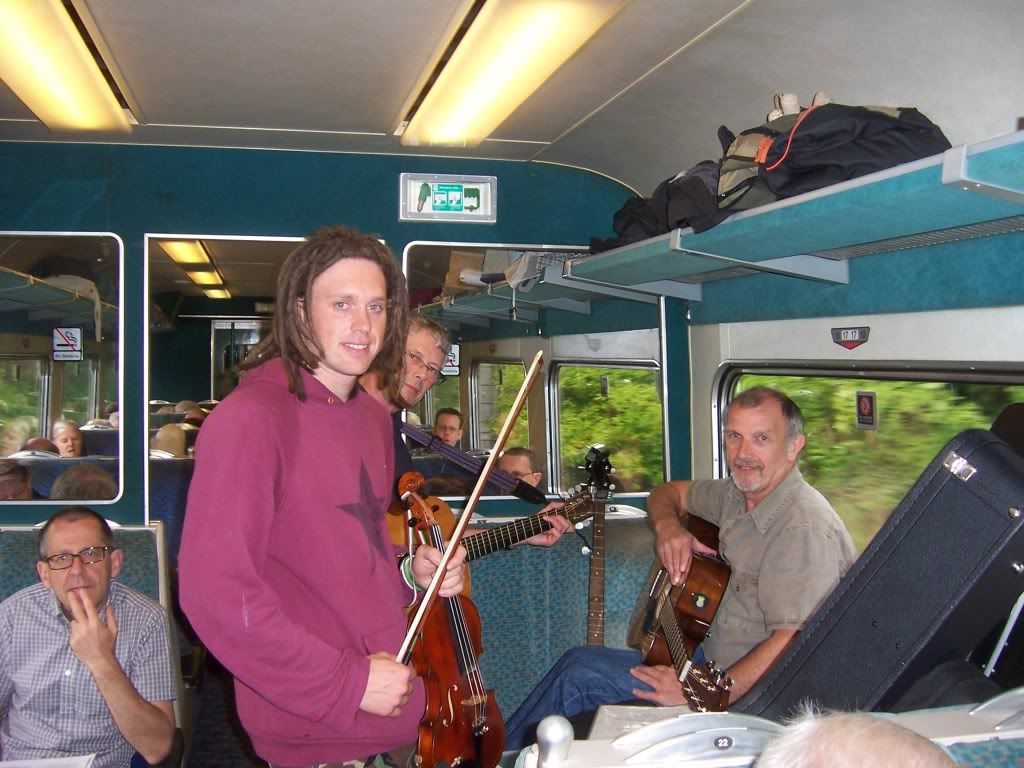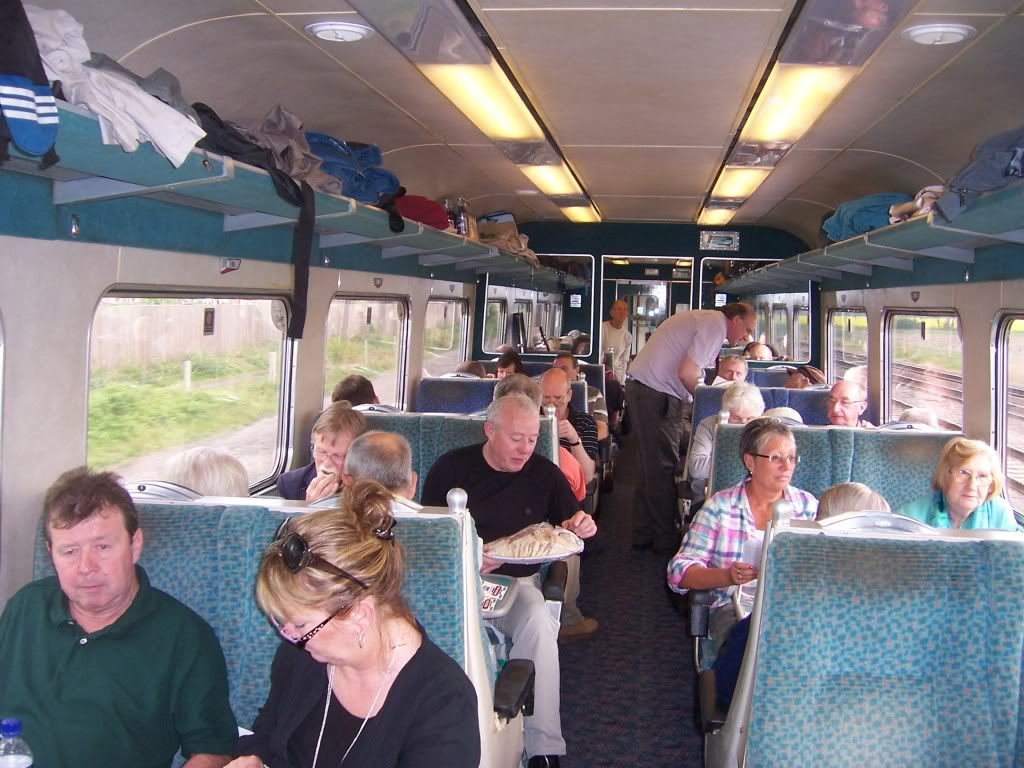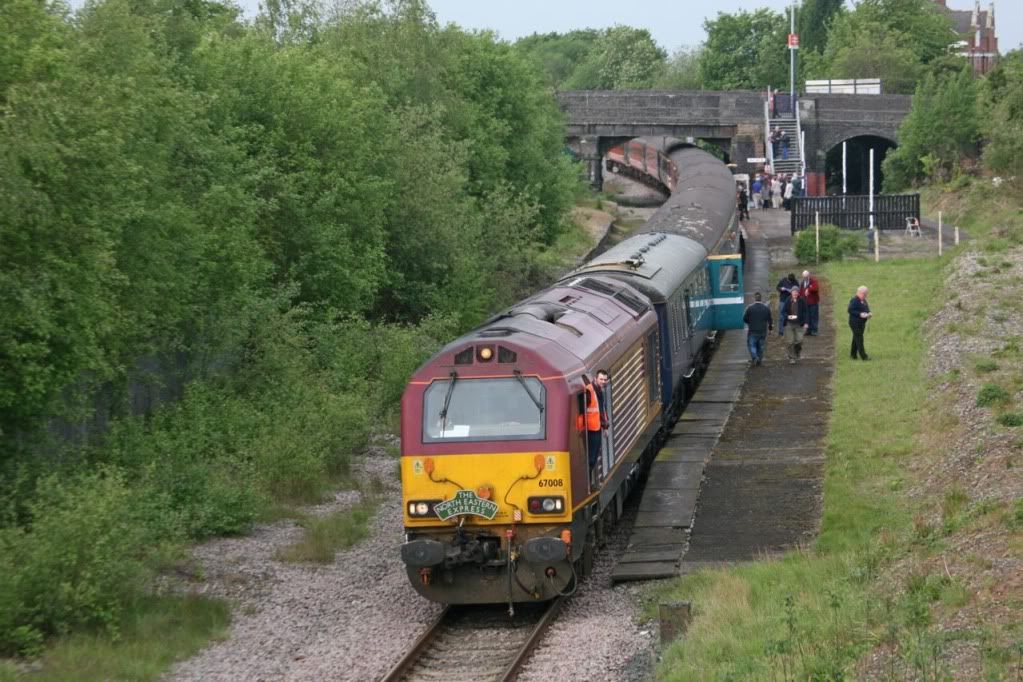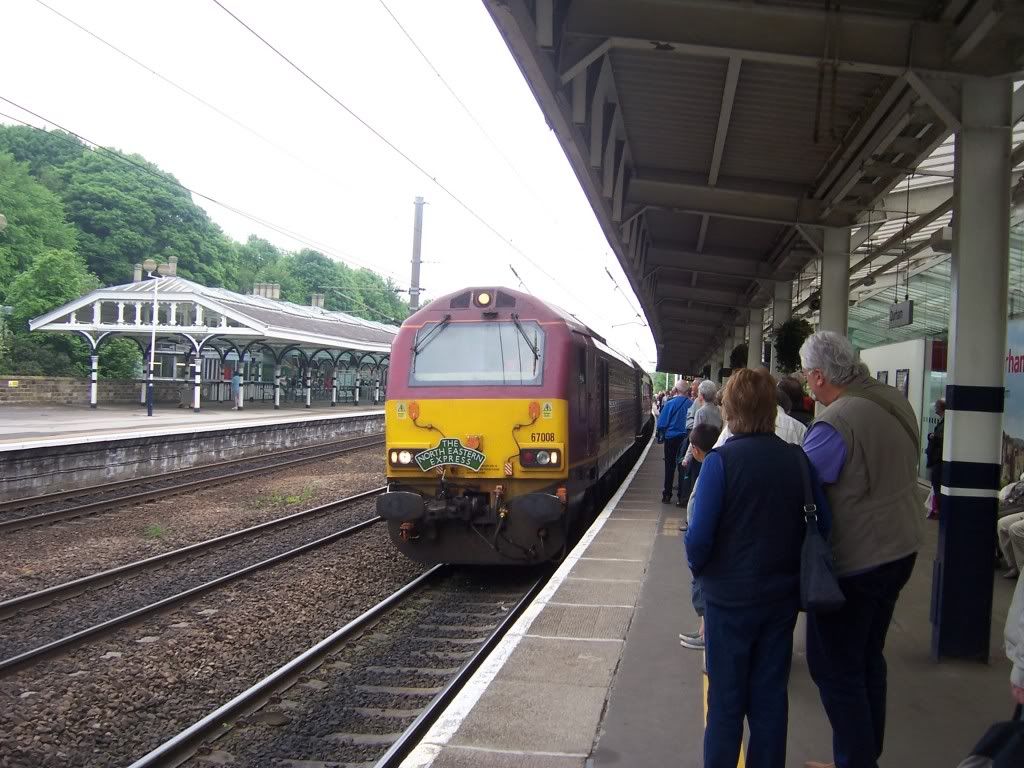 October 2010 Pictures
Three more pictures from the lens of Godfrey Stafford taken of the Friday "Ghost Train " (Fri 1st Oct ) and a Statesman special excursion train en-route to Manchester
Victoria to pick up its First Class passengers. This train was "top and tailed" by two preserved class 47 diesel locos.
June 2010 Pictures
Another superb action photo from the lens of Godfrey Stafford who got this picture of LMS 6233 "Duchess of Sutherland" in Cheshire this week. This loco actually passed through Reddish South Station about 3 weeks ago and should do again this summer on some of the "Scarborough Flyer" trains that you will be able to join at Stockport Station on any of the Railway Touring Company's excursions in July August and September. More details will follow on the web-site as they are confirmed. In the meantime , Many Thanks to Godfrey for the superb photo.
Th following pictures were taken Thursday the 27th May regarding the station clear up which will take place on the weekend 19th/20th June. These photos were taken by Cllr Dave Wilson who is one of our "Friends" group, and now becoming our "official" photographer.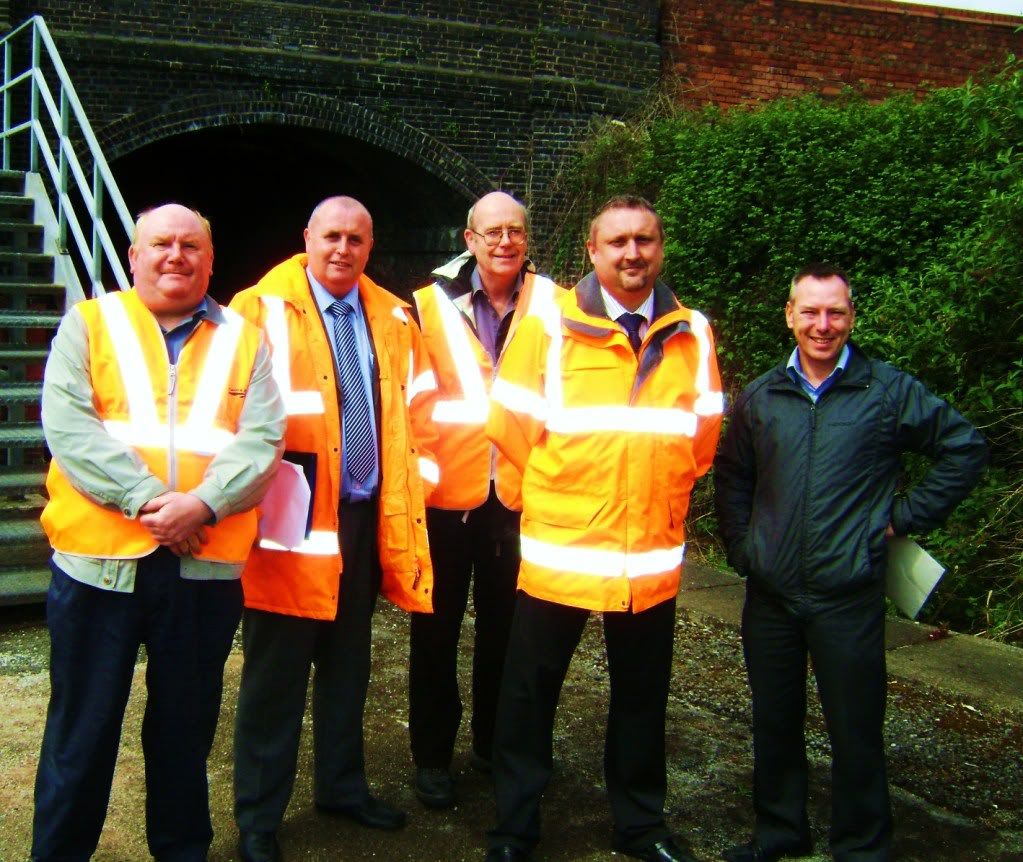 April 2010 Pictures
"Western Champion " preserved diesel hydraulic brings a recent railtour through Denton and Reddish South.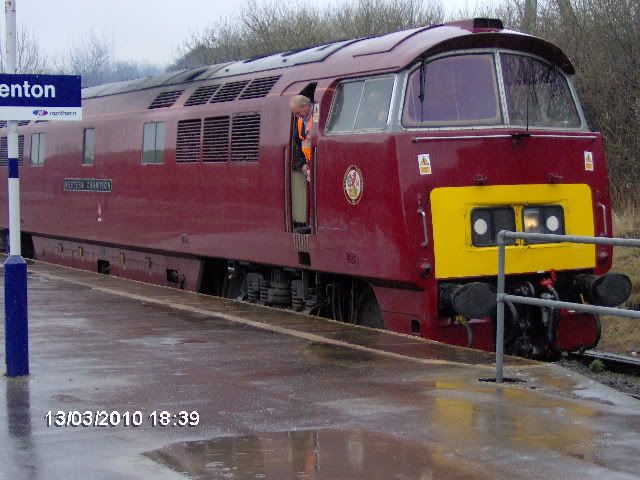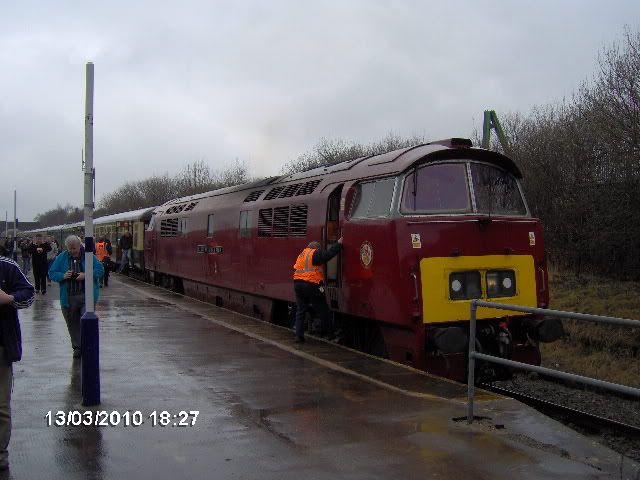 A very special visitor steamed through Reddish South on Thursday April 15th en-route from Crewe to York Railway Museum. It was the brand new steam locomotive "TORNADO" 60163 that was built in Darlington over the last 10 years. It began it's touring last year and was featured on Jeremy Clarkson's Top Gear programme when it raced a vintage car and motorbike from London to Edinburgh.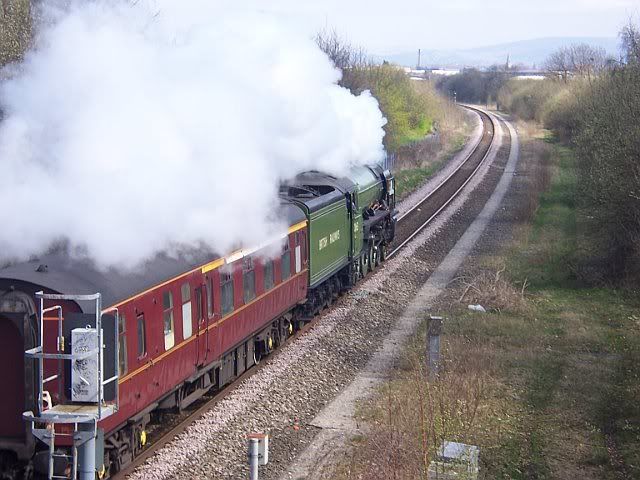 LMS Stanier Pacific "Princess Elizabeth 6201" Steams through Reddish on Sunday April 18th en-route to the Crewe Heritage Centre from York. These photos were taken behind Barlow Fold Road on the path between the "Money Box Bridge" and the "Red Bridge".

From the lens of Godfrey Stafford.
"Buxton Spa Express " passing Ashton Moss Junctiopn before steaming through Denton and Reddish South - Sun 18th Oct.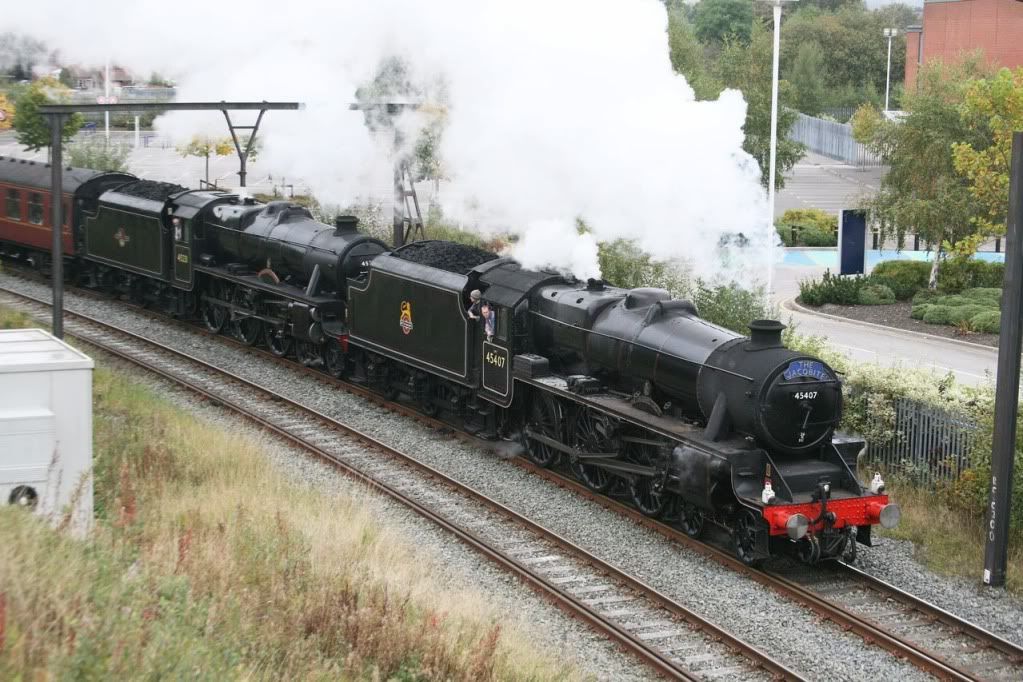 Various shots around the area: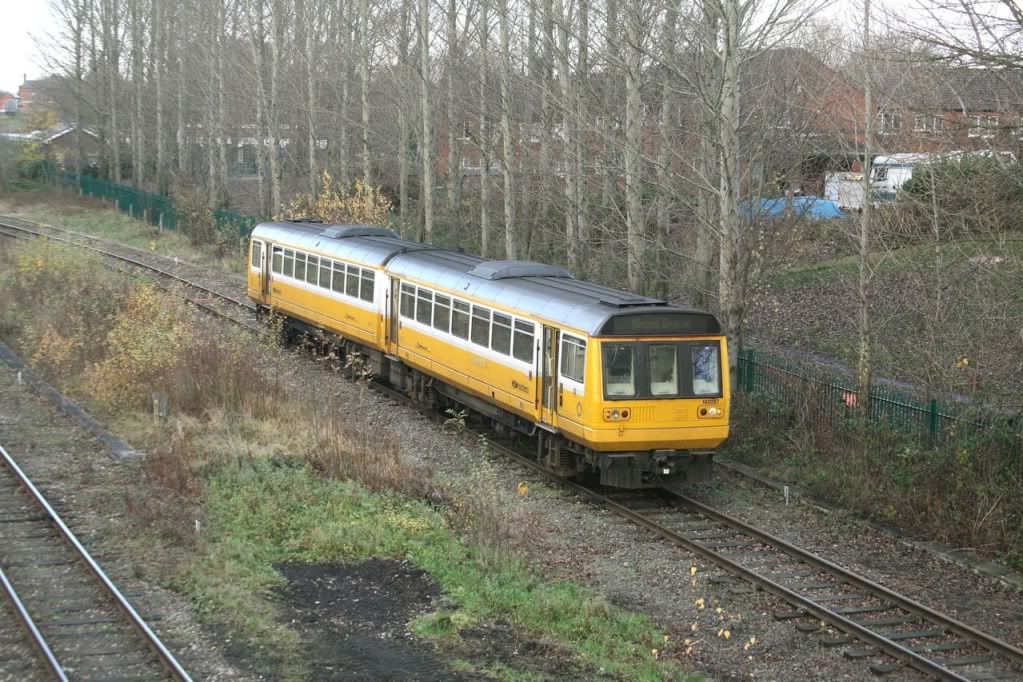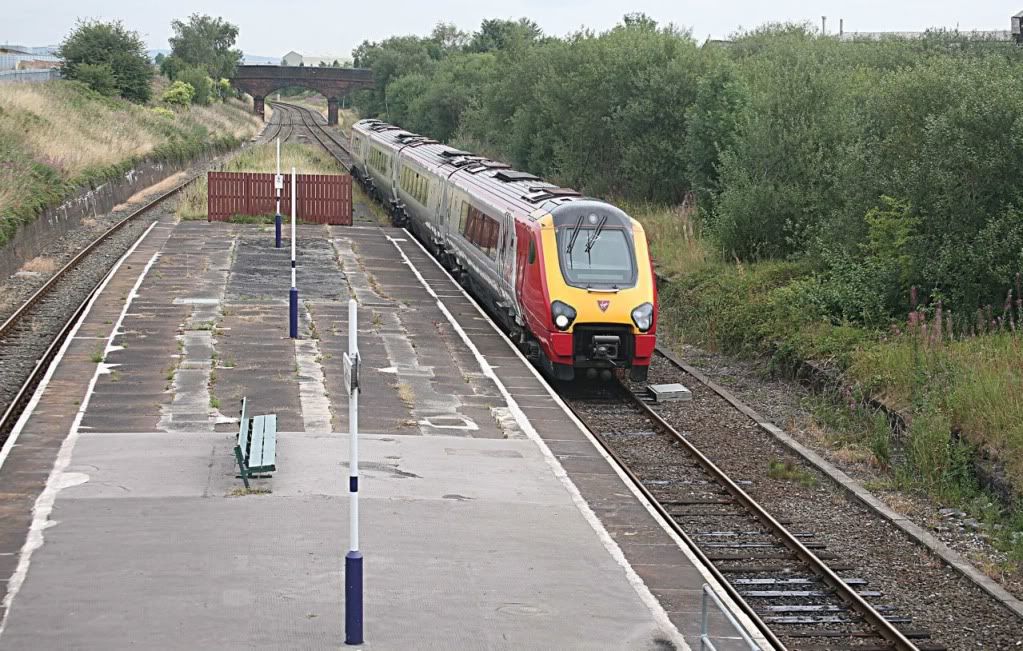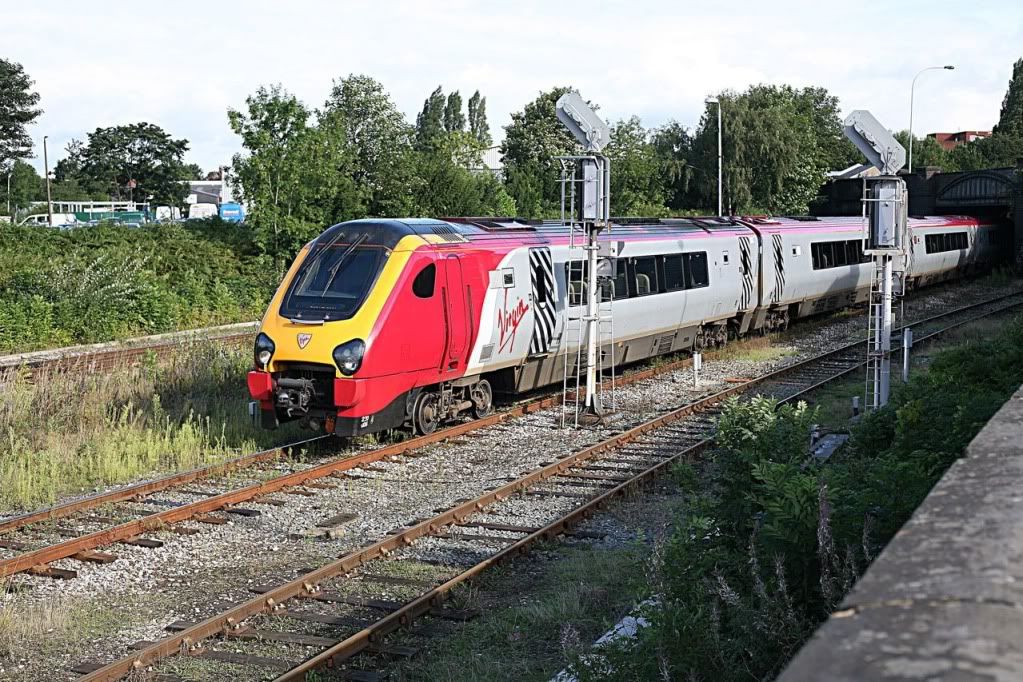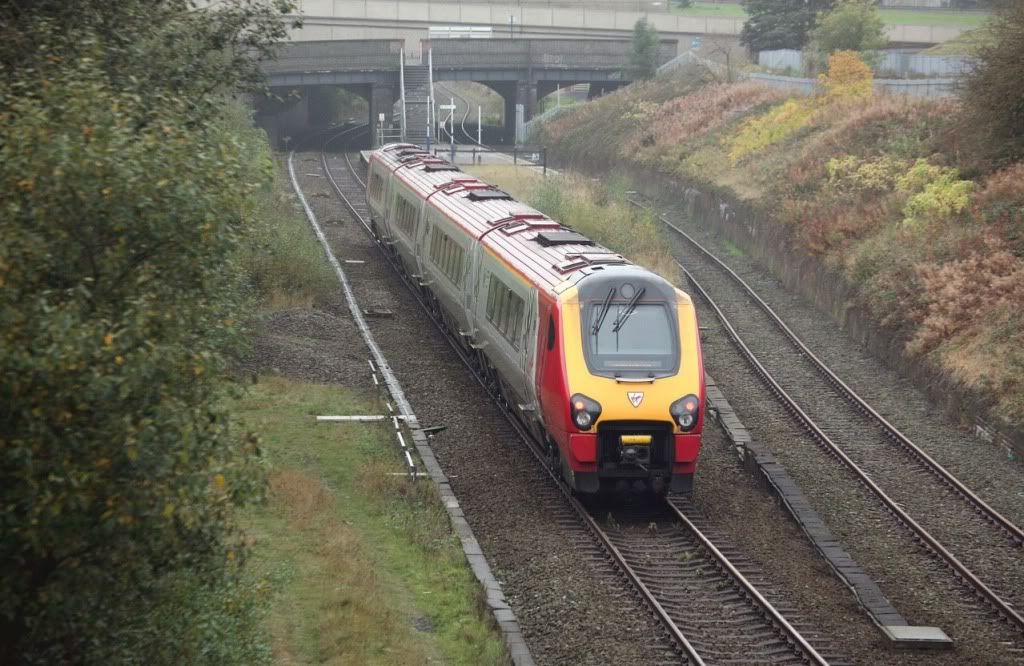 Photos of Denton and Reddish South through the years:
A great shot by ace photographer Godfrey Stafford taken in 1986 when there were 5 tracks in and around Reddish South Station. The photo shows a class 142 diesel unit travelling towards Denton on the track now lifted that once ran between the current platform and Morrisons car park ! The other tracks have stored freight waggons and tankers that were waiting to be repared at the now closed waggon building and repair workshops, that are still partially standing but now lie empty . The photo shows the station in the background just through the bridge.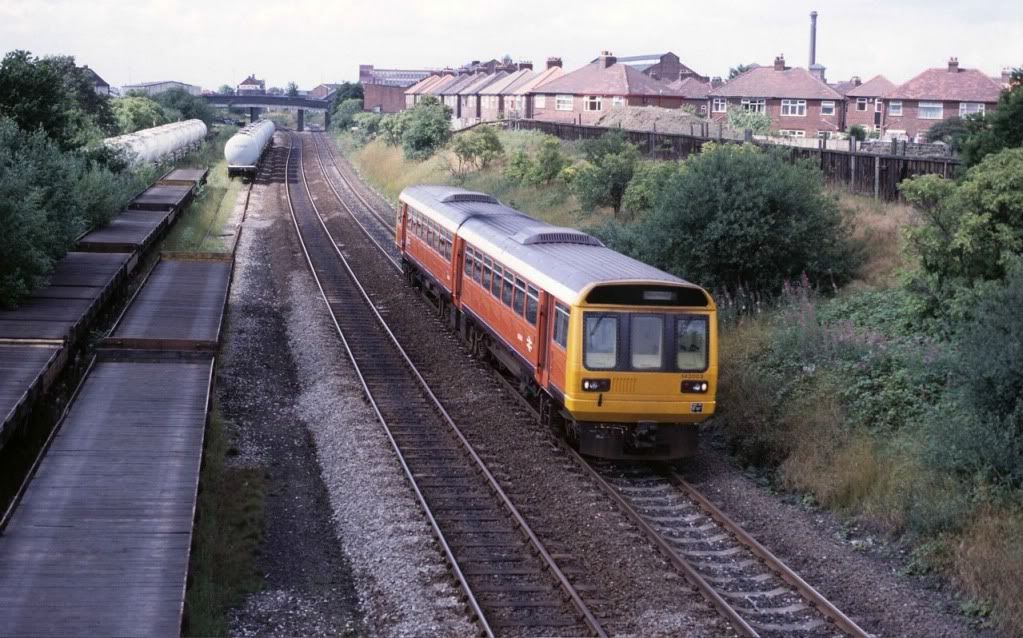 122 Single-car (BR 1984 Reddish Vale) and 108 2-car DMU (BR 1985 Denton Jct.)
(UNC) Track Relaying (1983 Denton Jct.) and 108 3-car DMU (BR 1987 Denton)
47195 (BR 1986Reddish South) With 86410 and 47362 (BR 1986 Reddish South) With 87035
40094 (BR 1982 Denton) and 56018 (BR 1982 Denton)
47351 (BR 1983 Denton)
A DBS DVT 82146 (Denton 10.9.09)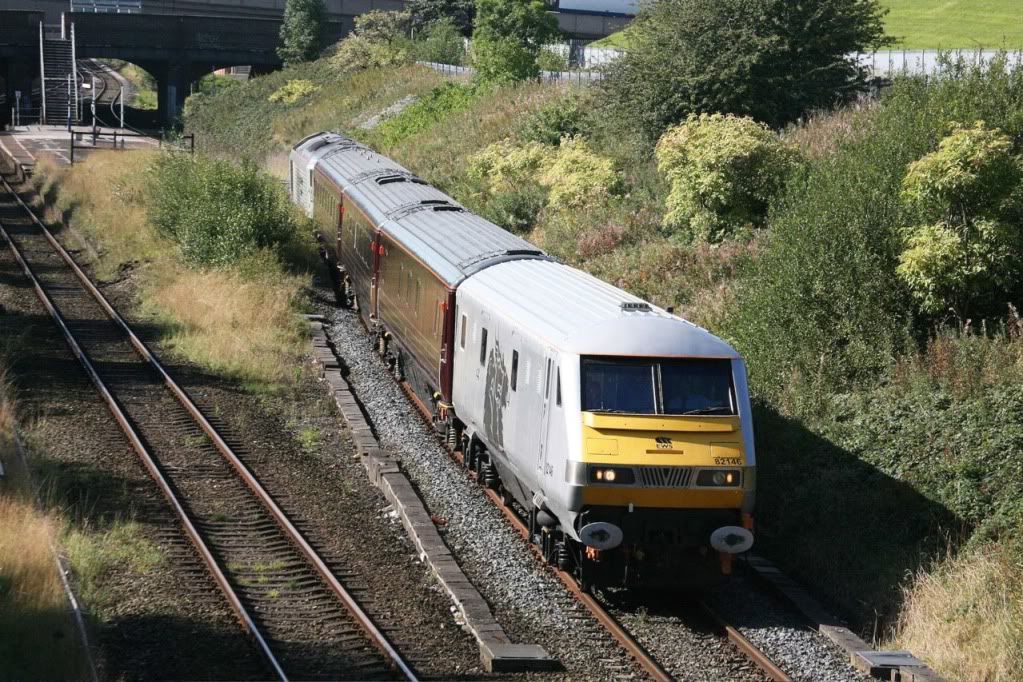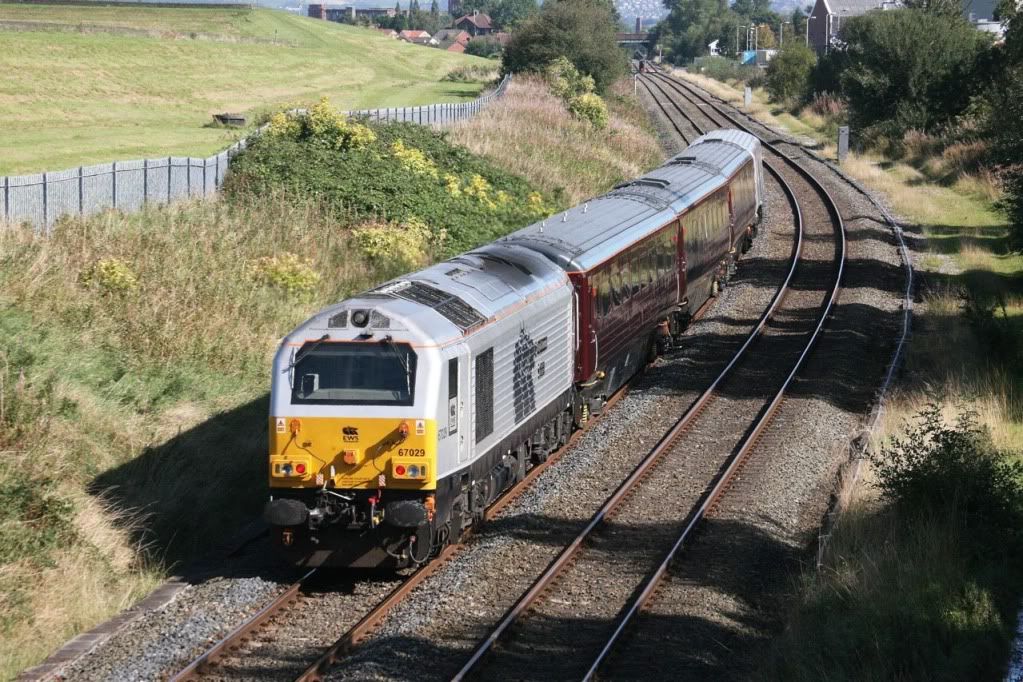 447 BR 40145 (Reddish South) 11.28 14.9.09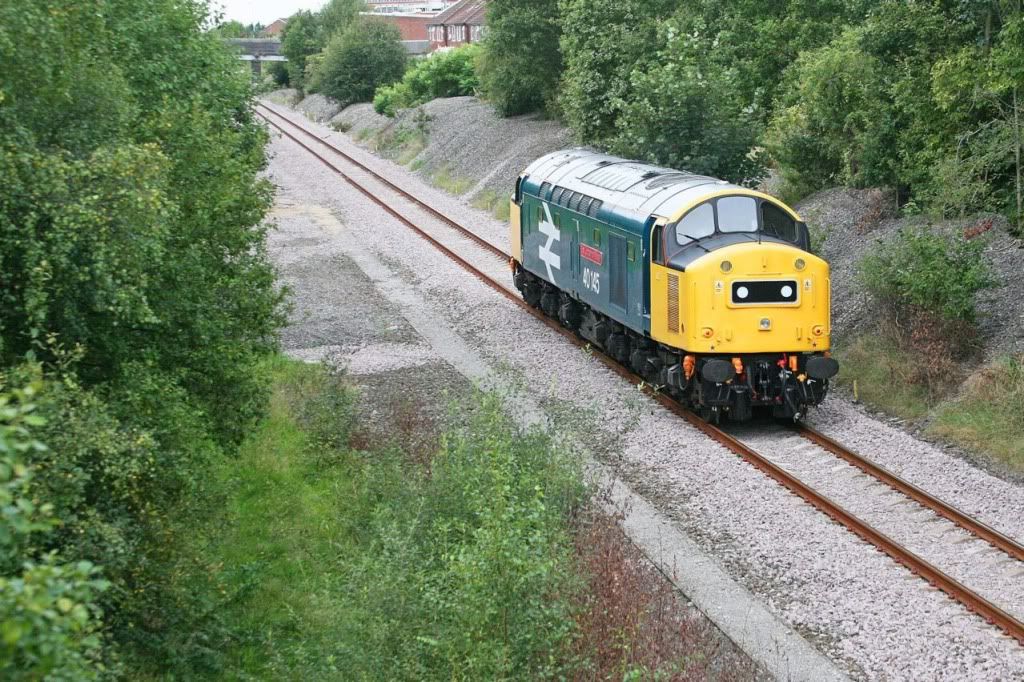 6201 Princess Elizabeth stops for water at Denton Fri 7th Aug.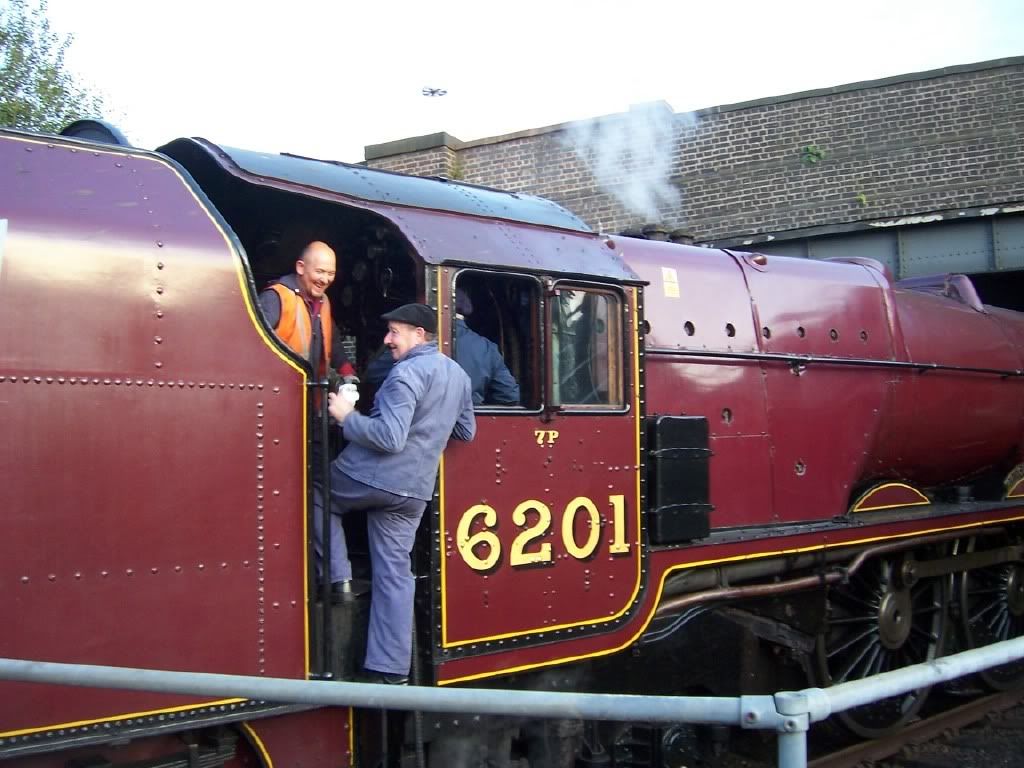 6201 Princess Elizabeth speeds through Reddish South, Fri 7th Aug.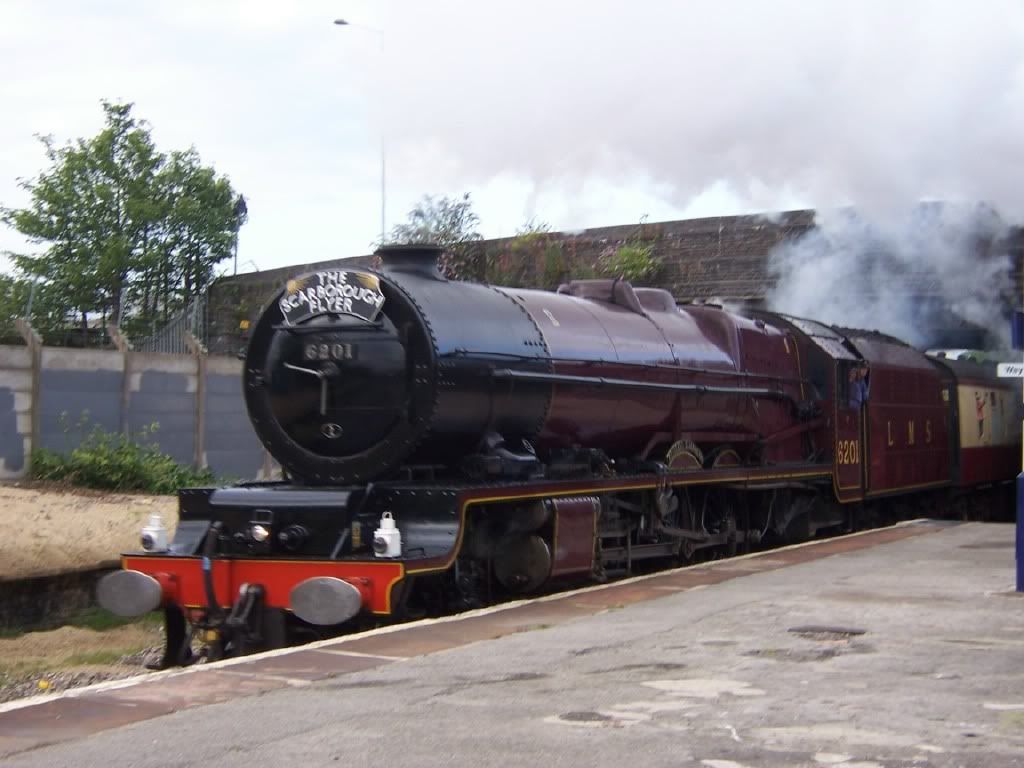 6233 Duchess of Sutherland stops for water at Denton Fri 31st July.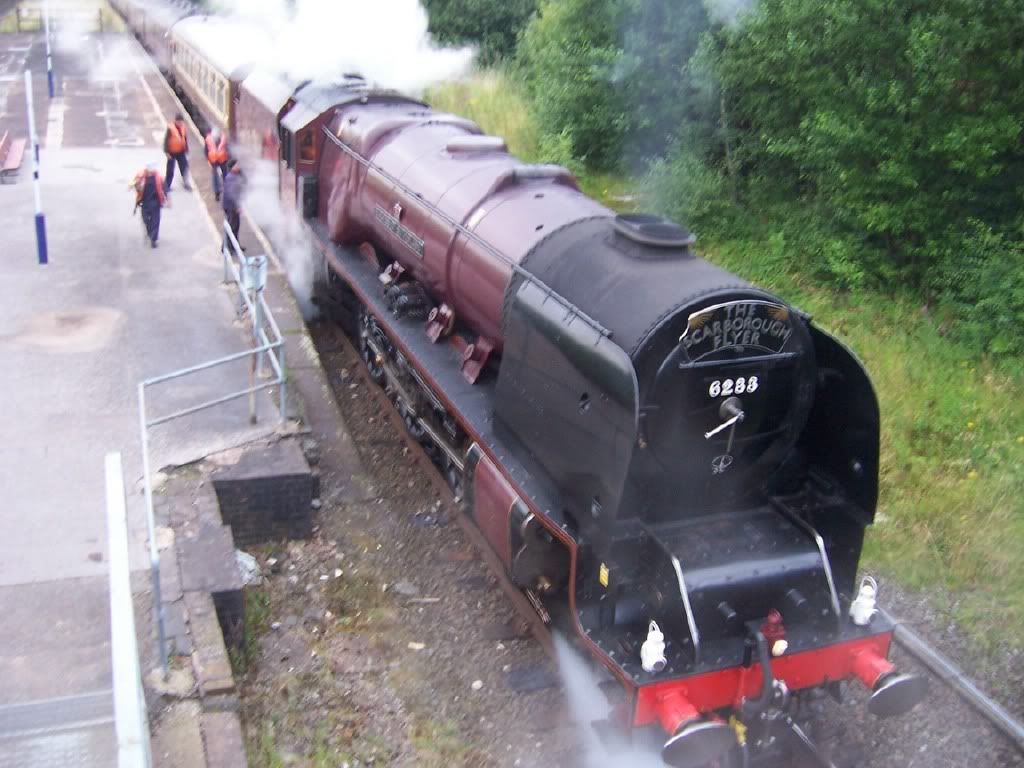 6233 Duchess of Sutherland passing through Reddish South at great speed on the way to Scarborough Fri 31st July.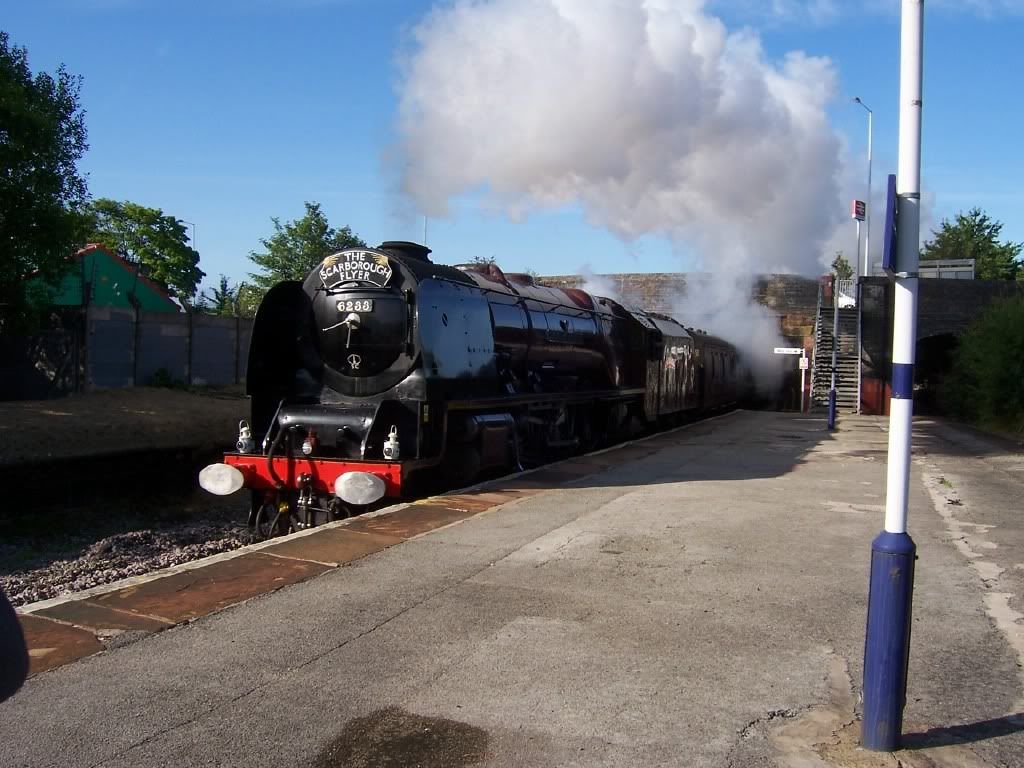 5 great pictures from the lens of Godfrey Stafford: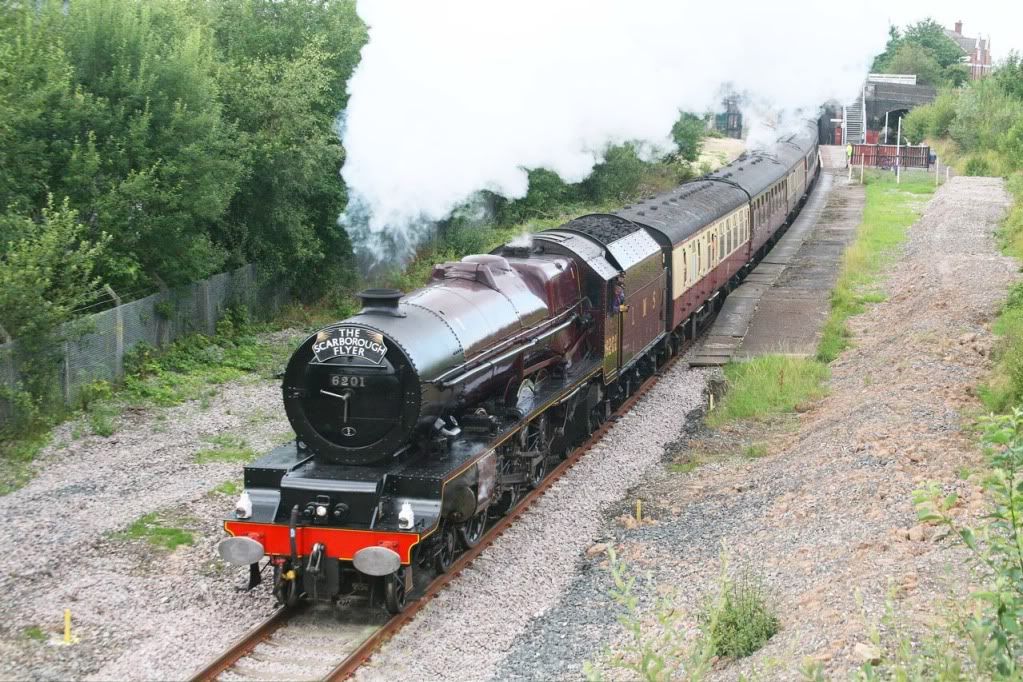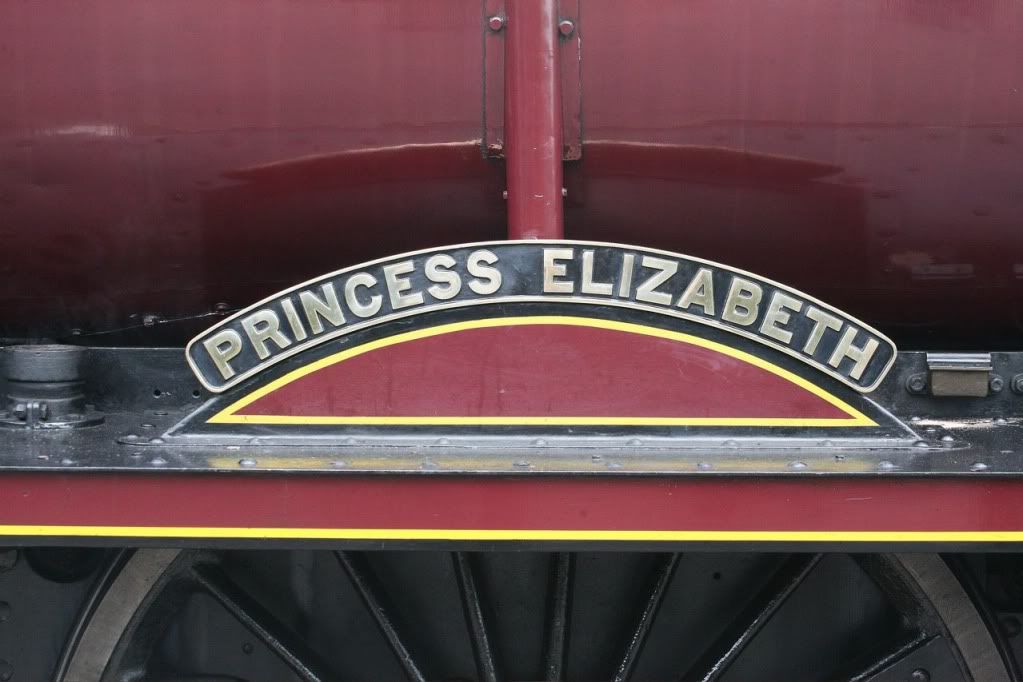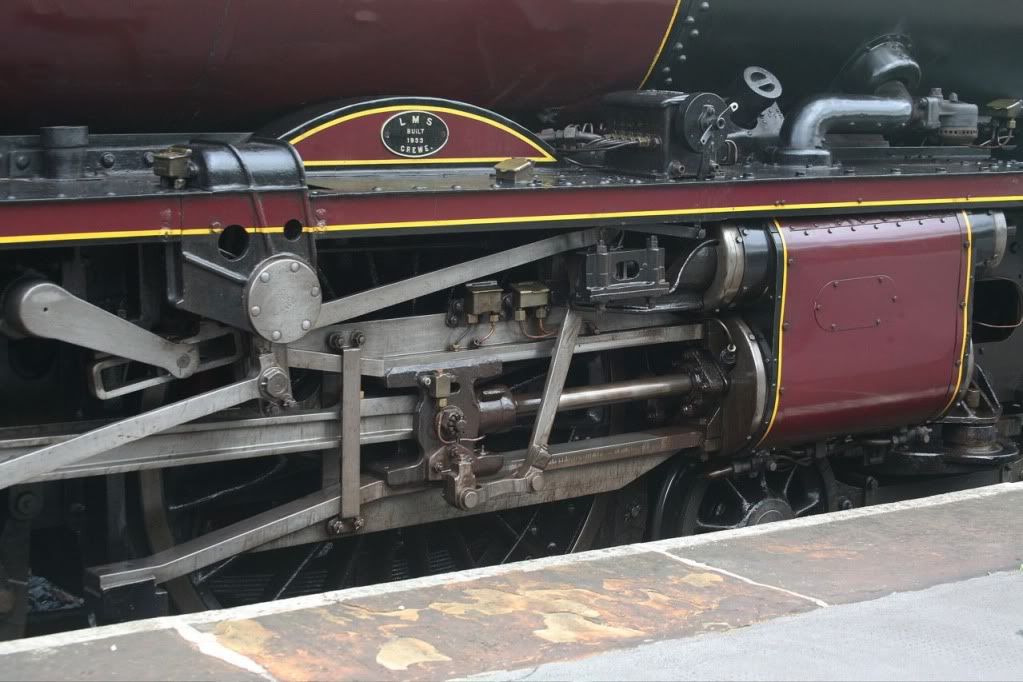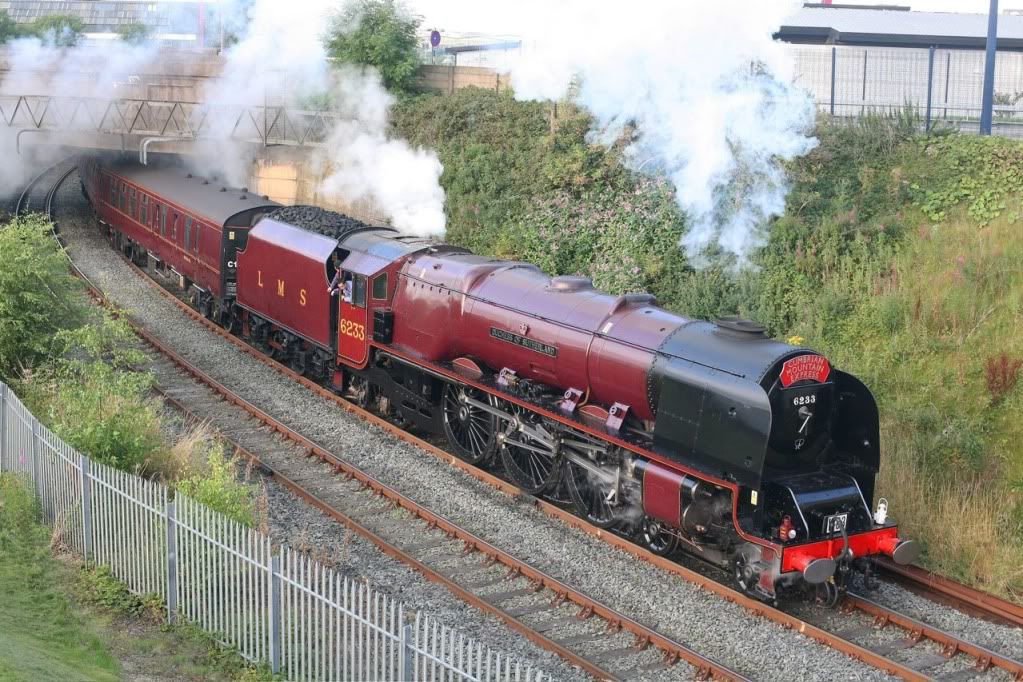 288 LMS 6233 'Duchess of Sutherland' (Denton) 31 JULY 2009 - Godfrey Stafford
Thanks to Godfrey Stafford, " 4-6-2 Pacific "6201" Princess Elizabeth" passing the Buffet Bar at Stalybridge where our next "Folk Train Special" will be going in August"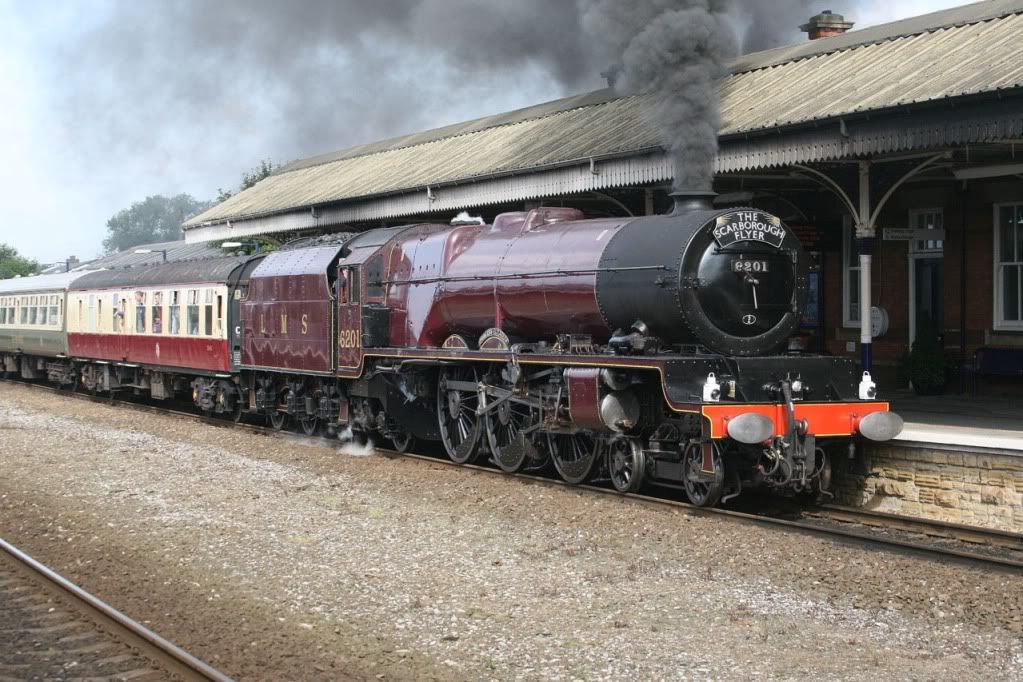 Recent track renewal at the station (June 2009), including some excellent night shots. Thanks to Noel Henry for these.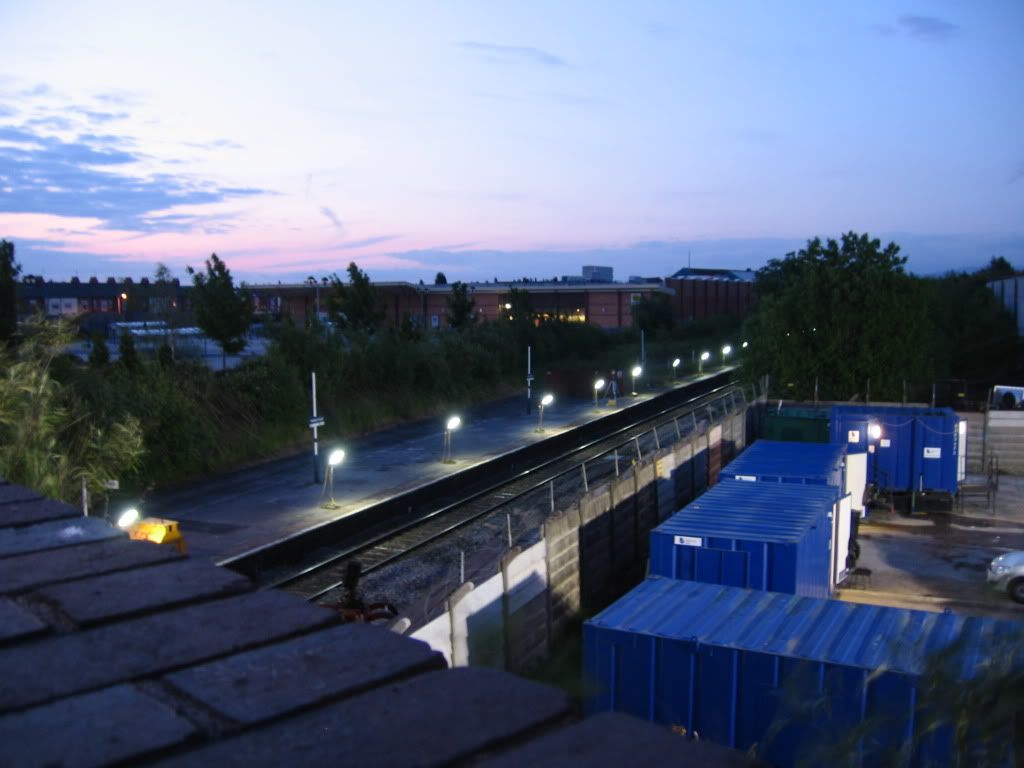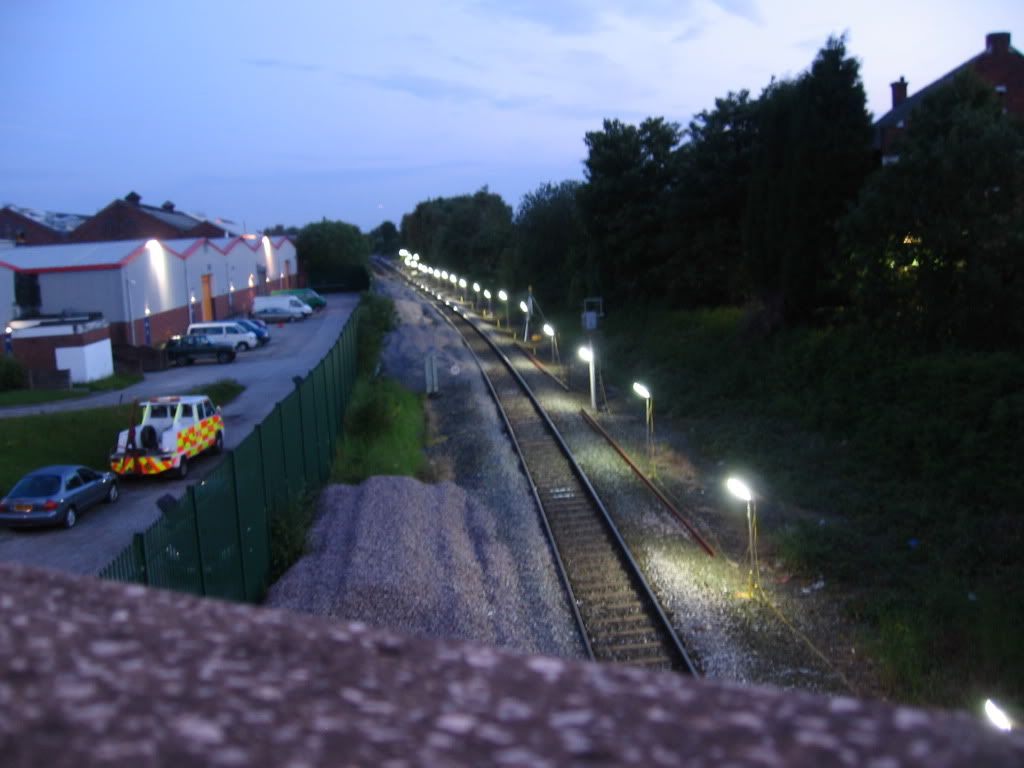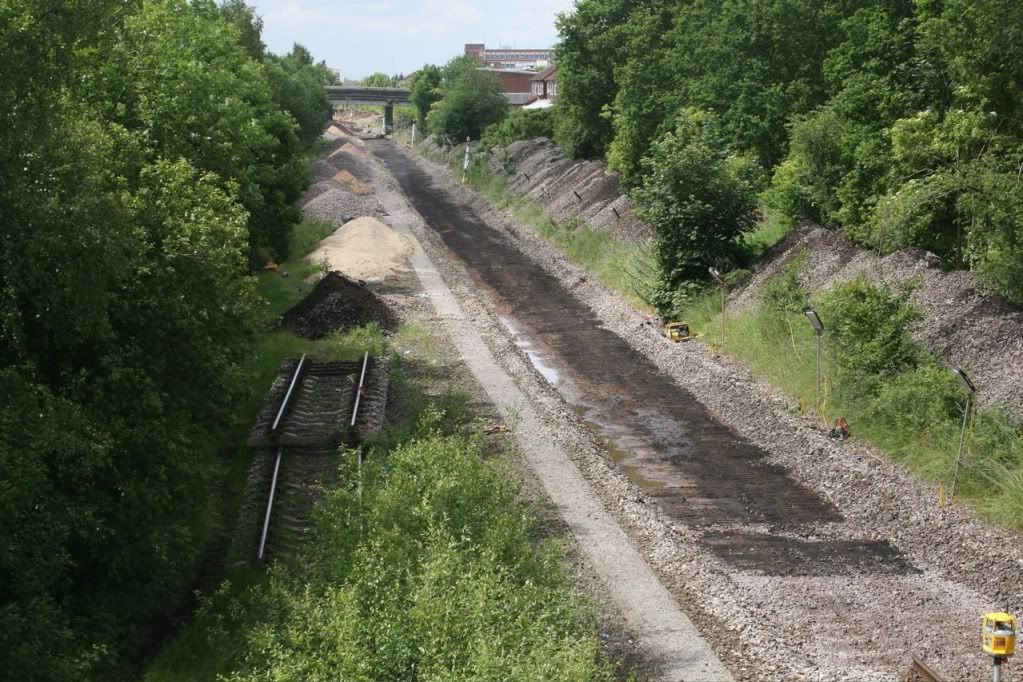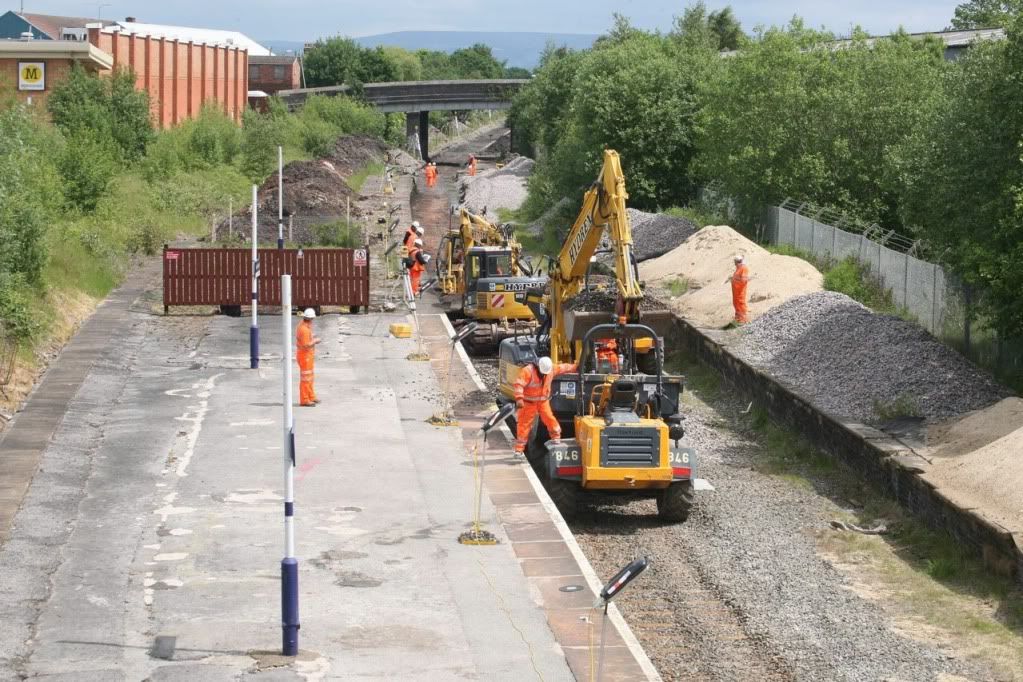 The following pictures were kindly sent by Edwin Bowlas, who was a resident of North Reddish and ex Loco driver whos railway career involved countless calls at the station including during the steam days
Picture 1: Taken on March 19th 2005 of 45407, the driver being Albert Seymour
Picture 2: Taken on April 10th 1982 of Leander passing through the station on a Trans Pennine Pullman special from Birmingham to Scarborough and which as it happened was the last time I ever worked/drove a steam locomotive